If you need a good laugh and all-around great time, Bros is the movie for you. Produced by the legendary Judd Apatow, Bros stars Billy Eichner and Luke Macfarlane, making history as the first stars of a gay romantic comedy produced by a major studio. With an almost completely LGBTQ+ cast, Bros delivers in every way, making for one of the funniest and most wholesome theater trips of the year.
Judd Apatow Strikes Again
With Judd Apatow, you never know what you're going to get. Whether the project is phenomenal like Forgetting Sarah Marshall, or forgettable like this year's The Bubble. However, it could be argued that Bros is up there as one of, if not his best, works. Director Nicholas Stoller (Forgetting Sarah Marshall) just gets it when it comes to directing a rom-com. His work on this film is amazing, and he executes the story well, enhancing some scenes with specific choices in lighting, music, and setting. This film doesn't have revolutionary technology, or eye-bending cinematography, but it has loads of heart, and that's exactly what it needed.
Historically Brilliant Cast
The story of the movie follows Eichner's character Bobby Leiber as he falls in love with Macfarlane's Aaron, while Bobby opens an LGBTQ+ history museum in New York City. It cannot be understated how funny Billy Eichner is in this film. He thrives because his character is imbued with his real-life qualities, adding a layer of believability to an already strong foundation. He channels the same energy we've come to know and love from Billy on the Street and Parks and Rec, while managing to add depth to his character. At several points in the film, my audience erupted into laughter at Eichner's jokes, amplifying the viewing experience and cementing why you should see this film in theaters! Eichner also wrote this film and should get tons of recognition for his amazing work.
Even though Eichner is incredible, Macfarlane's performance as Aaron is not overshadowed. He matches Eichner's comedy and passion, while adding a fun energy to the film as the ultimate bro. He nails the emotion and is extremely charismatic, making you fall in love with him. The chemistry between the two is one hundred percent what makes this movie so perfect. The whole cast is honestly extraordinary – they are all so funny and play of each other in the best way. Standouts like TS Madison (Angela) and Miss Lawrence (Wanda) do a great job in their roles and had me laughing so hard I spilled my popcorn (true story).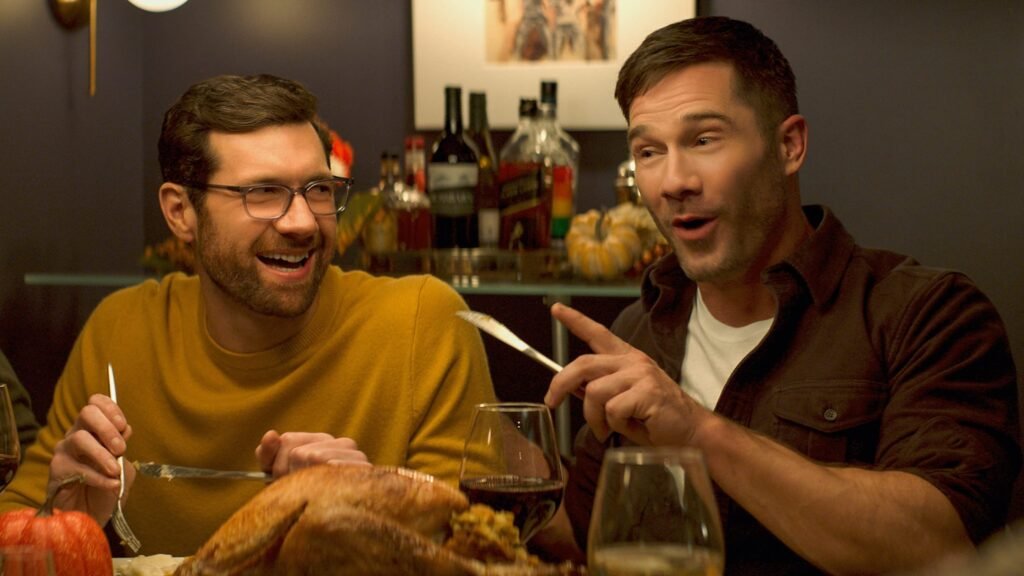 Bros is Comedy of the Year
Overall, I cannot say enough good things about this film. The acting is great, the soundtrack is fantastic, and the story is heartwarming in the best way. Because of this, Bros rightfully earns the title of my favorite comedy of the year. This film and what it represents are amazing, so seeing the lackluster box-office is a huge disappointment. The Agents of Fandom encourage anyone who can, to see Bros in theaters and support the hard work of all involved. They deserve it, and we need to show Hollywood studios that we are interested in seeing more mainstream LGBTQ+ stories and normalizing them across all media.
Did you enjoy Bros? Let me know on Twitter. Be sure to catch Bros in theaters, out now nationwide.