The history of iconic movie and TV duos runs deep, ranging from comedic partners such as Owen Wilson and Ben Stiller in Zoolander to action packed characters like Will Smith and Tommy Lee Jones in Men in Black II. Many films even collaborate on the different types of duos, like the comedic action pair of Jonah Hill and Channing Tatum in 21 Jump Street.
Duos are spread across every genre and trope within film and television, whether fiction or nonfiction, live-action or animated, they cover every screen, and you can't go far without a hit pairing. The idea of a team up is noticeable within all aspects of art, including literature, comics and music. With that in mind, here are 10 of the most beloved movie and TV duos in cinema and television history.
1. Shrek and Donkey, 'Shrek'
"That'll do, Donkey. That'll do." – Shrek.
Shrek (Mike Myers), a fearsome ogre, and the talkative Donkey (Eddie Murphy), are not friends at first. Shrek is constantly irritated by Donkey and his hyperactive personality, but they go on to become inseparable. One of the most unlikely and beloved friendships begins in the first installment in the Shrek franchise to save princess Fiona (Cameron Diaz) and carries on for several more movies.
2. Woody and Buzz Lightyear, 'Toy Story'
"Woody once risked his life to save mine, and I couldn't call myself his friend if I wasn't willing to do the same." – Buzz Lightyear.
The spaceman action figure Buzz (Tim Allen), and Woody (Tom Hanks), an old-fashioned cowboy figure start off as rivals, but for the love of their owner Andy, they soon become best friends and one of Disney's most popular duos. The animated pair hit screens in 1995 and instantly became a fan favorite, later releasing three successful sequels following their adventures with their many newfound friends.
3. C-3PO and R2-D2, 'Star Wars'
"R2D2, you know better than to trust a strange computer!" – C-3PO.
The Star Wars universe is known for the celebrated trios of Luke, Han, and Leia or Anakin, Obi-Wan, and Padme, but the true iconic droid duo have sometimes gone unnoticed. Their first appearance, per timeline order, is in Star Wars: A Phantom Menace, and their most recent in Star Wars: The Rise of Skywalker. They are always together, cracking jokes and making witty comments, or getting in the midst of the action.
Hopefully the storyline isn't over for this incredible droid duo. What is a Star Wars film without its droids?
4. Batman and Robin 'Batman Forever'
"This is why Superman works alone." – Batman.
Batman (George Clooney) and Robin (Chris O'Donnell) have been an iconic duo for decades since their first appearance in DC Comics, and it doesn't stop there. Ranging from costumes for Halloween to their performances in Batman Forever and Batman and Robin, the pair have long protected Gotham City together.
The two have been fighting alongside in numerous different productions and are classified as the prototype for all crime-fighting duos. Together they have gone against some of the most acclaimed villains in the DC Universe, including the Joker and the Riddler.
5. Walter White and Jesse Pinkman, 'Breaking Bad'
"Is this just a genetic thing with you? Is it congenital? Did your mother drop you on your head when you were a baby?" – Walter White to Jesse Pinkman.
Walter White (Bryan Cranston) and Jesse Pinkman (Aaron Paul) undergo one of the wildest storylines together, classifying themselves as one of the most common duo archetypes, student and teacher. Although the pair have their ups and downs through the five season series, and it is most definitely a love/hate relationship, they are easily one of the most iconic movie and TV duos thanks to their unique friendship and unmistakable chemistry.
6. Doc and Marty, 'Back to the Future'
"Wait a minute, Doc. Are you telling me you built a time machine?" – Marty McFly
The beautiful friendship between Doc (Christopher Loyd) and Marty (Michael J. Fox) started young. Marty grew up a friend and assistant to Doc Brown on his crazy and wacky science experimentation, and most famously his time travelling.
The iconic duo of Marty and Doc are in three Back to the Future films, highlighting the popularity of their characters at the time of release and more importantly, the impact the Back to the Future films have on present films and audiences.
7. Sherlock Holmes and Dr. Watson, 'Sherlock'
"Elementary, my dear Watson" – Sherlock Holmes
Sherlock and Watson have been the ultimate duo long before the 2010 series. The iconic pair were first brought to life in the Sherlock Holmes stories by Sir Arthur Conan Doyle, and their relationship has grown stronger and stronger over the years, eventually being played by Benedict Cumberbatch and Martin Freeman.
You'd be hard-pressed to find a mystery Sherlock has solved without the help of Dr. Watson. Their relationship is more than meets the eye, as they are not just business partners. Sherlock works just fine as a detective without him, however, Watson's significance lies in his friendship with Sherlock.
8. Michael Scott and Dwight Schrute, 'The Office'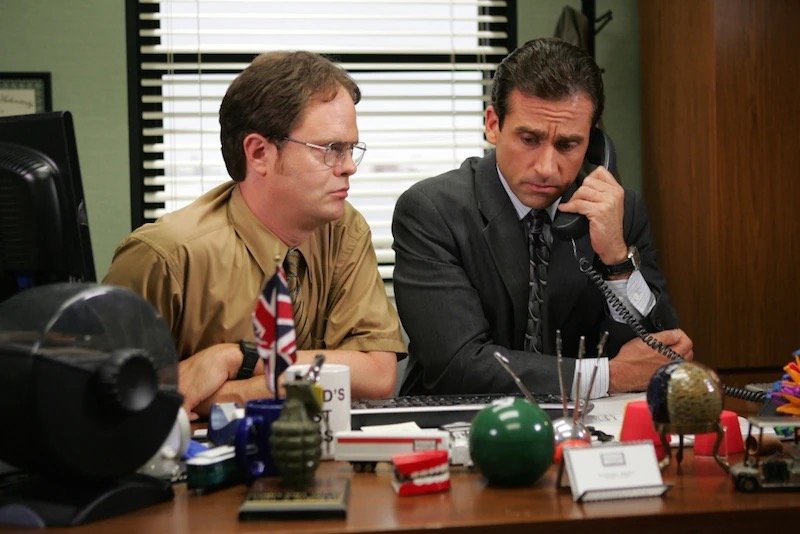 "What's the most important thing I ever said to you?" – Michael Scott
"Before I do anything, I ask myself, 'would an idiot do that?' And if the answer is yes, I do not do that thing," – Dwight Schrute
Michael Scott (Steve Carell) and Dwight Schrute (Rainn Wilson) are easily one of the funniest and most interesting duos in the history of television. Michael, known for his iconic "that's what she said" jokes and Dwight for his obsession to please Michael rule The Office from day one.
The dynamic pair experience some questionable events through the nine season series. Constantly using one another or going behind each other's backs, however, it is always evident the care and love they have for each other.
9. Doctor Who and Donna, 'Doctor Who'
"I don't believe in destiny, but if destiny exists then it is heading for Donna Noble" – The Fourteenth Doctor
Every Doctor in the history of Doctor Who has always had a companion, however, Donna Noble (Catherine Tate) stole hearts everywhere. The Doctor (David Tennant) and Donna were destined to be together, and have become one of the most iconic duos in Britain's most famous sci-fi show. On Donna's first appearance, many fans were worried that she would just be comedic relief. Fortunately this is proven wrong during 'Fires of Pompeii' where she convinces The Doctor to defy the laws of time.
From there on, the two parade and bring some of the show's best episodes to life. Tennant and Tate's chemistry is undeniable, and they are arguably the strongest aspect of season four, bringing about laughter and tears. The pair's adventures come to a heartbreaking end after The Doctor is forced to wipe Donna's memories of their adventures together.
However, hope lies ahead for the iconic TV duo as Russell T Davies is set to bring David Tennant and Catherine Tate back for the show's 60th anniversary.
10. Dom Toretto and Brian O'Conner, 'Fast and Furious'
"Thought you could leave without saying goodbye?" – Brian O'Conner
"No matter where you are, whether it's a quarter mile away or halfway across the world. [from Fast Five] The most important thing in life will always be the people in this room, right here, right now. Salute mi familia. You'll always be with me. And you'll always be my brother" – Dominic Toretto
The franchise continuing after Paul Walker's passing was unexpected and utterly heartbreaking. First appearing together in The Fast and The Furious (2001), they stared alongside each other as a pair up until Furious 7 (2015).
The loyalty and chemistry between the two is undeniable. In any tricky situation, both always risk their lives to save the other. Although Walker's character Brian is well and alive in the film world, Paul Walker will always be loved and missed.
The power of the incredible movie and TV duos
The idea of an iconic duo in cinema history is undeniably one of the most powerful and common traits, and can be recognized as an equally important aspect, like a narrative or soundtrack. Although at times the duo trope can be seen as overused, if done correctly it provides some true chemistry or a good laugh.
Follow the Agents of Fandom socials to stay up to date with the latest entertainment news.