No one has been in the news lately quite like Damar Hamlin. A 24-year-old safety for the Buffalo Bills has recently made an amazing recovery after suffering from cardiac arrest during the Bills and Cincinnati Bengals game on January 2nd, 2023. On January 7, he posted on his Instagram thanking his fans for all the love and support. However, it is Hamlin who is the real life superhero within his community.
A Hero for the kids
Prior to the New Year, Damar Hamlin created a charity called "The Chasing M's Foundation." He collected money and toy donations, with 100% of the proceeds going toward giving toys to children whose families could not afford them during the holidays. The original goal for the drive was $2500 and donations well exceeded that prior to its deadline. However, after the shocking news of his collapse, all sports fans alike began donating to Hamlin's GoFundMe page, now garnering over $8 million.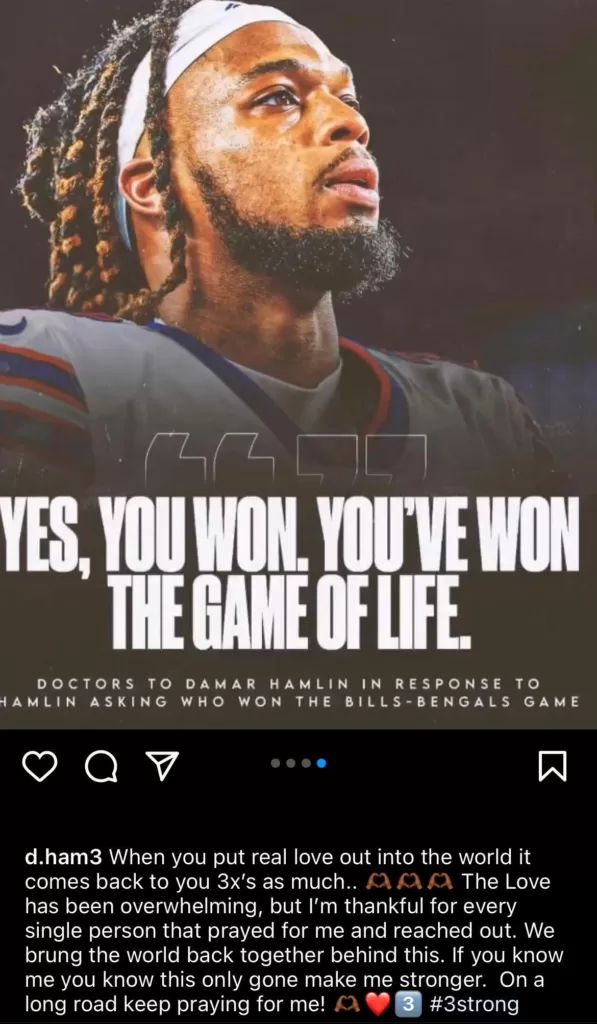 Giving back to the community
Damar Hamlin created his foundation to positively impact his community and specifically the kids in it. His team stated,
"Damar created The Chasing M's Foundation to use as a vehicle to bring lasting impact to his community. The foundation supports toy drives, back-to-school drives, kids camps, and more."

-Damar Hamlin's family and representatives via Chasing M's GoFundMe
Additionally, he created new t-shirts saying "Did We Win?" for people to buy. All proceeds go to the first responders at the UC Trauma Center where he was treated.
Damar Hamlin is an inspiration to all of us
It is truly inspiring how much Hamlin has done for his community at such a young age. Given his circumstances, he still chooses to put others before himself; this is the true sign of a real life superhero. As a former athlete myself, it makes me incredibly proud to be a part of the sports community. There is so much good to be done for our world, and I hope that Damar Hamlin's story can inspire each of us.