Believe it or not, 2023 is already halfway through. Although it hasn't been the smoothest year for World Wrestling Entertainment behind the scenes, the action inside the squared circle has been nothing short of captivating. Let's take a moment to reflect on the past six months and explore some of the best WWE matches of 2023 thus far.
Before diving into this list, here are some honorable mentions that just miss the top ten.
Kevin Owens vs. Sami Zayn Smackdown: Smackdown, January 13, 2023.
Sheamus and Drew McIntyre vs. The Viking Raiders: Smackdown, January 20, 2023.
The Usos vs. Judgment Day for the RAW Tag Team Championship: Raw January 23, 2023.
Roxanne Perez vs. Meiko Satomura for the NXT Women's Championship: NXT Roadblock, March 7, 2023.
Wes Lee vs. JD McDonagh vs. Ilja Dragunov vs. Axiom vs. Dragon Lee for the NXT North American Championship: NXT Stand and Deliver, April 1, 2023.
Grayson Waller vs. Johnny Gargano in an Unsanctioned Match: NXT Stand and Deliver, April 1, 2023.
Alpha Academy vs. Braun Strowman and Ricochet vs. The Street Profits vs. the Viking Raiders: WrestleMania 39 Night 1, April 1, 2023.
Dominik Mysterio vs. Rey Mysterio: WrestleMania 39 Night 1, April 1, 2023.
Seth "Freakin" Rollins vs. The Miz: RAW, April 17, 2023.
Seth "Freakin" Rollins vs. Aj Styles for the World Heavyweight Championship: Night of Champions, May 27, 2023.
10. Logan Paul vs. Seth "Freakin" Rollins: WrestleMania 39 Night 1, April 1, 2023
After eliminating Seth Rollins from the Royal Rumble in January, which cost him an opportunity to win the United States Championship inside the Elimination Chamber, Logan Paul has made himself a prime (no pun intended) target for The Visionary on the road to WrestleMania 39.
At the Showcase of the Immortals, Paul once again set the bar higher for celebrities in the wrestling business, as he and Rollins had a classic encounter. From Frog Splashes, to Power Bombs and Pedigrees, this match saw many wild moments. The biggest of which include Paul accidentally splashing KSI (who was dressed up as a giant Prime bottle) through the announcers table.
9. Johnny Gargano vs. Damian Priest vs. Montez Ford vs. Bronson Reed vs. Seth "Freakin" Rollins vs. Austin Theory in an Elimination Chamber match for the United States Championship: Elimination Chamber, Feb. 18, 2023
A Punisher, Goliath, Rebel Heart, Street Profit, Visionary, and champion walk into an Elimination Chamber. What's the punchline? You get one of the best Elimination Chamber matches of all time.
This match was chaotic; Johnny Gargano countered a Power Bomb into a Hurricanrana off the top of a pod, Montez Ford took a leap of faith off the top of the chamber, and Logan Paul made a surprise appearance to cost Seth Rollins the win in the end.
This match was just another example of how Triple H has done a very admirable job bringing more importance to WWE's mid-card titles because this match elevates the prestige of the United States Championship to new heights.
8. Cody Rhodes vs. Roman Reigns for the Undisputed WWE Universal Championship: WrestleMania 39 Night 2, April 2, 2023
All Cody wanted to do was to "finish his story" and win the title his legendary father (Dusty Rhodes) was never able to hold. Despite the match's controversial outcome, there is still no denying that it felt like the biggest Wrestlemania main event of the last 10 years.
Love him or hate him, Roman Reigns is undeniably one of the premier wrestlers in the world at the moment, bringing an unparalleled sense of excitement and intensity to every match he participates in. In the main event, Rhodes gave Reigns his all, but came up short. The bout was full of extremely close near falls and jaw-dropping moments. Hopefully, we'll get to see a rematch with a different outcome very soon.
7. Wes Lee vs. Dijack for the NXT North American Championship: NXT Vengeance Day, Feb. 4, 2023
Wes Lee has had arguably the greatest reign as NXT North American so far and this match truly solidified that. Of all Lee's stellar matches defending his gold, this one against Dijack stands out as it took a nontraditional spin on the original "David vs. Goliath" concept. This was simply because despite his massive size advantage, Dijack truly met his match in Lee when it came to strength, endurance and high-flying ability.
Not only was Lee's skill displayed in this contest, but Dijack's passion was apparent as well! He continued to fight and finished the match even after breaking his finger during the minutes before! This contest is the true epitome of what NXT is all about.
6. Bianca Belair vs. Io Sky for the RAW Women's Championship: Backlash, May 6, 2023
In an attempt to break the record as the longest reigning WWE Raw or Smackdown Women's champion of the modern era, Bianca Belair stood across the ring from Io Sky, her toughest challenge yet. This match was fantastic as Bianca and Io both put on a show in front of an extremely hot Puerto Rico crowd. This was a showcase which had incredible moments including Belair Gorilla pressing Io Sky over her head with one arm!
While the WWE Universe was very much behind the idea of crowning a new champion in Sky, Belair retained in the end in impressive fashion.
5. Bad Bunny vs. Damian Priest in a San Juan Street Fight: Backlash, May 6, 2023
The best word to describe this affair is fun. In fact, it was the most fun I've had watching a wrestling match in a long time. This showcase was full of weapons, brutality, a hot crowd and crazy spots. It even featured deafening crowd reactions to the returns of Carlito and Savio Vega.
Overall not only was this very entertaining, but it was also a statement match for Damian Priest who truly showed that he can practically bring anybody to a great match.
4. Roman Reigns vs. Sami Zayn for the Undisputed WWE Universal Championship: Elimination Chamber, Feb. 18, 2023
In the climax of an epic year-old story, Sami Zayn challenged the record-setting reign of the tribal chief (Roman Reigns) in front of his family and friends in his hometown of Montreal, Quebec, Canada.
This match came about after Zayn decided to turn on the Bloodline and stick up for his best friend, Kevin Owens. Reigns' furiosity led to him issuing Zayn a challenge where he would be able to attempt to harm him in front of his family and friends.
While Reigns was in control for a large portion of the bout, Zayn had the comeback of a lifetime with an electric crowd behind him. All the fans waited anxiously for a miracle, however Reigns retained in the end. Zayn and Owens' story was still not finished yet, though.
3. Charlotte Flair vs. Rhea Ripley for the Smackdown Women's Championship: WrestleMania 39 Night 1, April 1, 2023
In the midst of a remarkable breakout year, Rhea Ripley entered the women's Royal Rumble match as the first superstar in the match and won the whole thing. This record-breaking rumble win brought her to the Whowcase of the Immortals to face off against her longtime rival Charlotte Flair.
Ripley and Flair have always worked well together as three years ago at WrestleMania 36, Flair won the Royal Rumble and beat Ripley for her NXT Women's championship. Now with the roles reversed, Rhea and Flair put on a hard hitting, exciting match with Ripley coming out on top with a Riptide from the top rope. Not only was this one of the greatest women's matches in WrestleMania history, but it was arguably the best women's match in WWE history.
2. Gunther © vs. Sheamus vs. Drew McIntyre for the Intercontinental Championship: WrestleMania 39 Night 2, April 2, 2023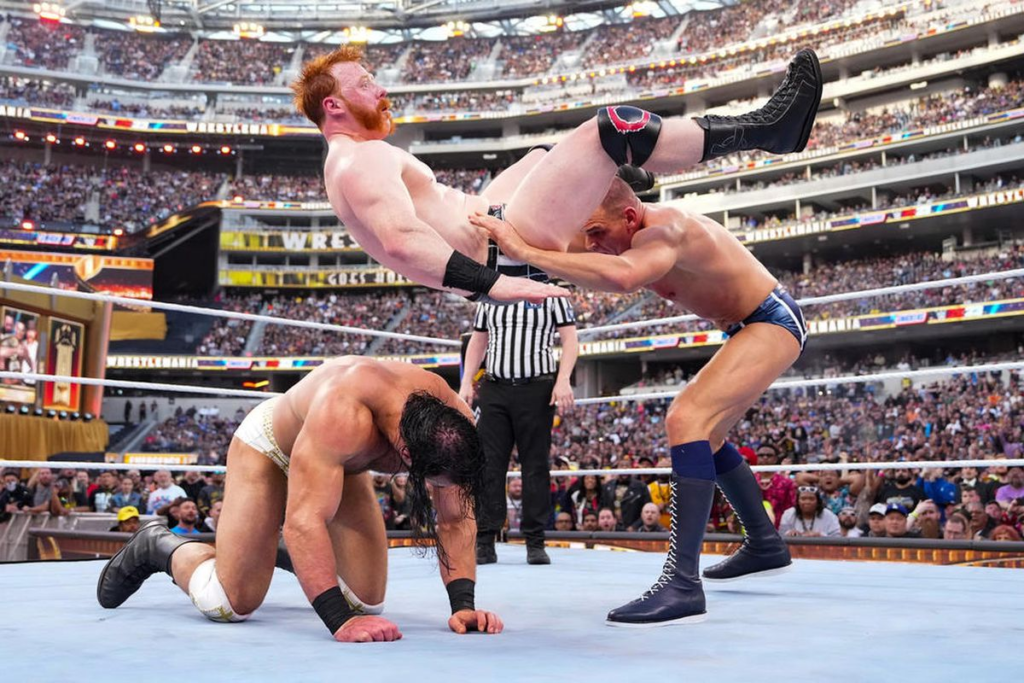 After Sheamus came up short against Gunther in a match for the Intercontinental Championship at Clash at the Castle, the Celtic Warrior did everything in his power to get a rematch for the one championship he's never won in WWE. However, standing in his way was his best friend—Drew McIntyre—who had the same goal in mind.
This led to all three men competing in the most barbaric triple threat match in WWE history. This bout revolved around brutality with never ending chops that echoed around SoFi Stadium.
In the end Gunther retained and continued his record-breaking championship reign as the WWE Universe gave all three men a standing ovation after the match.
1. The Usos © vs. Kevin Owens and Sami Zayn for the Undisputed Tag Team Championship: WrestleMania 39 Night 1, April 1, 2023
In the conclusion of the greatest long term story WWE has ever told, newly reunited best friends Kevin Owens and Sami Zayn ended the remarkable championship reign of the Usos in the night one main event of WrestleMania 39.
The story's drama remained intact during this match as the Usos beat down Zayn who never gave up and kept fighting for what he believed in.
The ending saw Zayn hit the man who he has had so much history with over the past year, Jey Uso, with three Helluva kicks in the feel good moment of the year.
2023 has some of the best WWE matches thus far
That's it! Those are the top 10 best WWE matches of 2023 so far. Overall, the past six months has been a very successful for the WWE. It's a very exciting time to be a wrestling fan and I cannot wait to see what the rest of the year has in stored for us fans!
Did we leave any matches out that you think should make the cut? Let us know on the Agents of Fandom socials!