Fans may be seeing favorite characters like Kyoshi, Rangi and Yun sooner than they expect from Avatar Studios, according to a report from Avatar News. With talk of Paramount+ putting out their first Avatar Studios project in 2025, featuring an adult Aang movie and new earth Avatar show, the characters who made their first appearance in the novels could make their on-screen debut.
This could come as a flashback sequence that Aang would get directly from Kyoshi. It makes sense, on paper, for Kyoshi to reach out to the new earth Avatar, as they would be the nation's first since Kyoshi's 200+ year reign as the bridge between spirits and humans.
However, due to the events of Avatar: Legend of Korra, the ability to speak to previous Avatars is now gone. It is possible though that the new Avatar could be seeking information on Kyoshi's history, as the Sages process to find the next Avatar will be more challenging without that connection.
Who are Kyoshi, Rangi and Yun?
Avatar Kyoshi was first introduced in the Avatar: The Last Airbender animated series in 2005. She was the previous Earth Nation Avatar, 400 years prior to Avatar Aang. What makes Kyoshi fascinating is that, originally, the Earth Sages messed up the process of finding out who the next Avatar is supposed to be. The Sages believed it was a boy named Yun who carried the spirit of Raava. That was not the case, however, and Yun's life spiraled out of control after learning his good friend, Kyoshi, is the Avatar.
Rangi is a fan favorite among Avatar supporters. Beginning as a very close friend of Kyoshi, Rangi then served as Kyoshi's guard and fire bending teacher, the two later grew a romantic connection. Rangi is a no-nonsense fire bender who is extremely loyal and the perfect partner for Koyshi.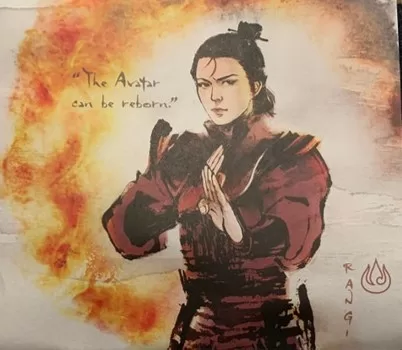 Where to learn more
Kyoshi currently has two novels, written by F.C. Yee. The Rise of Kyoshi tells the story of her learning who she truly is as she travels the globe searching for answers and, surprisingly enough, some revenge.
The second novel, The Shadow of Kyoshi, picks up from where the first left off. We learn more on the fire nation's history prior to Fire Lord Sozin and, surprisingly, what really happened to Avatar Kuruk.
Both are excellent and an absolute must-read for Avatar fans everywhere. Unlike the upcoming Netflix project, fans see these books as canon— as 'ATLA' co-creator, Michael Dante DiMartino, is also credited in their creation.
The latest novel from F.C. Yee, Dawn of Yangchen, follows the previous Avatar to Kuruk— Yangchen. Both stories are surprisingly mature, given the Nickelodeon origin, and offer fans the best information about Avatars prior to Aang.
To keep up with all the latest news, follow Agents of Fandom on all of our socials!