Pedro Pascal's characters are known and loved by the vast majority. Pedro's career has always flourished, but in the last year or so in particular, a lot more people are uncovering the goldmines that are his lesser-known shows and movies. There are some that are still a bit too niche for my liking, though. With almost 60 acting credits, here are the most underrated Pedro Pascal roles.
7. Ezra: Prospect (2018)
Space cowboy alert.
Sure, Din Djarin and Joel Miller are in the spotlight for their adoptive father storylines, but Ezra is the blueprint. It seems the single-father trait is notorious amongst Pedro's characters.
The indie sci-fi movie Prospect explores the complicated alliance between prospector Ezra and Sophie Thatcher's Cee, who travels alongside her father to the central location of the film, an alien moon. With her father gone and Ezra's partner executed, the pair must work together to complete their respective missions.
In an interview with GQ in 2019, Pedro describes the shoot as "really tough, but worth it because of what [directors Zeek Earl and Chris Caldwell] captured visually." His character wears a space suit and helmet for the majority of the movie, another common Pascal character theme, but at least his face isn't hidden this time.
Prospect, streaming on Hulu, scores 89% on Rotten Tomatoes and is definitely worth a watch for fans of sci-fi.
6. Marcus Moreno: We Can Be Heroes (2020)
Alright, this isn't the most show-stopping, career-highlighting movie. But, the laughs outweigh the terrible story and visuals. Need to scratch that itch of Pascal playing a superhero? This is the movie for you!
Marcus Moreno is a master swordsman who leads The Heroics team of heroes. His favourite superpower, however, is being a father. (Pedro, are you okay? All you seem to want to do is play distressed single fathers.)
We Can Be Heroes is a ton of fun. It was actually the most-watched film on Netflix US in 2021 but only sits at 74% on Rotten Tomatoes. Pedro is hilarious in this movie, please give it a watch.
5. Dieter Bravo: The Bubble (2022)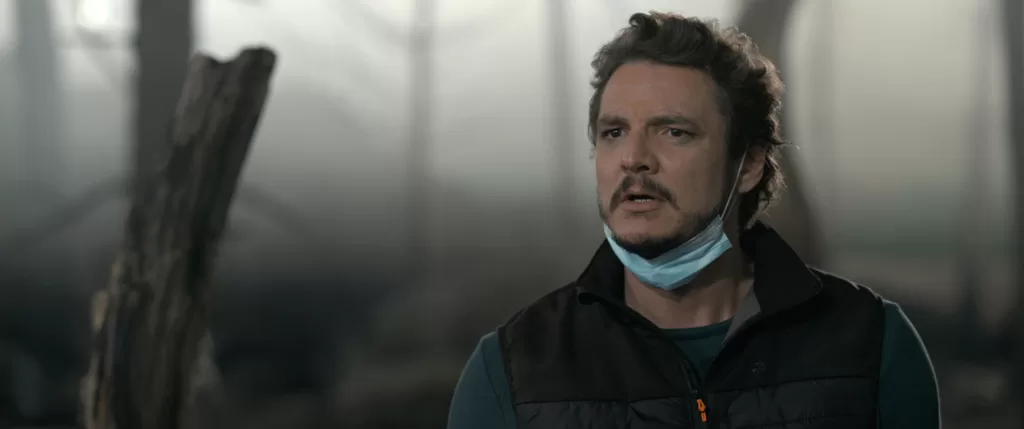 There is not a single movie on this list you will get more laugh-out-loud moments from than The Bubble. The movie is a parody based on movie sets during the pandemic, and how they continued to function during this difficult time. With a stacked cast including Karen Gillan, Maria Bakalova and David Duchovny, it's surprising that this movie sits at only 21% on Rotten Tomatoes.
It is so dumb, but impossible to turn off. You laugh at it, not with it, yet somehow it's incredibly enjoyable. Pedro Pascal's character, Dieter, is a stuck-up, sassy, horny movie star just trying to have a good time. Dieter, along with others, partakes in multiple TikTok dances, which make for amazing entertainment. His one-liners are hilarious and easily make him one of the best parts of the movie.
The Bubble is streaming on Netflix.
4. Dave York: The Equalizer 2 (2018)
This Pascal role is one that continuously sparks controversy between fans. Yes, he murders people, but he looks good doing it! Dave York is a CIA officer turned mercenary. He is a father (shocker) and adds an incredible charisma to this vigilante crime thriller. The movie itself is a decent watch, with plenty of nail-biting action and a heartwarming conclusion.
Pedro admitted "I auditioned my ass off for them," after learning he would be starring alongside Denzel Washington, who he described as "My movie star." Both actors build great tension in their respective roles and perform some exciting action sequences. For any fans of crime thrillers or action movies, this one is for you.
The Equalizer 2 scores 52% on Rotten Tomatoes and is currently streaming on Prime Video.
3. Javi Gutierrez: The Unbearable Weight of Massive Talent (2022)
Though Massive Talent is a love letter to Nic Cage's career, it's Pedro that steals the movie. His charisma and bashfulness are infectious and hilarious and make for some wonderful moments throughout. You can't help but fall in love with Javi.
The laugh-out-loud buddy comedy wasn't as big of a hit as expected, but still went over well with audiences. Viewers instantly gushed over Javi, and it was the first time many fans fell in love with Pascal after seeing his capacity for adorableness. His wholesomeness in this movie is heartwarming, and all you'll want to do is give him a hug and watch Paddington 2 in his company.
Without a doubt, this movie had one of the best press tours in a while. With TikTok lives, and plenty of red-carpet interviews, it was quite the time to be alive in the Pedro Pascal fandom.
The Unbearable Weight of Massive Talent scores a very respectable 86% on RT and is streaming on Prime Video.
2. Javier Peña: Narcos (2015-2017)
Now, this one is arguable. There is a lot of love for Peña out there, just not enough for me.
Based on true events, Narcos is a Netflix original show exploring the Colombian drug scandal in the late 1970s following drug kingpin Pablo Escobar. Pascal plays a DEA agent tasked with taking Escobar and his cartel down. Javier Peña is a real person and was closely involved in the making of the show and the development of Pascal's portrayal of the character.
Javier is complex, with a strong urge to do good by whatever means necessary. He lands in some sticky situations but ultimately ends up on top. Pedro is phenomenal in this role and Peña is, in my opinion, one of the characters he plays best. His sass combined with severity is mesmerising and wowee he looks good.
Narcos was Pascal's first series regular role, and he evidently takes great pride in his portrayal of this character. He says there is a loner aspect to Javier that he can relate to. Plus, all the behind-the-scenes content we have seen depicts him having an amazing time on set in Colombia.
Javier is my second favourite Pedro role. Maybe this list is a bit biased, now that I'm thinking about it. You can watch all three seasons of Narcos on Netflix.
1. Frankie 'Catfish' Morales: Triple Frontier (2019)
My beloved. My darling boy. The man I will defend with every inch of my being, Frankie. Pedro's most criminally underrated role.
Triple Frontier is a Netflix original action movie with Oscar Isaac, Adria Arjona, Charlie Hunnam and Garrett Hedlund starring alongside Pedro Pascal. After watching this movie over fifty times (I am fine) it admittedly isn't the best movie of all time. However, that doesn't stop it from being my favorite film in existence. With this incredible cast, plenty of action and loveable relationships, I think everyone should watch this movie at least once.
Oh, and guess what? Frankie is a struggling father. Does that surprise you? Probably not. Moving on.
The story follows a friend group of former U.S. Army Delta Force operators who reunite in the hopes of robbing a South American crime lord. Along the way, they learn a lot about each other and re-open some old wounds from their Army days. And, their mission ends in a way no one could have anticipated.
Frankie's contrast between his aggression and anger makes his character incredibly loveable. You can tell he is reluctant during his violent periods, clearly acting out of good intention. The emotion Pedro brings to the role is beautiful, your heart breaks with his.
J.C Chandor if you're reading this please reach out, I will write you a sequel for free. It was left perfectly open! Also, 70% on Rotten Tomatoes is a crime. Triple Frontier is streaming on Netflix.
Pedro Pascal never misses
There is not one questionable character in Pascal's filmography. The current hype around The Mandalorian and The Last of Us combined with the still-existing love of his Game of Thrones and Kingsman appearances create one of the best resumes an actor could have. He deserves all the success.
If you want a weekly fix of Pedro Pascal coverage, you can catch us on the Fandom Academy Podcast or hit me up to talk Pedro anytime on Twitter!