Succession episode 2 builds off the premiere's theme of a mad scramble for power. The rifts between the Roy's are growing, and the only way they know how to handle it is to step on the person beside them to gain a leg up. This show is operating at such a high level that it almost feels impossible to truly appreciate it. Old deals are crumbling, new deals are taking shape, and family dynamics continue to evolve in the latest episode of Succession.
*Warning: Spoilers ahead for Succession episode two, "Rehearsal"*
Children bickering in Succession episode 2
The Roy children are all doing great! No one is bickering, they're all getting along and working well as an ensemble, and they come together for a nice night out to close the episode.
If only things were so simple; but they could never be, because these children don't know anything other than chaos, backstabbing, and emotional trauma. They are still making an effort to work together, but as per usual, they can't stay on the same page. Once they all settle to move forward with the Pierce deal, Sandi (Hope Davis) and Stewy (Arian Moayed) offer an alternative.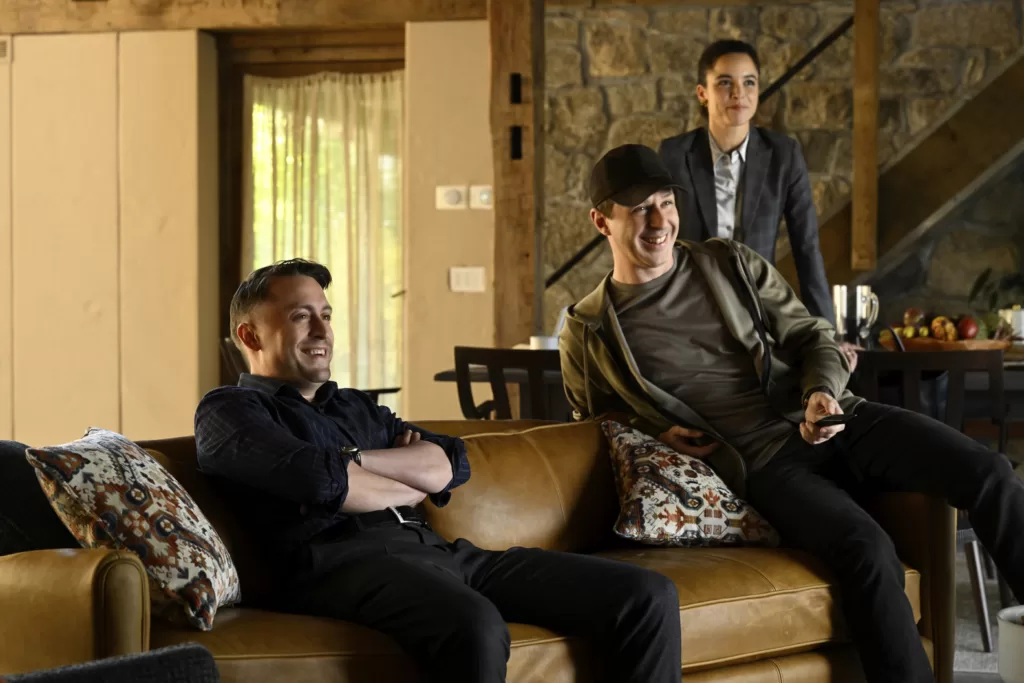 Sandi and Stewy give an interesting pitch: delay the sale, watch the price rise, and come out with more money in a couple of months. Sounds like a sweet deal, right? If there's one thing we've learned from watching this show, anything that sounds too good to be true is almost definitely too good to be true.
On the off chance that Sandi and Stewy are being truthful, maybe this delay tactic works, maybe the deal gets pushed back, and the price gets a bump. But that's not the point. The kids don't need this deal, and they're only doing it for one reason: to spite their father. Kendall (Jeremy Strong) and Roman (Kieran Culkin) keep their eyes on the prize up to a point, but it doesn't take Shiv (Sarah Snook) long to bring Kendall to her side.
These kids cannot stay out of their own way. They have a great opportunity with the Pierce acquisition right in front of them, but they'll sink the ship and throw everything overboard just for the chance to inconvenience their father.
Logan Roy has a new home in Succession episode 2
We're not far from the GoJo sale going final, which means Logan (Brian Cox) won't be able to keep putzing around in the same Waystar office. He's smart enough in all his dealings to make sure he has another spot to plant his feet, and now his sights are set on ATN (American Television Network).
Logan Roy is more of a ghost or a myth than he is a real person. The idea of Logan breathes fear into everyone that hears his name. When you see him wandering around the ATN floor, glaring at all the day-to-day workers, their terror is apparent. Even Tom (Matthew Macfadyen) and Greg (Nicholas Braun) are stunned to see him in the office. His power is immeasurable, and he radiates authority.
Logan spending more time at ATN lends credibility to the theory that either Tom Wambsgans or Greg Hirsch are next in line to take over. Logan is already helping Tom through his divorce with Shiv, lending the advice that he contact and tie-up every good divorce lawyer in New York to freeze Shiv out of any reliable options (absolutely cold-blooded).
This show's iconic score is unmistakable, but composer Nicholas Britell has a way of materializing the same few notes to capture a range of emotions in different situations. These emotions are amplified when you hear those signature notes shift in tone to match what you're watching. When Logan enters the room, the score sings nothing but tension and fear.
Deep seeded family trauma in Succession episode 2
One of the more fascinating set pieces of the episode centers around Connor's (Alan Ruck) rehearsal dinner. When the trio arrive, they run into Connor's soon-to-be (hopefully) wife, Willa (Justine Lupe), who says she just needs a drink after the long night. Anyone who's been to a rehearsal dinner knows the feeling.
To no one's surprise, this event is a disaster. All four siblings end up at a karaoke bar so that Connor can live out a childhood dream. The fact that they all actually tag along to try and cheer him up is incredibly sweet. At their core, they definitely care for one other, even though they have no idea how to show it.
The gang is enjoying what seems like a nice evening, despite the fact that they all look like they'd rather be anywhere else—then, enter Logan Roy. Logan knows about their plans to push the deal out of place, and he's here to talk them out of it. His very presence in the karaoke club is the ultimate fish out of water scenario, but he's terrifying nonetheless.
What's so fascinating about this scene is Logan's ability to adapt his social skills based on what he needs out of the conversation. Before he dives into business with his children, he tries to apologize to them and have a heartfelt moment, but they all see right through it.
It's true that Logan misses his children, but he doesn't want to hash out all these emotions and have a "sorry" party. He's making a last ditch effort to discuss these feelings because he thinks if he can appeal to their emotion, he can get them to release some pressure and allow the deal to move forward. Logan knows his children have the power here, and he has one parting statement for them: "I love you, but you are not serious people."
Succession episode 2 is a successful follow-up
At this point, it's hard to imagine a scenario where Logan Roy doesn't come out on top. He isn't the hero of this story, and neither are his children. That's the beauty of Succession, there's no clear-cut victor; but in season three Tom Wambsgans may have laid out exactly who's been set up to win all along. When Kendall asks Tom about joining up against his father, he delivers one of the most iconic, chilling lines in TV history:
I don't mean to be insulting, but having been around a bit, my hunch is that you're going to get f*****. Because I've seen you get f***** a lot, and I've never seen Logan get f****** once.

—Tom Wambsgans, season three of Succession.
We still have eight weeks left, but Succession episode 2 ramps up the intensity to a level tantamount to a penultimate or season finale. We're just making the first turn of a long race, and things could not be more exciting. If we keep up this pace, we're going to finish this season with what may be the best television show of all time.
Succession episode 2 is now streaming exclusively on HBO Max. Follow the Agents of Fandom socials for the latest Succession coverage.
'Succession' Episode 2 "Rehearsal" Review
'Succession' Episode 2 "Rehearsal" Review
The Good
Incredible dynamic between Tom and Greg
The rifts forming between the children are entertaining
Production quality remains flawless