This piece was written during the 2023 WGA and SAG-AFTRA strikes. Without the labor of the writers and actors currently on strike, the series being covered here wouldn't exist.
Star Wars' latest series has been chock-full of references to Rebels, and Ahsoka episode 3 takes them to another level. Although the team isn't fully completed yet, the latest installment is an action-packed adventure that emphasizes the relationship between Ahsoka Tano (Rosario Dawson) and her apprentice Sabine Wren (Natasha Liu Bordizzo).
Part three of the series highlights the consistent ineptitude of Republic officials while delivering some of the most exciting action sequences seen in the Star Wars Disney+ universe to date.
*Warning: Spoilers ahead for Ahsoka episode 3 and Star Wars: Rebels*
Sabine finds balance in Ahsoka episode 3
Right from the beginning, Ahsoka episode 3 dives deep into its routes, strongly resembling a sequence from Star Wars: Rebels. As Sabine is clearly discouraged by the droid Huyang's (David Tennant) brutal honesty towards her natural aptitude with the force, traces of the Ahsoka Tano that are adored by fans throughout Star Wars animation are beginning to come to light.
It's still a mystery whether Sabine will be able to tap into The Force residing within her, however the door is clearly still open. In Ahsoka episode 3, the titular character re-affirms Jedi Kanan Jarrus' (Freddie Prinze Jr.) lessons taught to Sabine throughout Star Wars: Rebels. The force exists within all living beings, but it's just a matter of talent.
Ahsoka reminds Sabine that despite her lack of natural ability to wield The Force, it's her Mandalorian nature causing her struggles to find balance. However, using classic Jedi training techniques and a similar wooden saber to the type Sabine used with Kanan, the master and apprentice make serious strides. More importantly than their growth training, Sabine and Ahsoka finally discover common ground and are beginning to connect.
Ahsoka episode 3 taps into an important formula missing from the first two episodes, chemistry between Ahsoka Tano and Sabine Wren. While Huyang's constant negativity towards Sabine is an enjoyable comedic relief, it's also a necessary catalyst for Ahsoka to rediscover her abilities as a leader. Throughout the episode, positive reinforcement shines through as a far more successful teaching method than negativity. Her newfound commitment to meeting Sabine halfway proves imperative to their success and makes for incredibly satisfying television.
Additionally, Ahsoka Tano reveals a side of her that's been missing recently as the character has clearly been through a lot following her last appearance in animation. Although brief, Ahsoka's commitment to the light is perfectly demonstrated during her conversation with Huyang in hyperspace. She couldn't care less about institutional rules, she cares about people and doing the right thing.
While Huyang is once again questioning Sabine's potential as a Jedi, Ahsoka re-affirms that she doesn't need Sabine to operate the same way as the Jedi of old. She needs Sabine to be herself.
New 'Star Wars' series, same old Republic
It's not difficult to figure out how the Sith were able to overthrow the Republic. Although Emperor Palpatine was a formidable foe, the ineptitude and arrogance of the Republic allowed him to make any political move he wished.
Unfortunately, Ahsoka episode 3 displays how history often repeats itself in the Star Wars universe, as the New Republic's senators showcase impressive ignorance towards Hera Syndulla (Mary Elizabeth Winstead) in her quest for aid to find Grand Admiral Thrawn (Lars Mikkelsen). Despite Chancellor Mon Mothma's (Genevieve O'Reilly) best efforts, Ahsoka and Sabine will have to continue without reinforcements.
Jacen Syndulla arrives in Ahsoka episode 3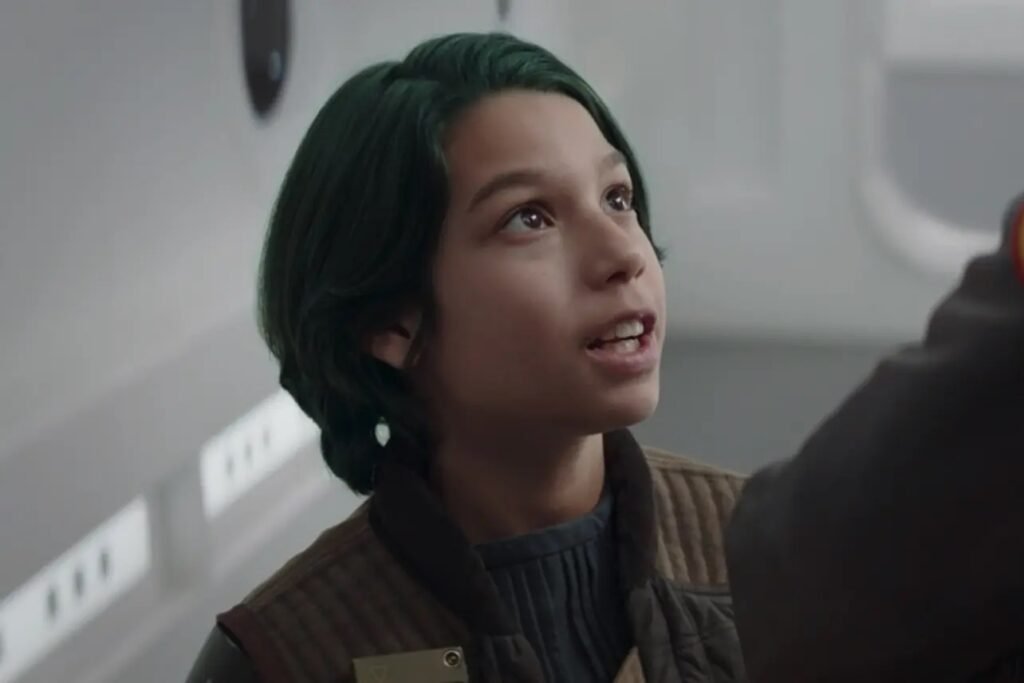 Although the Senate's decision is disappointing for those hoping to see Ghost Crew reinforce Sabine and Ahsoka, Hera's departure from the meeting brings forth one of the most exciting moments from the episode, the live-action debut of Jacen Syndulla, (Evan Whitten) the son of Hera Syndulla and Kanan Jarrus.
While his appearance is brief, it's an emotional moment as Jacen declares to his mother he wants to be a Jedi. It makes sense for the boy to be Force-sensitive like his late father, although it seems like he's spending a lot of time with fan-favorite droid Chopper these days. Eventually, someone will need to teach him the ways of The Force.
With the return of Ezra Bridger (Eman Esfandi) looming, the potential remains for Ezra taking on his former Master's son as an apprentice. Who knows, maybe Jacen Syndulla will be a part of the new Star Wars movie featuring Rey Skywalker (Daisy Ridley) in the future.
It's "Time to Fly" in Ahsoka episode 3
Those who enjoy a dogfight throughout space will love Ahsoka episode 3 as a large portion is spent zipping through the air while lasers fire from all sides. When Ahsoka and Sabine discover the gigantic hyperspace ring in construction by Morgan Elsbeth (Diana Lee Inosanto) to retrieve Thrawn, they're attacked by Shin Hati (Ivanna Sakhno) and the mysterious inquisitor Marrok. The battle also gives us an incredible sequence reminiscent of Star Wars: Clone Wars as Ahsoka battles ships with her lightsabers out in space.
Throughout the dog fight, Marrok's voice finally comes through for the first time. Although it's unclear who is playing the character, rumors remain swirling that the character could potentially be voiced by legendary Star Wars voice actor Sam Witwer. Many know Witwer as the voice of Darth Maul in animation, however, he is also a very prominent non-canon character from video games.
Witwer voices the character Starkiller from The Force Unleashed video games. While the character would need to be heavily adapted due to his insane power levels, there is enough reason for fans to speculate that this could be a reality, as Witwer once mentioned that Dave Filoni had the idea of adapting him into an inquisitor. Although it's more likely Marrok is simply a character never seen before, it's still fun to speculate.
The action sequences in Ahsoka episode 3 are wildly exciting, but they are overshadowed by the appearance of Purrgil. Purgill made their first live action appearance in The Mandalorian season three, but not in this capacity. The space whales are described by Huyang as being able to migrate to other galaxies using hyperspace lanes, which provided the idea to create the ring to find Thrawn. Purgill are centerpieces in the disappearance of Ezra and Thrawn at the end of Star Wars: Rebels, as Ezra's connection with them allow him to disappear with the Grand Admiral.
Ahsoka episode 3 concludes with the protagonists crash-landing in an attempt to hide from their foes. However, as if Morgan, Marrok and Shin Hati aren't enough to contend with, it's revealed Baylan Skoll (Ray Stevenson) is waiting on the planet with an army to hunt them down.
It remains to be seen how Ahsoka, Sabine and Huyang will come away from this dire situation victorious, however, this episode does a phenomenal job setting up the conflict for the rest of the series. Throughout Ahsoka thus far, there's been a near-perfect blend of backstory and advancing the plot. This continues with Ahsoka episode 3 delivering an action-packed, reference-filled, thrill ride.
New episodes of Ahsoka release every Tuesday at 6pm PST / 9pm EST exclusively on Disney+. Be sure to check out the Agents of Fandom socials and subscribe to our podcast network where we break down each episode of Ahsoka in depth.
'Ahsoka' Episode 3 Review
'Ahsoka' Episode 3 Review
The Good
Action-packed throughout with cool lightsaber sequences and dogfights
New insight into the mysterious Marrok
Mon Mothma sighting!
Jacen Syndulla first-live action appearance!
PURGILLS!!
First time Rosario Dawson has REALLY felt like Ahsoka
Wonderfully set up the next few episodes with clear problem and resolution goal
The Bad
Could've been 10-15 minutes longer
Early slow-pace to rapid jump in action could put some people off balance