Jonathan Majors. Paul Rudd. Wait, what do you mean I have to write more? CCXP in Brazil offered us a special look at Ant-Man and The Wasp: Quantumania, with some new footage to parse through. While many of us were expecting a new trailer, we still weren't disappointed. Instead, Marvel Studios dished out a "special look" which serves as more of a tribute to Paul Rudd's Ant-Man. However, the montage also reveals some fascinating new dialogue from our beloved new villain, Kang The Conqueror.
You're Out of Your League, Ant-Man
The clip opens up with Michael Douglas' Hank Pym narrating over a montage shot of Scott Lang's history. We see clips going back to his origin as a cat burglar in the original Ant-Man. The journey continues all the way forward to Scott punching a giant Chitauri Leviathan in the face in Avengers: Endgame.
We've followed Scott Lang on quite a journey that will have spanned EIGHT (!!!) years, by the time we sit down in a theater for Quantumania. Is it possible that this could be the finale of Ant-Man's journey in the MCU? It would certainly explain a montage of our history with him as promotional material leading up to the film.
You're an Avenger, Have I Killed You Before?
Along with the footage we saw today, we've seen Kang interact with Ant-Man in the same dark room in the official Quantumania trailer that was released in October. In the initial footage, Kang tells Scott "I can get you home, and get you more time… if you help me." Could he need help escaping the quantum realm? No way to be certain right now, but the possibilities are thrilling. In the newly released footage from CCXP, Kang tells Scott:
"Your reality, everything you're holding onto, I know how it ends. You're out of your league, Ant-Man."

Kang The Conqueror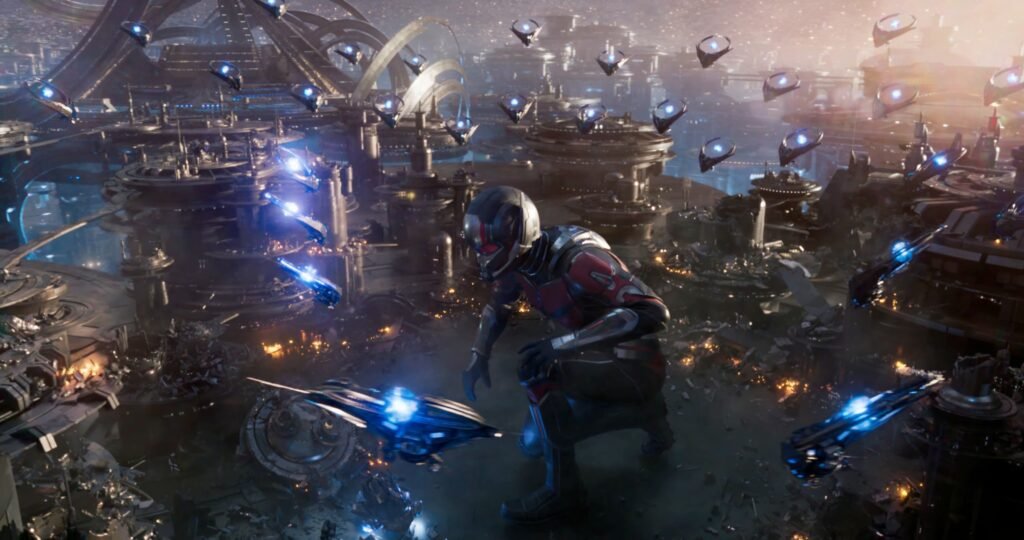 In a recent tweet, fellow agent Emma Dorris shared a delightfully intriguing theory, one I'm quite jealous I didn't come up with myself. Could Kang be holding Ant-Man hostage in some sort of time loop here? Is what we're seeing all the different potential outcomes? I doubt his first resort would be to kill someone with as much knowledge of the quantum realm as Scott Lang. However, reports from SDCC display privately screened footage indicating that Kang asked Scott this harrowing question; "You're an Avenger, have I killed you before?", a line that has been released to the public.
Everything you're holding on to, I know how it ends
After one trailer and a special look, Kang the Conqueror has already given us several generational quotes. We have so much to look forward to with this film, but little else matters besides seeing Jonathan Majors debut as an MCU villain in a feature film, something we'll be seeing more of moving forward. Ant-Man and The Wasp: Quantumania is the first project of Phase 5.
With the mixed opinions coming out of Phase 4, expectations will undoubtedly be sky-high. We know Kang is going to be with us all the way through Avengers: The Kang Dynasty, which is currently slated for a May 2nd, 2025 release date. Quantumania is sure to be a charming trip back into the lives of the characters we know and love, along with a stunning introduction to the next Avengers-Level Threat.