The first week of the month means a new Scarlet Witch story has hit the shelves. From the mind of Steve Orlando, and visuals by Sara Pichelli, Marvel Comics' Scarlet Witch run has been a fascinating take on Wanda Maximoff. Scarlet Witch #4 sets the stage for the conclusion of the first arc, as questions are answered and the threat becomes clear.
I adore previous issues of this new series, with its standard "problem of the month" approach. This is the first issue that honors the tease of the larger problem involving Darcy, the stone, and Wanda's new foe.
*The following review contains spoilers for Scarlet Witch #4
Darcy did what?!
The issue picks up where we left off. Scythia, previously known as Hippolyta, is holding Darcy Lewis hostage in Lotkill. Why is Scythia is after Darcy? Because Darcy allegedly murdered a member of the Bacchae.
For her crime, Darcy's punishment is death—an eye for an eye, as they say. Wanda won't let this happen, and a fight between her and Scythia commences. The visuals during the battle are downright stunning, as Sara Pichelli's art continues to be a standout in this series. The action is very easy to follow, and the panels are laid out during battle in an extremely appealing fashion. At times, we see slim panels, yet they are close-ups of Wanda or Scythia's eyes. It allows Pichelli to show emotion just within the eyes themselves, an incredibly difficult skill to master.
A fascinating moment in the battle occurs when Scythia hurls the stone necklace, that repeals Wanda's power, at the Scarlet Witch. It is the only thing that the Amazonian does during the fight that actually injures Wanda. As a last resort, Wanda portals Scythia out of the town and uses a protective spell so that she cannot re-enter Lotkill.
WandaVision nods
This creates a very WandaVision type moment, where the villain is stuck outside a town (standing next to something extraordinarily similar to the Westview welcome sign), and unable to get in due to the town's magical barricade. Darcy then reveals to Wanda that she killed one of the members of the Bacchae, but only in self-defense.
While Darcy tricks the Bacchae to join their group, she goes undercover as a journalist to expose the violent ways of their punishments. In the end, her plan backfires, and she ends up doing the very thing she tries to expose. Wanda tells Darcy it isn't her fault, and so long as she doesn't leave the town, Scythia cannot harm her.
Nonetheless, that's not the end of the story. Much like the hex in WandaVision, the protective magic doesn't make its way underground. Scythia digs through a cavern and finds herself under the hex and on the verge back into town—but discovers something along the way. Naturally, Lotkill stands on the material of the same stone that repeals Wanda's power. Scythia now has full, magic proof, rock armor and heads back her way.
Is this issue new reader friendly?
I would not recommend picking up this issue if you haven't read the previous stories of this Scarlet Witch run. That isn't to say that new readers would be completely lost, as Marvel continuously does a fantastic job at summarizes readers with their prelude paragraphs.
However, as we approach the end of this first arc, it makes the most sense to go back and read the previous three issues if you can. The story pays off the early mystery of Darcy's appearance and her secret.
This run continues to be very new reader friendly, with some caveats. There are characters who have a long-standing relationship with Wanda, like Polaris and Viv Vision. Though, Orlando does a good job with summarizing the history between Wanda and her friends and family.
Is Scarlet Witch #4 worth checking out?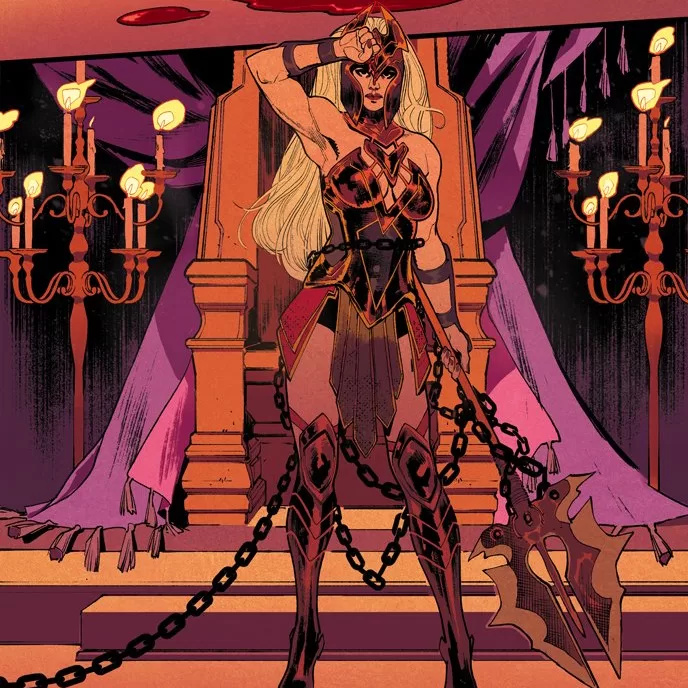 This issue remains one of my favorites Marvel Comics on my "monthly pull" lists. Steve Orlando is putting a lot of effort into the first major Scarlet Witch story since the popularity of WandaVision. It is designed for fans of the character, new and old, to sit back and enjoy what makes Wanda Maximoff so cool. There are nods and odes to past Scarlet Witch moments, in movies and comics.
I cannot rave about Sara Pichelli's art enough. Everyone and everything, from this entire series, looks beautiful. The designs, panel layout, and flow is masterfully crafted. Matthew Wilson's vibrant red colors splash from page to page, complimenting everything incredibly well. It is a shame that Pichelli will not be on next issue, but having Russell Dauterman come out of the bullpen is like going from prime Clayton Kershaw to Shohei Ohtani—you cannot go wrong.
Once again, this run gives Wanda fans a very enjoyable read and I am excited to see what is to come. Pick up your copy at your local comic shop and follow the Agents of Fandom on socials to stay updated!
Scarlet Witch #4
Writer: Steve Orlando
Artist: Sara Pichelli
Inking Assistant: Elisabetta D'Amico
Letterer: Cory Petit
Cover Artist: Russell Dauterman
Scarlet Witch #4 Review
Scarlet Witch #4 Review