Dungeons & Dragons was first published in 1974 as a high fantasy tabletop game. Over the years there have been multiple iterations, an unsuccessful trilogy of movies, and several video games. Now, a brand-new movie is releasing.
Our story begins…
Written and directed by Jonathan Goldstein and John Francis Daley, Dungeons & Dragons: Honor Among Thieves follows the bard Edgin (Chris Pine) and barbarian Holga (Michelle Rodriguez) as they attempt to rob Hugh Grant's Forge Fitzwilliam. On their journey, they encounter Sophia Lillis' Druic, a Tiefling druid, the magic sorcerer Simon (Justice Smith), and a paladin, Xenk Yendar, portrayed excellently by Rege-Jean Page.
On their quest, they encounter dungeons (believe it) and a particularly large dragon (or not), as well as creepy graveyards, beautiful forests, and bustling cities, whilst dealing with grief, family, and finding their place in the vast fantasy world.
Who's in your party?
Watching Dungeons & Dragons: Honor Among Thieves, it is clear the cast are having a great time. No performer feels out of place—each adds to the comedic and heartfelt tone of the movie.
Chris Pine's Edgin leads this rag-tag group of heroes; his performance is not only hilarious, but equally heartbreaking. Edgin's motivation drives him throughout this story, clearly shown through Pine's performance.
Michelle Rodriguez is equally great as Holga, an exiled barbarian who has been best friends with Edgin for over a decade. Whilst her character does feel sidelined in places, anytime Rodriguez is on screen, she manages to catch your eye and make you smile.
A personal favourite is Druic, played by Sophia Lillis. Although her backstory does not feel as fleshed out as other characters, Lillis does a great job of making you interested in her Tiefling character. She also has the best action scenes in the entire movie—without a shadow of a doubt.
Although not in the movie as much as other characters, Rege-Jean Page's Xenk is a standout. Bringing an almost Shakespearean quality to his character, Page will make you laugh out loud with his delivery and stoicism.
The same can be said of Hugh Grant's villainous Forge, a con-man who deceives Edgin in a previous job. Grant has shown yet again why he is great at playing villains; this one almost on par with the evil Phoenix Buchanan in Paddington 2.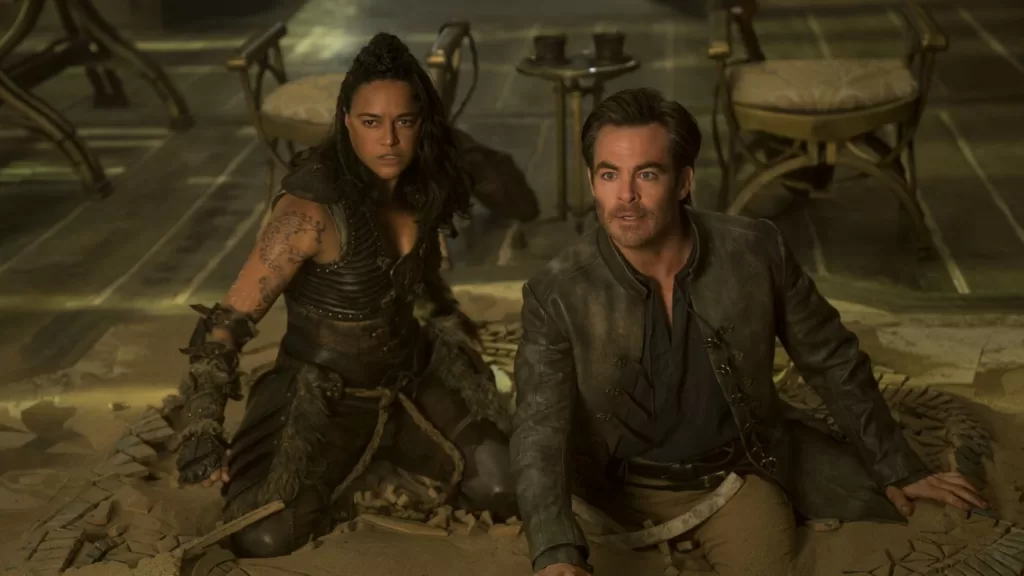 Knowledge check
One of the highlights of Honor Among Thieves is its ability to welcome both fans of Dungeons & Dragons, and an audience who may not have any idea about the game.
Structurally, this movie plays like a campaign of DnD. We have character backstories, side quests, random encounters with the world's population, and a big final mission. There are references to common attributes of a DnD session and easter eggs scattered throughout for keen-eyed viewers to spot.
"Each character represents a different player and how they go about playing the game"

—Director John Francis Daley, Variety Magazine
But for people who have never played the game, there is no need to worry. Whilst feeling like Dungeons & Dragons, the movie never relies on the audience to have pre-existing knowledge of the game. Xenk does not pull out a D20 and complete a perception check when he enters a room.
The movie never stops the action to let the characters roll for damage and defence. Although there are easter eggs for existing fans to enjoy, Goldstein and Francis Daley's screenplay guides new viewers through the journey without overwhelming them with lore.
Laughter is the best medicine
Anyone that has ever played Dungeons & Dragons will agree how hilarious some moments can be. As the game is often played with groups of friends, it can be difficult to take each other seriously; and in a game where the player can do literally anything they want (like…literally anything), why would someone not choose the silly option?
Although no characters in this movie make incredibly ridiculous decisions, one element of the game that makes its way into this movie is comedy. Dungeons & Dragons: Honor Among Thieves is hilarious. Each member of the cast will make you laugh at least once during the movie, whilst others will have you chuckling every time they say something even remotely funny.
And even though the movie is comedic at its core, it never feels like the comedy takes away from any heartfelt moments. Whilst some scenes feel more filled with jokes than others (sometimes too much), the cast and crew know when to tone it back and ensure the emotional beats are hit when needed. This allows the audience to resonate with the characters' emotions and really feel the lows when they experience them.
Roll for perception
The main issue with Honor Among Thieves is its terrible CGI. As this movie is set in a non-existing world, there are a lot of green screen backgrounds and animated action sequences.
Whilst some sets are practical, there are several locations that do not look great and are clearly created with a green screen. One instance of this is in a dungeon; for most of the sequence it appears to be real, but once action is involved, the whole set turns into a CGI mess.
Admittedly, there are times when, although the CGI does not look great, the action is still fun. As mentioned previously, any action sequence involving Druic, who can shape-shift into an Owlbear (an Owlbear??), is incredibly entertaining and joyful to watch.
However, in a world where Avatar: The Way of Water exists, studios cannot get away with poor visuals in their movies (looking at you Ant-Man & The Wasp: Quantumania), and unfortunately Dungeons & Dragons falls into that group.
It is a shame, as when practical sets and locations are used, the movie looks and feels real. If a sequel is made, one can hope that the studio will create more practical effects.
Natural 20
Overall, Dungeons & Dragons: Honor Among Thieves is an incredibly fun time. The way it manages to weave action, character, and comedy is very well done, and the cast bring their all to these characters. Whilst the CGI lets the movie down in places, the story itself shines, and it will undoubtedly satisfy audiences. You can check out my experience at the UK premiere of Dungeons & Dragons: Honor Among Thieves here!
Stay tuned to the Agents of Fandom socials for the latest movie and entertainment news and reviews.
'Dungeons & Dragons: Honor Among Thieves' Review
'Dungeons & Dragons: Honor Among Thieves' Review
The Good
Great characters and performances
Excellent world building
Laugh-out-loud comedy
The Bad
Terrible CGI
The runtime is a little too long