The moment I arrived in London's Leicester Square, I knew I was a part of something huge. The entirety of the square had been taken over by barricades and fences, all sporting the Dungeons & Dragons poster. Fans lined up in the rain, hoping for a chance to see their favourite cast member walk the carpet. I understood the scope of the event when I picked up the tickets. I had to go from one side of the square to the other, and whilst walking the outside fences did not stop.
Roll for confidence
I have been a huge Dungeons & Dragons fan since I was 16. One Friday night, I was roped into the middle of a campaign by my best friend, and having never played before, that experience was almost as daunting as being on the red carpet last night. After a few tries of rolling dice and getting into character, it was clear that the table-top game was something special.
That one night led to six months of playing every Friday night—laughing, crying, raging, and cheering as our characters failed and succeeded (more often failed); making stories every week that I still remember seven years later. Some of my favourites include taking out invading trolls with a piece of rope, receiving the corpse of our gnome friend dropped into our cart by an eagle, and attempting to save a city from an army of fish-people.
Since that campaign, I've been a part of multiple one-shots (a session that takes place over multiple hours but is completed in one sitting) and different types of campaigns, such as a Call of Cthulu expansion.
All of this combined means I spent the entire premiere fanboying.
An immersive experience
Once I had my tickets checked and I was let onto the red carpet, I was met by two fully armoured soldiers holding spears. Ahead of me, the statue of William Shakespeare that stands at the centre of the square was surrounded by several large "stone" pillars, all bearing flags with a sun emblem. Fire blazed out of hanging cauldrons. Elsewhere, a large "&" statue in the form of a dragon was being used for photo opportunities. Immediately, I felt immersed in the world of Dungeons and Dragons.
On the red carpet
After a short stretch of carpet, I was taken into a small red room full of fog. Inside, a videographer was taking three second slo-mo shots of people emerging from the fog. As a nerd that has dreamed of looking as cool as my heroes in the movies, I leapt at the chance. Safe to say I looked nowhere as cool, but the experience itself was worth it.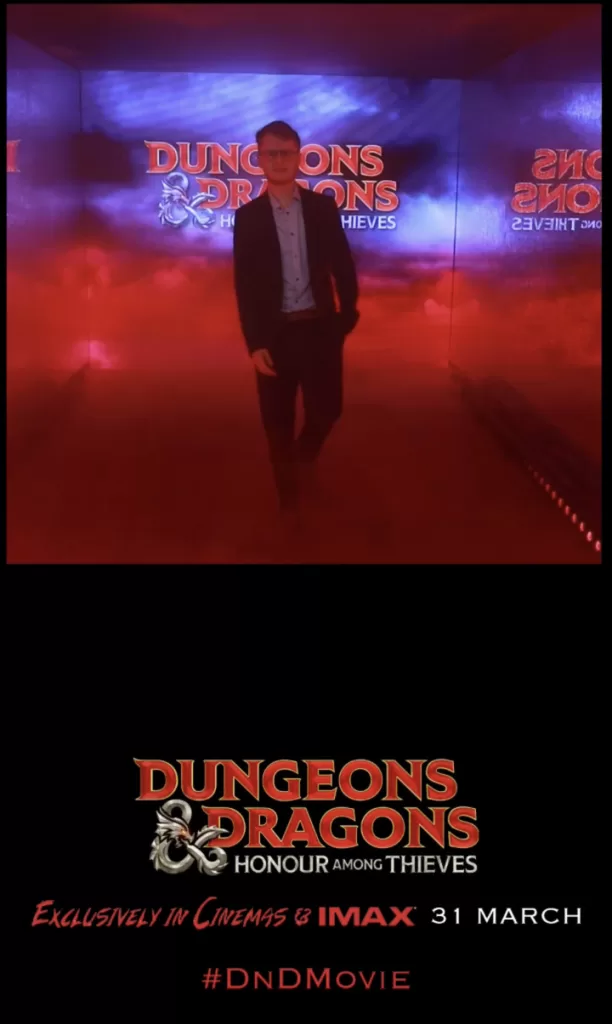 From there, I was led further down the carpet. Over the speakers, I could hear different members of the cast being interviewed. On either side of the carpet were groups of fans, cheering and applauding as each cast member was called out and spoken to. One of the funnier moments involved hearing a woman screaming "John!" in an attempt to get Rege-Jean Page to take a photo with her.
For the next half hour, I was placed in a small fenced off area with some friends. We watched as interviews were conducted in front of us, everyone grinning at the ridiculousness of what we were experiencing. Justice Smith, who plays Simon in the movie, spent a lot of time in the area and seemed to be having an amazing time. Every time I looked over at him, he was smiling and laughing or engaging in a conversation with a fan.
Entering the dungeon
After a quick photo opportunity, everybody was led into the Leicester Square Cineworld where the movie was showing. The event hosted three screenings for the movie, and I was lucky enough to attend the IMAX showing (the first time I have ever seen a movie this way). The screen's size was incredibly intimidating, but equally amazing. Each guest was given a Dungeons & Dragons themed popcorn—caramel and chili, something to do with a dragon—which was very tasty, although it did nearly make me choke towards the beginning of the movie.
Before the movie begun, directors Jon Francis Daley and Jonathan Goldstein introduced the lead cast (Hugh Grant received a particularly loud applause on his arrival). Chris Pine proceeded to give a short speech regarding the movie, finalising the brief talk with a shout of "Dungeons and DragonsI" and thus, the film begun.
A magical experience
Whilst an overwhelming experience, the Dungeons & Dragons: Honour Among Thieves premiere was a night to remember. From seeing the cast, to walking to the red carpet, I had an incredible night with some amazing people. The movie itself is a lot of fun, so keep an eye out for the Agents of Fandom review, coming soon!
I will also be posting a video over on my TikTok page! If you are interested in what else I got up to at the event, you can find my page here!
Stay tuned to the Agents of Fandom socials for the latest movie news.