The following 'Gen V' review was made possible by advance screeners of episodes 1-6, provided to Agents of Fandom by Prime Video for review purposes.
---
This piece was written during the 2023 SAG-AFTRA strike. Without the labor of the actors currently on strike, the series being covered here wouldn't exist.
When the first spinoff in Prime Video's The Boys universe was officially announced, I had no idea what to expect. The three seasons of source material to come before don't make a rigorous effort to set this series up, and no one amongst the fandom was clamoring for stories centered around a younger generation of Supes. Despite The Boys' unblemished history of telling compelling superhero stories, I was cautiously optimistic at best about this show. After watching the first six episodes, I can confidently say Gen V is the new gold standard for any series spun off from a popular IP.
There will likely be some hesitation for people to check out this show, given it isn't based on established characters. Sure, a Homelander (Antony Starr) origin story might've been more marketable, or a prequel focusing on the relationship between Butcher (Karl Urban) and Mother's Milk (Laz Alonso) would likely draw more premiere viewers. But as always, the powers that be behind this franchise prove they will put nothing ahead of good storytelling. From the moment I pressed play on the premiere, I couldn't stop watching Gen V, and if you're a fan of The Boys, you won't be able to either.
'Gen V' Review: A Thrilling Entry Into 'The Boys' Universe With a Story Unlike Anything You're Expecting
It's common for projects spun off from something as popular as The Boys to either rely too heavily on references to the source material or run away from it entirely in hopes of creating something fresh. Gen V strikes the perfect balance in this regard and delivers a story that is capable of standing alone on its own merits but is significantly enhanced by familiarity with what came before. New viewers will have no problem jumping in blind and enjoying the series, and longtime fans are sure to feel rewarded for their long-standing commitment to the franchise.
The Boys always has an adept awareness of what's going on in the world, and how to delicately craft a story the audience can relate to despite not living in a world full of Supes. Although the show focuses on a group ranging from ages 18-22, it's so much more than just a tale about superheroes in college. The series' willingness to examine the burden of indoctrination into the toxic superhero culture this franchise has created is what truly elevates Gen V to the highest level.
It's well established within The Boys universe that people gain powers after their parents give them Compound V as a child, but given the main characters are all adults, most of them have made their peace with that. The younger generation in Gen V is still grappling with what it means to be an enhanced individual in this messed up world of rankings and constant data analysis to determine their worth. When you grow up as one of the few kids around with superpowers, you think you can fix anything. Most have to learn the hard way that there's no amount of power that can change the system they're forced into.
The 'Gen V' Cast Brings Everything Together in a Hilarious and Satisfying Way
One of my biggest points of skepticism coming into this series was having an entirely new cast. It's often difficult for me to latch onto new characters when I know there are other compelling characters within this universe that I am attached to. After watching the first six episodes, I feel completely foolish that this was actually one of my concerns. Gen V brings a very expansive cast to the table, with the main story often focusing on the perspectives of five or six different people, and each of them delivers an all-star performance with no drop off in quality.
At the center of the narrative, driving it forward at every turn, is Marie Moreau (Jaz Sinclair), a hero forged by immeasurable tragedy. Sinclair's performance is unwaveringly brilliant, as she brings a passionate determination and undeniable charm to life through Marie in the show's most tense and heartfelt moments. Marie is one of the many characters in this series to bring a unique power set to the table, and like all the rest, it certainly comes with drawbacks. This franchise's ability to consistently reinvigorate with new powers, charismatic cast members, and having no line it won't cross is one of the many reasons why it's destined to be around for the long haul.
It wouldn't be a show set within The Boys universe if the writing wasn't up to par with the best of the best in the world of television. Each character plays an important part in such a gripping overall narrative, and unexpected relationships blossom to infuse some much-needed tender moments and offer a refreshing break from the constant bombardment of trauma. Gen V also delivers some of the best humor the franchise has to offer, never afraid to turn things up to 11 and leave you wondering, "Did I really just watch that?!"
'Gen V' Hits on Everything You Could Possibly Want in a 'Boys' Spinoff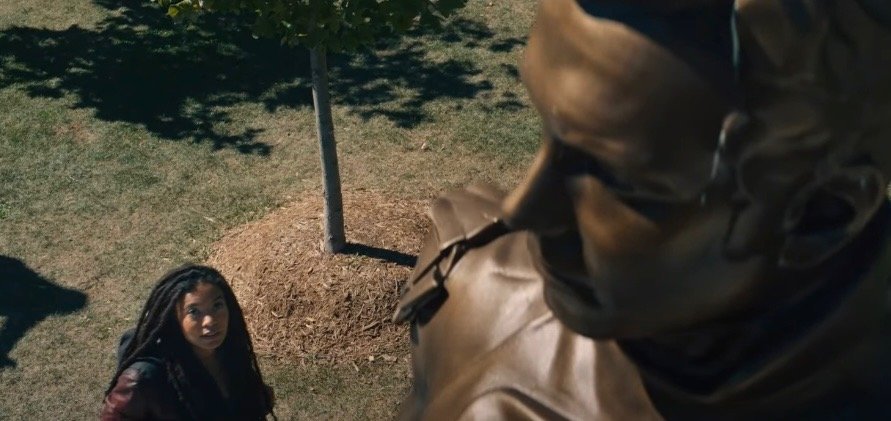 In this universe, heroes aren't the ones who do the right thing, or even the decent thing. The heroes are the ones who've had to fight through a life of grappling with their own identity, just to stumble into enough privilege and power to get away with whatever they want — so long as they deliver satisfactory poll numbers.
Fighting the system has never been harder than it is in Gen V. These kids aren't the first to try to bring down Vought International, but they would be the first to actually succeed. Unfortunately for them, their passion for doing the right thing may succumb to the powerful order designed to break their spirit and turn them into mere show ponies.
The first three episodes of Gen V stream exclusively on Prime Video on September 28. Follow the Agents of Fandom socials to stay up to date with all the latest entertainment news.
'Gen V' Review
'Gen V' Review
The Good
Incredible performances across the board
Memorably action sequences and power sets
Compelling story
Perfect amount of twists and turns
The Bad
Will be tough waiting week to week for new episodes