Over here in the UK, it's South Asian Heritage Month and I can't think of a better movie to review than Polite Society! A film that lives and breathes South Asian flair from the British perspective.
An eccentric and ridiculous film with a literal fight against the patriarchy, Polite Society is the British Pakistani amalgamation of movies like Everything Everywhere All At Once and Get Out. I've seen other films under the umbrella of British Asian representation—there's East is East, Bend It Like Beckham, and Four Lions, to name a few. Each of these movies is almost completely different, but with its own social commentaries.
Polite Society has a fantastical horror and thriller element. It focuses on Ria Khan (Priya Kansara), who loves two things: her aspiration to be a Stuntwoman, and her older sister Lena (Ritu Arya). However, an arranged marriage for Lena appears to throw more than a spanner in the works of everything that she holds dear, shattering her own view of their future.
This desi in the diaspora quickly finds herself in over her head. In the midst of her meddling, she unintentionally discovers a disturbing mystery that serves as a social commentary in a similar vein to the aforementioned Get Out, or other mediums that creatively use afro-surrealism such as Atlanta, Sorry To Bother You and the recently released They Cloned Tyrone.
This brings forth a different type of British Asian film, one that combines the social commentary of intergenerational trauma, sisterhood, and patriarchal capitalism from a SWANASA (South West Asian, North African, and South Asian) lens with the artistry of racial surrealism.
*Warning: Spoilers for Polite Society ahead*
The Director and writer
Firstly, let's start with the creator Nida Manzoor, who is the mastermind behind the scenes. Off the bat, her Edgar Wright-inspired style of direction is one of my favourites, especially regarding transitions between scenes—though the action is clearly inspired by the likes of The Matrix and Kill Bill. There is also the acute influence that Bollywood has on this film, which gives us an incredibly beautiful dance sequence that helps weave meaningfully onto her colourful canvas.
We've already witnessed such charisma from We Are Lady Parts, a show that focuses on Muslim women who face adversity within their community in different ways—specifically marriage. The biggest similarity between the projects is that she presents a central conflict against the toxicity of Desi Capitalism and patriarchy. In this case, it surrounds an affluent family scrupulously searching for a wife, and wooing the community with how rich they are, akin to a "polite society."
The capitalistic and patriarchal setting is not exclusive to this community, it's endemic to the world we live in. What I particularly enjoy about Manzoor is that she loves talking about this movie, her process, her inspiration, and pretty much anything in her interviews. Not to mention, her chemistry with Arya and Kansara is another layer of the sisterhood that her movie represents.
'Polite Society' characters excel in their desi roots and lead the way in their portrayal of non-western relationships.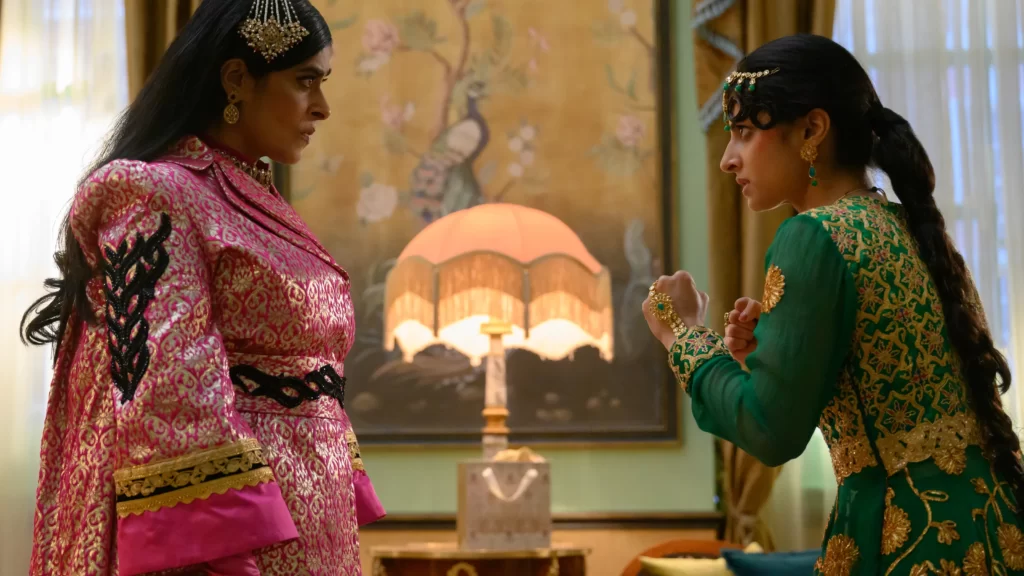 Priya Kansara is a rising star as Ria Khan. She takes the audience on a journey, seeing the world through her perspective where sometimes the lines can be blurred on what is exaggerated, and what isn't. I cannot stress enough how strongly she embodies the role, particularly when she had never practiced martial arts before, and she had less than 2 months to train for the movie.
That inexperience doesn't reflect in the final product, as she has a presence that commands the screen. She lets out her personal frustrations against an opponent in her martial arts class as if she's battling the patriarchal system itself, a very well done precursor to how she channels her rage in the final act.
At first, she is supported by her close friends and sister. This network eventually crumbles through her own selfishness, not willing to accept her friend's assessment of her behaviour, in addition to frustrating Lena. This is where she truly comes into her own.
She's a teenager who refuses to believe her sister can want something else, and the truth shatters her into a million pieces. However, that is what leads her to finally discover what's been going on. Ria now tasks herself to do the thing she runs from this whole time, to be the supportive little sister, and use that to her advantage to pull off a heist themed finale. This is where she can be that action hero she's been training to be.
Ritu Arya plays Lena, the artistic older sister who is going through a personal crisis after dropping out of school. These two sisters have very different stories to tell. Lena shoots for the stars and comes crashing back down, which brings up the theme of failure—especially from the perspective of a Muslim woman, as misogynistic and patriarchal standards consider them to be waning in value the more they age.
This leads to her panicking about this internally, she destroys her canvas, an obvious implication that she's going to throw her dream away, which she does to said canvas when her aforementioned arranged marriage is confirmed. She throws this life away to start a new one. This is an underrated aspect of the movie, Lena's anxiety, panic, and desperation manifests brilliantly during the Khan vs Khan fight, where when finally questioned by Ria, she loudly proclaims, "I'm not good enough." The grip that patriarchy has over these women can be suffocating and relentless, but ultimately, they're in it together.
Nimra Bucha plays Raheela Shah, the stereotypical evil mother-in-law, outstandingly well. She has that aura of an antagonist, similar to actors like Giancarlo Esposito and Mads Mikkelson. Her eye contact, laughter, and smile are such simple methods to show villainy and work almost too well. When Raheela's motivation is revealed, it is absurdly evil, but grounded in the reality of patriarchy. She encapsulates another interesting and painful layer of the patriarchy, the matriarchs who tear down other women. Especially when they are younger and enjoy the freedoms that the older generation could not. This bitterness fuels her rage and offers a tragic introspection into her character. One, that in better circumstances, would elicit sympathy.
Furthermore, she represents the attachment that Muslim men in particular have towards their mothers. It's a brilliant commentary on how they can be embarrassingly loyal to their mothers, to the extent that it is infantilizing. When asked about his audition, Akshay Khanna, who portrays Salim Shah, mentions that he only auditioned for the scenes where he wooed Lena, and he learned about Salim's true motivation after the fact. He deserves plaudits for his performance, he's charming and does his absolute best to fool you with his perceived sensitivity.
We've seen coming of age stories before, but none that can quite capture genuine British South Asian flair, in both action and tone
The movie does well to set the tone early with the fight scene in the library, formatting it as a gladiator battle. This is the audience's chance to suspend their disbelief at how ridiculous this movie can be, and it succeeds. In class, Ria is annoyed that her dream to become a Stuntwoman is not taken seriously by anyone other than her close friends, Alba (Ella Bruccoleri) and Clara (Seraphina Beh).
In spite of Ria's clear talent and haphazard quips, she's as easily defeated in the fight as she was in class, despite declaring herself to be "The Fury," a primal battle cry, which exudes unbridled confidence. The action, whether it's in a library, bedrooms, or at the wedding is styled for the occasion. School fights are filled with quips, trash talk and get viciously personal. In contrast to that, fights at home are brutal, personal and involve biting, perfectly raw and savage, just like how sibling relationships can be.
The choreography team takes inspiration with their research focusing on classic Wuxia and martial arts film, such as Crouching Tiger, which Riya has a poster of in her bedroom. This is aided by the brilliant original soundtrack and score by Tom Howe and Shez Manzoor, and alluring cinematography by Ashley Connor, which are all fused together so effortlessly.
Representation and inspiration
When you combine South Asian women with East Asian martial arts, the representation is beautiful. An unbeatable fusion of action scenes with Desi bridal clothing, massive props to the costume department. The lehenga and jewellery really brings it together. I really recommend reading this exclusive Q&A with costume designer PC Williams for a more in-depth look.
It is a nice change of pace from constructing these fight scenes for the male gaze. This film begins and ends with these sisters, they're the glue that holds the chaos together. Not to mention that aunties can be ridiculously overbearing and always manage to overstep every possible boundary, leading the younger generation to become bitter and untrusting. Priya Kansara channels that energy to the forefront.
Sometimes it's the little things that make me feel at home, the habitual use of words such as "Mashallah"(God has willed it) and "Inshallah" (if God wills it), but personally one of my favourite aspects of my culture, particularly during Eid or wedding celebrations are temporary tattoos, called Mehndi, or Henna. This is known to be associated with good health and prosperity in marriage. However, the only partnership that prevails in this film is the Khan sisterhood.
It's important to talk about the inspiration after such a movie. Not to mention the effect of having such representation on film, it's what led many from SWANASA backgrounds to not only enjoy the movie and see themselves on screen, but they're given that extra opportunity to do interviews, get press releases and write reviews.
I approached Agents Of Fandom, having never formally worked with them before, if they wanted someone to do a review for Polite Society, as they hadn't covered it. I saw that opportunity and took it. Furthermore, what hasn't been talked about is South Asians, women in particular, who take martial arts. Shaheena Uddin, who had written a review for The Guardian, is a British Pakistani taekwondo student. If there's anyone who should be interviewing the cast of this movie, it is her.
I recommend reading her piece, it's thoroughly engaging, talks about the stereotypes regarding Muslims, and delves much deeper into the representation in this film. That's exactly the type of impact representation can have, and it interweaves beautifully with the film's story.
A warrior's fury that will be remembered
Polite Society is already a contender for my movie of the year. A masterpiece that feels catered to my experience as a British Pakistani, it's more personal than most movies I've watched. You don't need that life experience to enjoy this movie though, it is objectively fantastic.
It fluidly escalates the madness, and you're going to be jumping with that shark if there even is one. An original idea in a world plagued with IP's, but this is the start of a film career from both a lead actor and a director, who deserve to be lauded. As I mentioned earlier, Nida Manzoor is an absolute dream to have as a creator, she's not just passionate about the ideas, writing, and directing, but the whole package.
She will be inspiring a whole generation of creators, particularly South Asians. She's appreciative of the slightest compliment during interviews, and if she's reading this review right now, all I can say is Jazakallah (May God reward you with goodness). I extend those compliments to both Priya Kansara and Ritu Arya.
Polite Society is currently streaming on Peacock in the US, is available on demand in the UK, and has been released on Blu-Ray/DVD. Follow the Agents of Fandom socials for all the latest news and reviews.