Breaking news from Rolling Stone Magazine's Tatiana Siegel lambasting the acolytes of DC Comics, stating that Zack Snyder was the criminal mastermind behind the viral and historic "Release the Snyder Cut" campaign. Well, at least 13% of it. More on that later.
According to the report, Rolling Stone reporters, led by Siegel, spoke to "more than 20 people involved with both the "Josstice League" and Zack Snyder's Justice League. The wording used to paint Snyder was that he was "working to manipulate" the Release of the Snyder Cut campaign. Another brave, anonymous soul shared:
Zack was like a Lex Luthor wreaking havoc.

Some dude, Rolling Stone, July 2022
It took four years to evolve, bringing a majestic piece of cinema to the forefront. And now, will it be tackled with this fatal blow. One problem, though: Not everyone buys this claim.
Two Strikes, One Cut
To the average cinephile and geckaphile (yes, that is a word, and you are one if you're reading this), it was a four-year journey of waiting for a typhoon. Each day, it got larger. Each month, people applauded and joined the fray. The "Release the Snyder Cut" movement was more than some dorks on Twitter fawning over Zack Snyder, it was a force of nature.
And now, Rolling Stone implies it was Zack all along. Sort of.
The scathing report shares WarnerMedia hired social media firms to help proliferate messages and evangelize the gospel message of #ReleaseTheSnyderCut. That's not a problem. More than 13% of those "firms" were bots is the problem.
In advertising and digital marketing, up to 5% bot activity is par for the course. More than that claims, "unethical practices" to "black-hat hacking." Somehow, Rolling Stone determined the day of the digital release of Zack Snyder's 4:3 wizardry was the best time to blast this report to the masses. Such great timing for headlines.
Rolling Stone discovered a website ForSnyderCut.com, which was a cavernous-throated cheering section for Zack's vision and against the port-a-potty we were given. The website was owned by a "digital advertising company" called MyAdGency. In short, they bend every SEO rule possible outside of shattering it. Their motto was, "we are a provider of cheap, instant Avatar traffic to your website."
In the report, we learned the premise of what the "Release the Snyder Cut" movement was and the kind of minds behind it–some earnest lovers of his work, a few million are stans of all Zack Snyder films. The rest are misanthrope trolls who hide behind avatars, concocted handles, and a few dozen misspelled tweets and posts.
Some of those trolls worked at that agency. The rest of that small subset had more gaps in their insight than a back-asswards, Antebellum flag-waving redneck has in his teeth.
Revelation from Release the Snyder Cut
How do we know the last part of that scenario? WarnerMedia launched an investigation into a single Instagram post into a now-defunct handle @daniras_ilust. The picture, taken down faster than a pair of junior high schoolers' pants while mooning passers-by, was a morose sight. It involved three decapitated heads of DC Comics and Warner Bros. lore – Geoff Johns, Walter Hamada, and Toby Emmerich.
Depending on whom you ask, those three men were either skilled storytellers and businessmen or–the more popular opinion–deep potholes on the road to success for the DCEU. And that's why WarnerMedia reached out to a stellar cybersecurity firm to do social listening and analysis surrounding #ReleaseTheSnyderCut.
The main conclusion was this:
After researching online conversations about the Snyder Cut of the Justice League's release, specifically the hashtags 'ReleaseTheSnyderCut' and 'RestoreTheSnyderVerse' on Facebook, Twitter and Instagram, [the analysts] detected an increase in negative activity created by both real and fake authors.

Additionally, three main leaders were identified within the authors scanned on Twitter, Facebook, and Instagram — one leader on each platform. These leaders received the highest amount of engagement and have many followers, which gives them the ability to influence public opinion.

Rolling Stone, July 2022
Bots will always be involved whenever there are national or global digital marketing campaigns. It just happens as the circle of nerd life on social media. I could go into long diatribes about how it happens. Dorks like me make it happen, IRL.
The sucky thing about Rolling Stone's coverage here is that people are going to read "there's no question that bots were involved" and blame Zack Snyder or the Release the Snyder Cut folks for unscrupulous hack jobs on social media.
Trust me, it doesn't work like that. It can, but this was more organic than anything. Millions of stans wanted this to happen. Ergo, the viral strength of word-of-mouth!
If there is any revelation from this article, it should be that. For once, nerds worked together, flexed their adoration, and no one got hurt. Until now.
Tragedy Over Triumph
Here is the most eye-opening and pathetic fun fact in this story from Rolling Stone about the entire Release the Snyder Cut claim–that Zack Snyder was involved, like, at all.
Have you ever had a pet you loved and lost it? What about a distant cousin? A grandparent? Maybe, a parent? None of that holds a candle compared to the loss of a child. Nothing.
We bury our grandparents, then our parents, and then our children bury us. It's the natural order of things.

Ancient Proverb
My mother battled cancer for 40 years, and she kicked its ass. On the day, she died, she looked at me and said something I'll never forget, "I'm not quitting. It's time I stop fighting."
Zack and Deborah Snyder never got a parting message. No warning. One day, their beautiful girl was gone.
Why the sobering thought? Do you think if the guy left filming his magnum opus because of unbridled grief, he was in the mood to spearhead a "Lex Luthor" underworld campaign to make his former bosses feel like crap?!
Yeah. How about drinking a cool glass of "Shut the hell up" and sitting down? Even the article had its detractors quoted:
The bulk of this activity was made up of real and passionate users taking direction from influential figures in the pro-Snyder community. We regularly see these adversarial social media campaigns driven by real people coordinating online.

Avneesh Chandra, a data analyst at Graphika (Rolling Stone)
Last Words for the Final Cut
Zack Snyder didn't lead the global "Release the Snyder Cut" movement; he only enjoyed the fruit of it. Buying followers and hacking websites weren't quite the order. Fans mobilized because they were angry.
Former WarnerMedia CEO Ann Sarnoff once called those fans' behavior "unacceptable" and "reprehensible no matter what franchise you're talking about." Well, Ann? How'd that work out? The fans are here, and you are…where again?
Rolling Stone even called Time Magazine to reiterate their quote, "Rewarding toxic fandoms with what they want could prove dangerous for the film industry."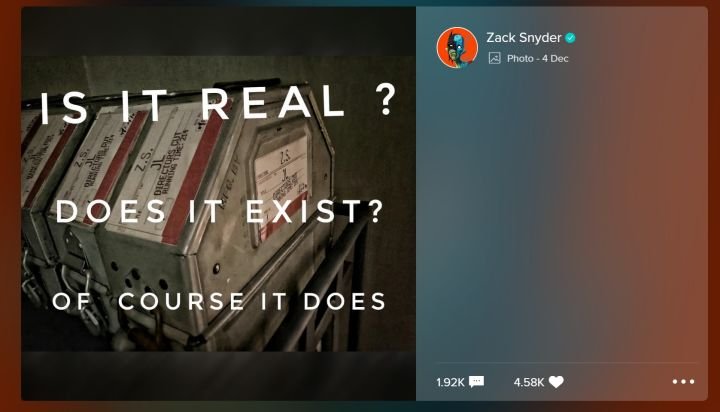 Rolling Stone believes Zack Snyder was the master puppeteer behind this ballyhoo because of an alleged discussion at Warner Bros. where the Boss "confronted an executive in the studio's post-production department and issued a threat.
'Geoff and Jon are dragging their feet on taking their names off my cut. Now, I will destroy them on social media.'" No one in the magazine has heard the term "Social Influencer." They'd already know if they had seen Zack's work on Vero.
With Rebel Moon on Netflix, Snyder has been preparing to shock the world again. Yet, he was available to respond to the magazine's request and denied accusations that he manipulated the movement. He said, "If anyone was pulling strings on the social media fervor, it was Warner Bros. trying to leverage my fan base to bolster subscribers to their new streaming service."
And then, there was the slightly outspoken Ray Fisher. That's when this happened:
Yeah, that's going to leave a mark.
Did Zack spearhead #ReleaseTheSnyderCut? Yes, but in the sense of reaping a harvest of loyalty due to the years of fan service this man–and his super genius wife, Deborah, who should be leading DC Films at WBD–have poured into their films.
That movement. Those actions. The feels. And that film. Yes, Rolling Stone, it was the least we could all do. Now, go back to covering music.