It's been a shake-up since the last Big Brother rankings, which are reflected in the new standings.
Paloma left the Big Brother House of her own accord "due to personal reasons" which really shook the house. I applaud her bravery to put her mental health first. As a former contestant on a reality TV show, I am very familiar with the strains that being filmed 24/7 while playing a game in front of millions of viewers can put on anyone.
For more about what has transpired in the Big Brother house, be sure to check out our podcast, Ticket2Reality.
Here are my updated rankings for the remaining 15 and why:
Big Brother's Bottom Tier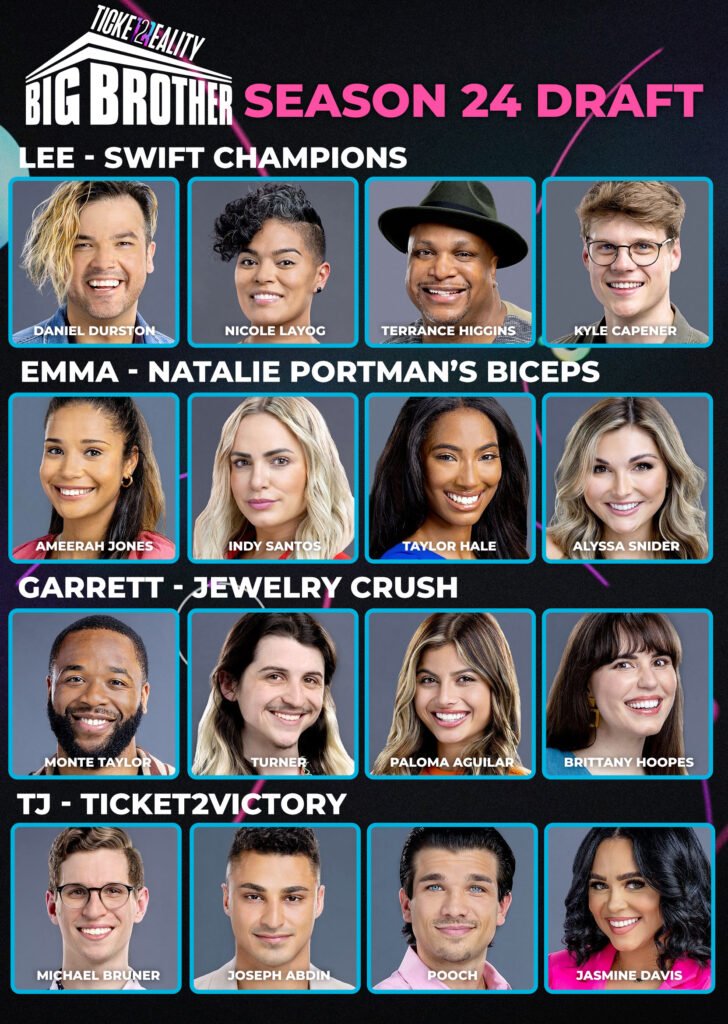 15. Taylor (was 8, down 7) BIGGEST DECLINE
Seems like Taylor is the only Big Brother houseguest without any alliance, though Terrence only appears to have an unofficial connection to Daniel and Nicole, which may get him a long way in the game. If she makes it past the next eviction, she's got to get one or two of the houseguests on her side fast.
14. Pooch (was 11, down 3)
He made such a big mistake, in my opinion, volunteering to be a pawn. Building the résumé should not be the focus this early on. Survival is the only thing that matters in Big Brother. Unfortunately, it seems like she's in big trouble. Hopefully, he'll win the veto and move up in the next rankings.
13. Terrence (was 15, up 2)
So far, Big brother is just not giving us a lot of screen time with him. Although, he does have something going with Nicole and Daniel. His gameplay may be to lie low and let the bigger fish fight it out, and then come out swinging. We'll see.
12. Michael (was 16, up 4) BIGGEST GAIN Tied with Alyssa & Kyle
He's nominated and Daniel's (HOH) target. Daniel doesn't want another super fan like Michael in the house. If Michael can survive this by winning the veto or convincing enough houseguests to go against Daniel's wishes, he will be a major threat in the Big Brother House.
11. Brittany (was 14, up 3)
Phew…Survived the Big Brother Backstage. She's in the new Girls-Girls alliance, though it seems to be weakening with Paloma's departure. There also seems to be a duo that might form between her and Michael. But she lets things slip too much. I think she needs to lock it down better for her chances down the road.
10. Alyssa (was 14, up 4) BIGGEST GAIN Tied with Michael & Kyle
Alyssa is working on her gameplay. Like Brittany, she survived the Big Brother Backstage. She's also in several of the alliances and in tight with Kyle. The girl is impressing me.
Big Brother's Mid-Tier
9. Turner (was 10, up 1)
He is not getting much screen time on Big Brother and very little of his gameplay is coming through. Still, he's in the Oasis alliance with Pooch, Daniel, Kyle, Monte, and Joseph and in the threesome alliance Inception with Monte and Daniel. He might go far playing the "not-playing" strategy.
8. Joseph (was 5, down 3)
I can't put my finger on why I moved him down, because I like this guy. I want to see him pull someone(s) in for a final two or three. He's smart, fun, and I'd like to see him go a long way in Big Brother 24.
7. Indy (was 6, down 1)
She's still in the Big Brother Girls-Girls alliance and also in P's Posse. She's got to get a tight connection with one or two others soon, before it is too late.
6. Monte (was 5, down 2)
Monte fell out of the Big Brother Top-Tier for me. I know he's got it in him to go far, but I'm not seeing that side of him yet. He is in a few alliances, so he likely will last a few more weeks.
5. Kyle (was 9, up 4)
I've been so impressed with Kyle and wouldn't be surprised to see him in the Top-Tier soon. He's got a ride or die in Alyssa, which gives him valuable intel in the Big Brother game. Everyone seems to like him, and he's also got game.
B24 – The Top-Tier
4. Jasmine (was 7, up 3)
Our new Big Brother HoH is using her power after winning the pie-eating contest. And after being handed Pooch's offer to be a pawn, she's going to get off without much blood on her hands, unless someone wins and uses the Veto. I'm excited to see what happens.
3. Ameerah (was 2, down 1)
What can I say, I love how this girl is playing. They understand Big Brother. Pulling strings carefully, like when she got Daniel turned around on the have-not volunteers. She's the one who brought Nicole into P's Posse and no one objected. Watch her. She's got the chops to win this whole thing.
2. Daniel (was 1, down 1)
Danny boy worries me a bit with how easily he turned after Ameerah's discussion about the volunteers. Wasn't it obvious that's why they volunteered? Anyway, he's partnered with my fave of the season, so I have no choice but to rank him high in the Big Brother rankings.
Nicole (was 3, up 2)
There's a stealthiness to her incredible vibe. This girl has the chops to win it all. Everyone likes her and wants to bring her in closer. I also like that she and Daniel are sticking to their final two, sharing info and plans. This is the one who could win it all in Big Brother 24.