The following review of Sex Education season 4 was made possible by advance screeners, provided to Agents of Fandom by Netflix for review purposes.
---
This piece was written during the 2023 WGA and SAG-AFTRA strikes. Without the labor of the writers and actors currently on strike, the series being covered here wouldn't exist.
Netflix closes the book on Sex Education with the final season of eight delightful and witty episodes. Season four showcases Otis (Asa Butterfield) and Eric (Ncuti Gatwa) alongside their classmates as they head to their new school and encounter new challenges, meet new people, and undergo some confusing adventures.
The final season of Sex Education brings even more maturity, while also revolving prominently around sex. It highlights some new tensions and forms new relationships, creating a perfect ending to a beloved story that has spanned over four years.
Sex Education season 4 review: sex and queerness dominate from episode 1
Sex Education season 4 brings numerous new characters who are a prominent part of the queer community, as the teenagers head to their new school, Cavendish College. This is relieving for all characters as acceptance within this unfamiliar setting is welcome and important.
Sex, hormones, and intimacy will drive this season forward from the opening scene. As always, sex is effortlessly intertwined into the narrative through the lives of every character, young or old. This isn't just to bring some steam, but to further teach audiences the significant role sex has in our lives, most prominently during our young adult era. This series' ability to continuously radiate sex positive is part of why it has such a passionate fan base.
Tensions rise for the teenagers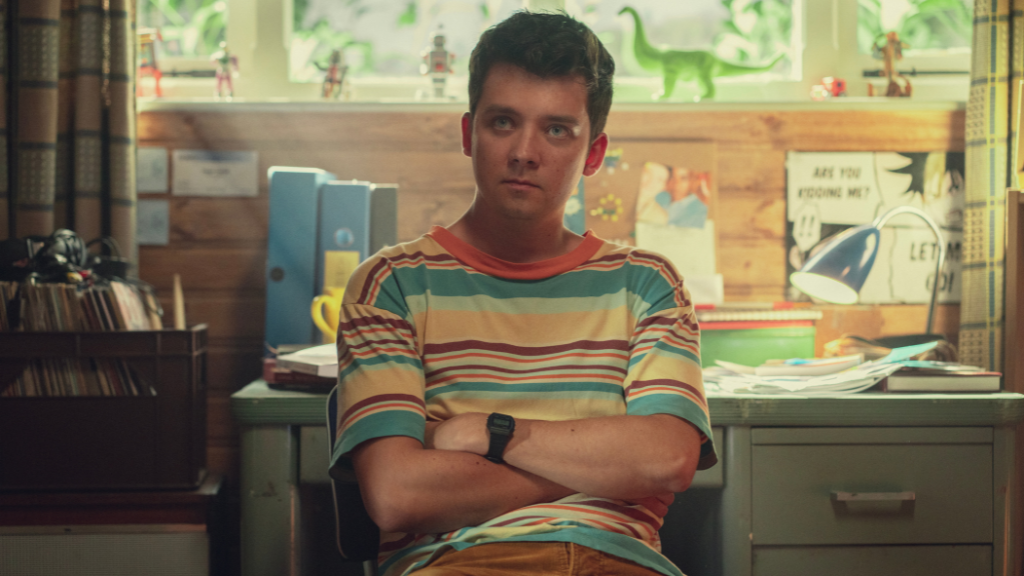 Tensions are high across the board in Sex Education season 4, but most notably displayed through two separate sex therapists at Cavendish College. Season four also brings to light much needed answers to questions that surface over the past three seasons, including uncertainties about why some characters make such questionable choices.
The show's magic continues with season four as the long awaited relationship between Meave (Emma Mackey) and Otis begins its journey after she has moves to America to follow her dream of becoming a writer. However, things are not as simple as they both hoped. Jealousy, sexual confusion, and arguments make for problems that constantly test the strength of their relationship.
Season four is full of heartfelt moments and important messages
The early seasons of Sex Education feature many witty moments and jokes, however, as time has passed, the dialogue and narrative has grown with the characters to highlight their developing maturity. Without the overwhelming sense of clumsiness and lightness from earlier seasons, this final outing features heartbreak that is sure to disrupt all the good feelings.
Season four puts a large focus on Jackson's (Kedar Williams-Stirling) story, infusing his arc with even more heartfelt and serious situations. After everything Jackson has been through, it's nothing compared to what's coming. Fans of his character are in for an emotional rollercoaster in the final season.
The final season delivers many important messages including disablism, and abusive and toxic relationships. However, it also takes us back to the importance of sexual assault awareness and the themes revolving around it. Season four showcases Aimee's (Aimee Lou Wood) development after processing the traumatic events she overcomes in season two, giving a full circle moment for both her and audiences.
The importance of acknowledging women's struggles in this world, including catcalling and how survivors are not alone is present within this final season. It offers a chance for audiences of all ages and experiences to connect with this show on whichever level they're comfortably with.
An incredible end to the final season of 'Sex Education'
Sex Education season 4 benefits greatly from its ability to delivers a range of emotions, bringing even more maturity and messages throughout the eight episodes. Although it's disappointing that there will no longer be any more seasons or stories, season four provides an incredible ending to the show. It's never easy to deliver something so satisfying and pleasing in the final chapter, but Sex Education season 4 does exactly that.
Sex Education season 4 is now streaming exclusively on Netflix. Follow the Agents of Fandom socials for all the latest news and reviews.
'Sex Education' Season 4 Review
'Sex Education' Season 4 Review
The Good
Heartfelt
Fulfilling ending to the Show
Extended relationships
Great suspense
The Bad
The final season
Confusing at times