This piece was written during the 2023 WGA and SAG-AFTRA strikes. Without the labor of the writers and actors currently on strike, the series being covered here wouldn't exist.
Ahsoka episode 6 drastically slows down the pace from the theatrical special the week before. However, this week's installment "Far Far Away" is not only an exciting adventure, but also provides a plethora of world-building for the Star Wars universe.
While the fifth episode focuses primarily on Ahsoka Tano (Rosario Dawson) and Anakin Skywalker (Hayden Christensen), Ahsoka episode 6 features Sabine Wren (Natasha Liu Bordizzo) on her quest to find Ezra Bridger (Eman Esfandi) while the Dark Side approaches closer to retrieving their Heir to the Empire, Grand Admiral Thrawn (Lars Mikkelsen).
*Warning: Spoilers ahead for Ahsoka episode 6 and Star Wars: Rebels*
Ahsoka episode 6 takes 'Star Wars' to a new galaxy for the first time
Although Ahsoka Tano isn't overly available in the sixth episode, her presence was still felt throughout. Despite only being on-screen for the first few minutes, her impending arrival in the new galaxy acts as comfort when most of the episode is spent with the antagonists.
While they are brief, the small moments Huyang (David Tennant) and the titular character share in Ahsoka episode 6 continue the trend from last week with Rosario Dawson resembling the hopeful Ahsoka Tano from animation. Even though she's clearly still grappling with the trauma of personal attachment turning her compatriots to the Dark Side, she remains hopeful this won't happen to Sabine.
The scene acts as a proper introduction for the episode, displaying a slower, more conversational pace than in previous weeks. As Ahsoka and Huyang travel to a new galaxy "Far Far Away", a new chapter for the series begins.
The introduction of Peridea, a planet in the new galaxy, marks far more than just the end of the voyage. In addition to the expanded lore of new galaxies, important details serve to sew up potential plot holes. The planet acts as a graveyard and final stop in the migration pattern of the Purrgil, providing an explanation as to why it's so difficult to return.
Additionally, Peridea is revealed to be the ancient home world of the Dathomiri, ancestors of the Night Sister of Dathomir. Their magic is of great interest to Baylan Skoll (Ray Stevenson) and Shin Hati (Ivanna Sakhno) as their master plan slowly unravels.
Grand Admiral Thrawn makes his live-action debut in Ahsoka episode 6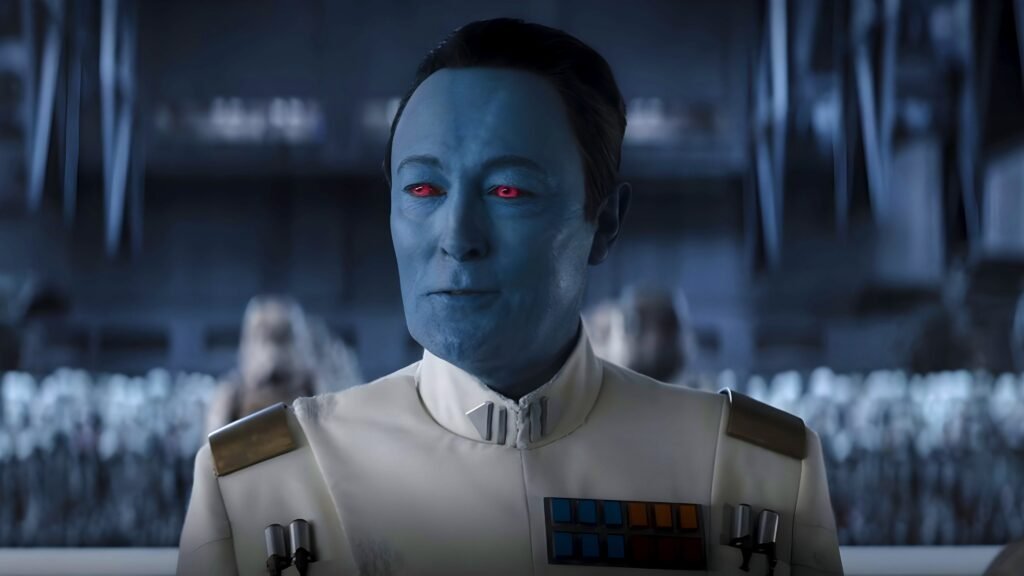 After being teased throughout the trailers, the time has finally come. Grand Admiral Thrawn makes his long-anticipated debut in Ahsoka episode 6. Kevin Kiner's score magnificently amplifies the scene while Thrawn marches through rows of troopers toward Morgan Elsbeth (Diana Lee Inosanto) as she looks on with curiousity, resembling that of a lost lover. The combination of the mysterious Marrok in addition to the Great Mothers of Dathomir on Peridea give these troopers an eerie vibe that they potentially could lead to them being undead.
Lars Mikkelsen doesn't miss a beat in his portrayal of Grand Admiral Thrawn, as his voice immediately brings fans of Star Wars animation right back to the four seasons of Rebels. While the character does look different in live-action, the unique animation style of Star Wars: Rebels isn't the easiest to adapt. Thrawn's cold, calculated nature translates beautifully in Ahsoka episode 6.
With Grand Admiral Thrawn's admiration of culture and history, it's no surprise he is able to sway the Great Mothers and become such a welcome visitor on their planet. Although he's been away for a long time, he looks upon Sabine Wren with genuine delight to see a familiar face and sets her on her way to find Ezra. While Sabine is finally on track to reaching her goals, it's clear this is a calculated decision by Thrawn. He sends Baylan Skoll and Shin Hati after them in hopes all four die in the process, giving viewers unfamiliar with the character a chance to see his strategic nature.
Sabine Wren takes the lead in Ahsoka episode 6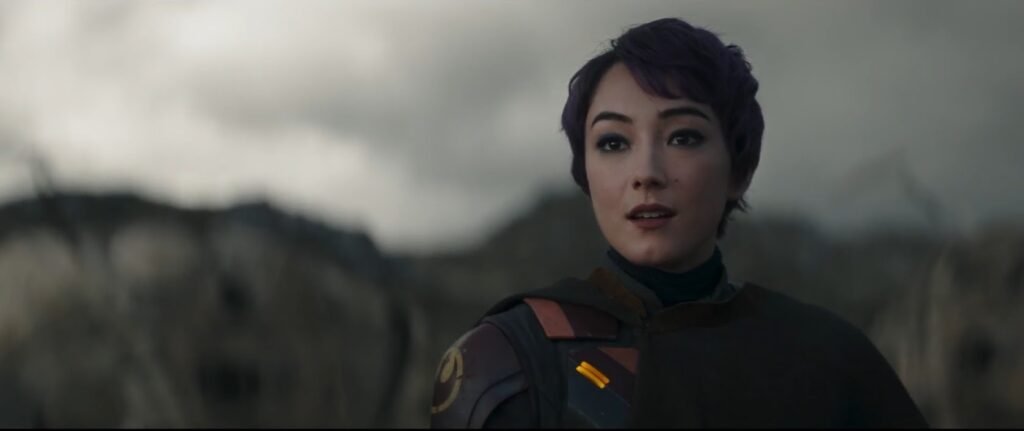 Without the presence of the titular character throughout most of Ahsoka episode 6, Sabine Wren takes center stage as the main protagonist. Thankfully, this doesn't feel out of place as it does in The Book of Boba Fett, continuing the story being told throughout the series.
Sabine's journey provides the best action from the episode while also introducing some adorable creatures native to Peridea. While it's been implied throughout the series that she has struggled with her Jedi training, she's clearly much more relaxed than she is in Rebels.
After much deliberation with some small, clothed turtle men that utilize the same tomfoolery and cuteness Star Wars fans have seen from other adorable creatures, the quest to find Ezra Bridger finally progresses toward its conclusion. Unfortunately, Sabine's enemies aren't far behind.
While Baylan and Shin are hot on her trail, the intrigue in Ahsoka episode 6 comes not from the action, but the world-building, as the two Dark Side users provide more detail on their shared history. Both Baylan and Shin act as foils to Ahsoka and Sabine. Shin and Sabine both have training, but not in the same, traditional fashion as their Jedi masters. Baylan and Ahsoka were trained in the Jedi Temple, however, they both rejected the institution and were disappointed by their leaders.
Ezra Bridger returns in Ahsoka episode 5
Although the series has acted somewhat as a fifth season of Star Wars: Rebels, some of the gang has been noticeably absent. While fans still haven't seen Garazeb Orellios in live-action outside a brief appearance in The Mandalorian, Ahsoka episode 6 finally marks the live-action debut of Ezra Bridger.
Despite their meeting being brief, Natasha Liu Bordizzo and Eman Esfandi perfectly capture the chemistry between Sabine and Ezra seen in animation. While the two are still clearly keeping secrets, the reunion provides a spark of bliss, despite the galaxy being threatened by Thrawn's return.
With Sabine and Ezra reunited and the arrival of Ahsoka looming, the final two episodes are shaping up to be an action-packed, epic conclusion. It's clear Thrawn's story will continue far beyond the series, however, it remains to be seen how and if Ahsoka, Sabine and Ezra make it back to their own galaxy.
Ahsoka episode 6 leads directly into the final act
This episode slows the pace significantly from previous weeks, which proves to be a fruitful decision. The deliberate pacing decisions provide excellent cinematic visuals while highlighting Kevin Kiner's incredible score. With only two episodes to go, Ahsoka is shaping up to be one of the strongest Star Wars projects ever made.
New episodes of Ahsoka release every Tuesday at 6 pm PST/9 pm EST exclusively on Disney+. Be sure to check out the Agents of Fandom socials and subscribe to our podcast network where we break down each episode of Ahsoka in depth.
'Ahsoka' Episode 6 Review
'Ahsoka' Episode 6 Review
The Good
Live-action debut of Grand Admiral Thrawn didn't disappoint
Eman Esfandi is a perfect Ezra Bridger so far
Tons of Star Wars world building including the first trip to a new galaxy
Kevin Kiner's score is as mesmerizing as ever
Baylan Skoll continues to develop into one of the most interesting antagonists in Star Wars
The Bad
Slower pacing from previous episodes is moderately jarring