17 years of music transformed into almost three hours of complete greatness, and who better to display that than Taylor Swift. From director Sam Wrench comes an elevating concert film that uniquely showcases the eras of the woman who has forever changed the music industry.
Taylor Swift: The Eras Tour provides a lively, engaging, and entertaining experience devoted to Swift's beloved fan base — both those who have seen her live and those watching it for the first time through this film. With clever camera work, sound quality, eye-catching visuals, and the incredible performances from Swift, her background dancers, singers, and band, it's a concert film audiences won't want to miss on the big screen.
'Taylor Swift: The Eras Tour' Review: An Exhilarating Ride Across Swift's Remarkable Music Career
Filmed over the first three out of six sold-out shows at Los Angeles' SoFi Stadium, The Eras Tour, just like reputation: Stadium Tour, is, with the exception of (technically) five songs, the entirety of Swift's live concert recorded for a theatrical audience. It is an astounding accomplishment to showcase the musician's greatest hits through a film, and Wrench's beautiful direction is one of many reasons this concert film is exhilarating to watch.
Taylor Swift made the right decision to collaborate with Sam Wrench on this concert film. Wrench's direction style alongside the fascinating cinematography gives audiences a high-scale, immersive look at the little details concert-goers may have missed when they witnessed Swift performing her music during her live shows.
The film captures Swift alongside her background dancers, singers, and band in every treasured visual detail down to their costume changes and their all-around performances. A few performances in particular that the film does well to capture these details during are "Lover," "Tolerate It," "Look What You Made Me Do," "The Last Great American Dynasty," "22," and Swift's solo performance of the historical "All Too Well (10 Minute Version)(Taylor's Version)."
Each of Taylor Swift's Eras is revealed in the most satisfying way, as unique title cards and animations are shown to indicate to the audience which of her 10 albums she'll explore next. With effortless transitions instead of the pauses in between set and costume changes that occur during the live show, Swift, accompanied by Wrench's direction, flawlessly give fans a fascinating exploration through Taylor Swift's remarkable music career.
'The Eras Tour' Displays Taylor Swift's Brilliance Through Incredible Picture and Sound Quality
Something that scared me initially going into this film was the sound quality, but thankfully, the film delivers magnificently. Swift's music flows with triumph through the speakers, immediately urging audiences to step out of their seats to sing and dance along to her iconic tunes.
Assisting the sound is the incredible picture quality, as it's so cleanly shot that one thinks they are actually at SoFi Stadium. Swift's level of interaction with the camera itself helps elevate the picture to feel like the audience might actually be present in the film. Her natural charisma is moving when she does this, and it shows that she cares about those who love and want to see her.
Each shot of Taylor Swift and her wholesome, background talents is cinematic, ultimately providing a film that could receive a Grammy Award for Best Music Film in 2025 (the cutoff for 2024 was September 15 according to Forbes). In the end, the concert film does Swift justice by preserving this record-breaking live tour while also giving her and her fans a journey to relive the eras that made her a brilliant cultural phenomenon.
'Taylor Swift: The Eras Tour' Is for the Most Loving Swifties and the Rising New Ones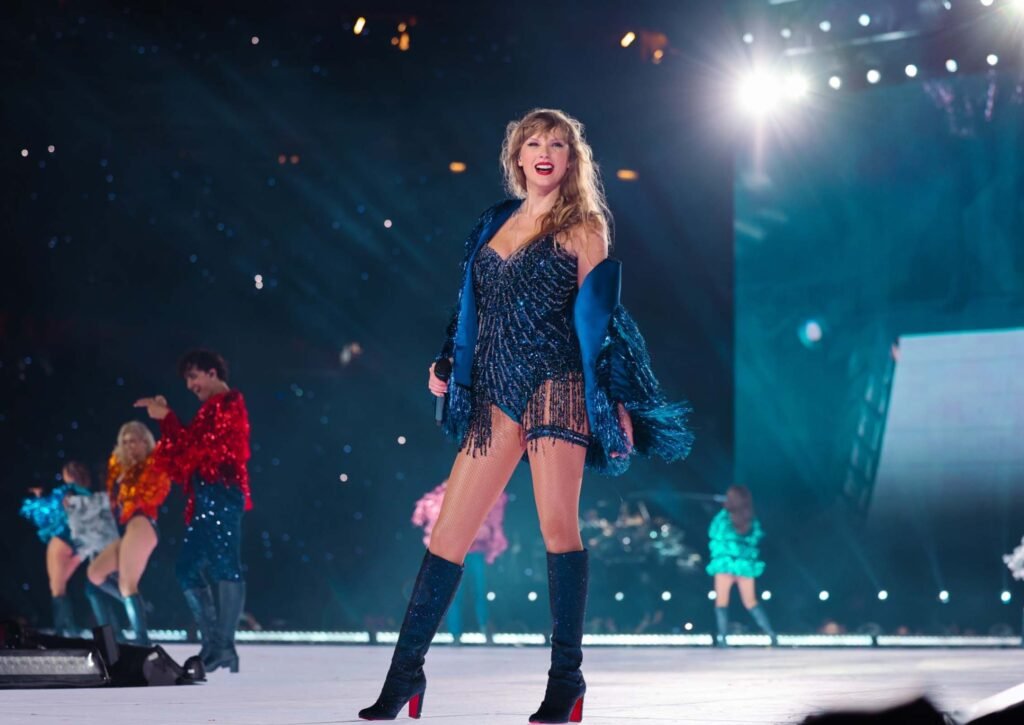 As one of many Swifties who won't get a chance to see the concert live due to Ticketmaster's horrible ticketing system, this concert film gave me an experience I personally will never forget. Being in a theater room filled with old and new fans who love Taylor Swift the way I do is heartwarming. It gives us all a reason to cherish the music that this woman has undoubtedly made special to share, despite not being present at the Los Angeles live concert to experience or relive the experience with her.
The Eras Tour will continue to break records next year as Swift goes through her international dates, and this film just adds more reasons why her talent is enchanting to witness on any platform or stage on which she performs. If you're a diehard Swiftie from the start, or even an emerging new one, this concert film will deliver a sparkling experience that is destined to have you smiling till the end.
Taylor Swift: The Eras Tour released in theaters on October 13 and is now playing worldwide. Follow the Agents of Fandom socials for more movie reviews and Taylor Swift content!
'Taylor Swift: The Eras Tour' Review
'Taylor Swift: The Eras Tour' Review
The Good
Remarkable performances from Taylor Swift, her background dancers, singers, and band
Clever camera work, direction, and cinematography
Taylor Swift's 10 albums-worth of music is more elevating than ever on the big screen
The Bad
The film cut out performances of "The Archer," "Cardigan," "Long Live," and "Wildest Dreams"