Ted Lasso episode 4 shines brightly as it tackles the topics of heartbreak, forgiveness, and friendship. Similar to a recent installment of The Mandalorian, this episode is split down the middle.
The first half is a slow, emotional burn that deals with what it means to be a mess, as we build into the second half—which is the most important match of the season and maybe in AFC Richmond history.
*Warning: This post contains spoilers for Ted Lasso episode four, "Big Week"*
Our favorites are going through the ringer in Ted Lasso episode 4
Ted Lasso (Jason Sudeikis) is a complete and utter mess in this episode, and that's not just my opinion. After a lovely night with Sassy (Ellie Taylor), Ted risks his own sanity by asking her out on a "real" date, which backfires on him quickly. All she has to say is,"God no, Ted, we can't date! You're a mess!"
As per usual, Sassy is right. Ted is in no place to date anyone. The saying "you have to love yourself before you can love someone else" really hits home here, but he fails to take this into account. Thankfully, Sassy is smart enough to do that for him—because if they try to take things to the next stage, it will surely fall apart.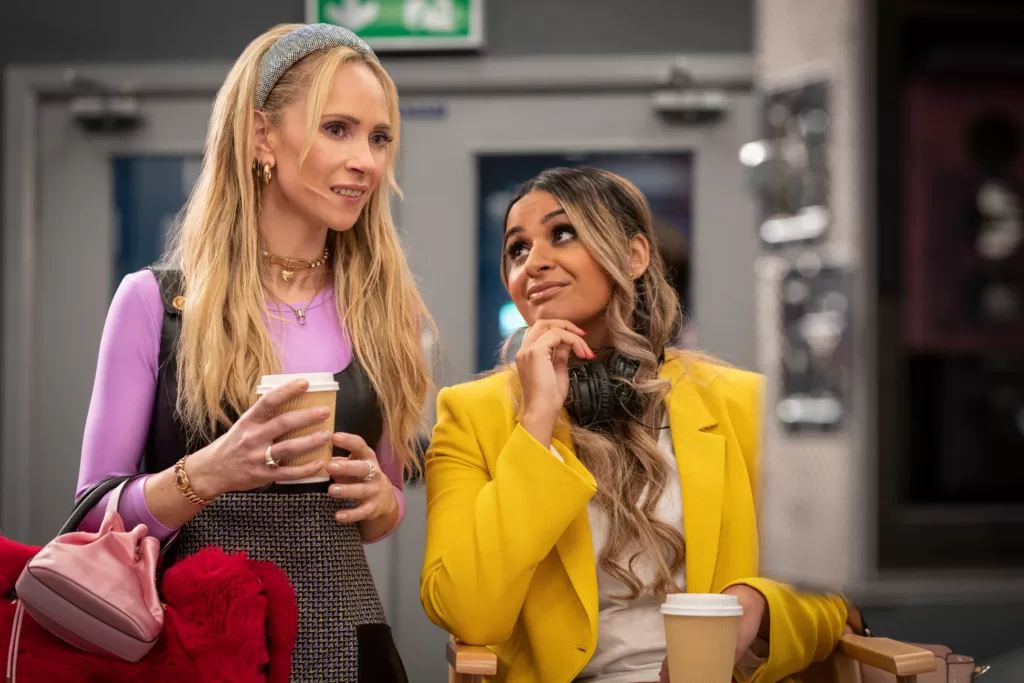 Ted isn't the only one dealing with problems, though. Keeley (Juno Temple) is learning first hand how complicated working with your friends and running your own business can be. She gives Shandy (Ambreen Razia) some flexibility with her responsibilities, which backfires when she updates the Bantr bio line to read "Wanna fuck a rich celebrity???"
Keeley is both taken aback by this and embarrassed in front of her boss. It's a disgusting feeling when you put your faith in someone to help you, and they sacrifice the integrity that you've worked so far to build. If you're wondering, "how can Keeley and Shandy come back from this conflict?" the answer is…they probably won't. It seems like we're heading towards a Shandy heel turn, which is devastating for someone who is begging for a Keeley and Shandy spinoff.
A manager divided in Ted Lasso episode 4
Our latest installment finally gives us a look at what it's like to be the manager of West Ham United. Nathan Shelley (Nick Mohammed) is split down to his core about what he's done to Ted and all of his former coworkers and friends.
We haven't seen much of Nate this season through four episodes, mostly just little bits and pieces working to pit us against him (we already were as soon as he turned on Ted). It's no small task within a movie or a season of television to persuade viewers to care about the villain, but I'm already starting to feel sorry for Nate.
All the heel turning, the lashing out, it isn't because Nate is just a big jerk. At the core of who he is as a character, lies the fundamental ideology that he doesn't believe he deserves anything he has. He's in a constant state of showing off, because if he can prove to everyone else that he belongs, maybe he can prove it to himself too.
Ted Lasso episode 4 is the most important yet
Titled "Big Week", Ted Lasso episode 4 lives up to its name. It's time for AFC Richmond to take on West Ham United. Richmond is coming off the heels of a massive win streak, and West Ham is right there with them near the top of the table. What happens when an unstoppable force meets an immovable object?
It's safe to say things don't quite go according to plan for the Greyhounds. They get off to a solid start, but just when they think they're going to head into halftime knotted up at 0-0, West Ham sneak in two lightning fast goals. Rebecca and Ted are on the verge of nervous breakdowns. Coach Roy Kent (Brett Goldstein) and coach Beard (Brendan Hunt) show the team the video of Nate tearing up the locker room in an attempt to motivate them, but it has the opposite effect. Things are spiraling out of control fast.
What follows when the team heads out of the locker room for the second half is nothing short of an atrocity. It's a pure display of animalistic aggression. The team take home three red cards and a 4-1 loss. It's an embarrassing day to be a Richmond fan, and even Zava (Maximillian Osinski) is upset, and rightfully so. His one goal is the saving grace of the afternoon.
The team needs a jolt after Ted Lasso episode 4
Our favorite characters have been in a better spot than they are now, that much is certain. But that's what Ted Lasso is all about. You tear people down, so you can build them back up. If it's all shining and positivity all the time, then nothing would feel good. The pain we endure during this episode just sets us up for the spectacular, heartfelt moments we know are coming down the line.
Ted Lasso episode 4 is now streaming on AppleTV+. Follow the Agents of Fandom on socials for all the latest Ted Lasso news.
'Ted Lasso' Episode 4 "Big Week" Review
'Ted Lasso' Episode 4 "Big Week" Review
The Good
The series continues to display incredibly emotion in every arc
Matches are top tier entertainment
The characters we're supposed to be rooting against are being fleshed out in a meaningful way
The Bad
The emotional stakes are making me sad and I do not like it.