The Ted Lasso season 3 premiere is upon us, and if I had to choose one of Ted's signature phrases to capture the moment, I'd say: "I feel like we fell out of a lucky tree, hit every branch on the way down, and ended up in a pool full of cash and Sour Patch Kids." But seriously, it feels almost too good to be back in the AFC Richmond locker room.
It's unbearably sad to acknowledge this is likely the last season in the lives of these heartwarming characters, pending any potential spinoffs. So let's do what Ted would want us to do, and just enjoy the ride.
It's good to be home
The return to the fabled AFC Richmond football club is as intoxicating as it gets. After two seasons, we've developed a strong bond to this cast that has remained fairly constant. It's important to the audience that we check in on the well-being of all of our beloved characters, and the introductory episode does just that. Ted Lasso season 3 reintroduces us to some of our favorites in varying states of distress, concern, and anxiety.
The man at the center of all the chaos and dysfunction is Coach Lasso (Jason Sudeikis) himself. While everyone around him is panicking about the projections of relegation, he's quick to let everyone know he's as cool as a cucumber. He's always been exceptional at putting on a show for everyone around him, even when he's not in the best of spirits.
Ted is still figuring out how to navigate his way around his own emotions. The premiere opens, and see him basking in joy with his son Henry (Gus Turner). In the blink of an eye, his son boards a plane back to Kansas City, and he's gone out of his life again.
Considering the ongoing burden of divorce and longing to spend more time with his son, Ted puts on a very impressive show of positivity. It's one of the defining traits that make him impossible not to root for.
Welcome back to the Premier League in the Ted Lasso season 3 premiere
It's all cheers and champagne folks, Premier League here we come! But there's one problem we forgot to take into account: relegation. While we were all celebrating the success of AFC Richmond, every member of the PL media was picking them to finish dead last. Why on earth are people picking Richmond to finish in 20th?!
"Because there is no 21st" according to Nathan Shelley (Nick Mohammed).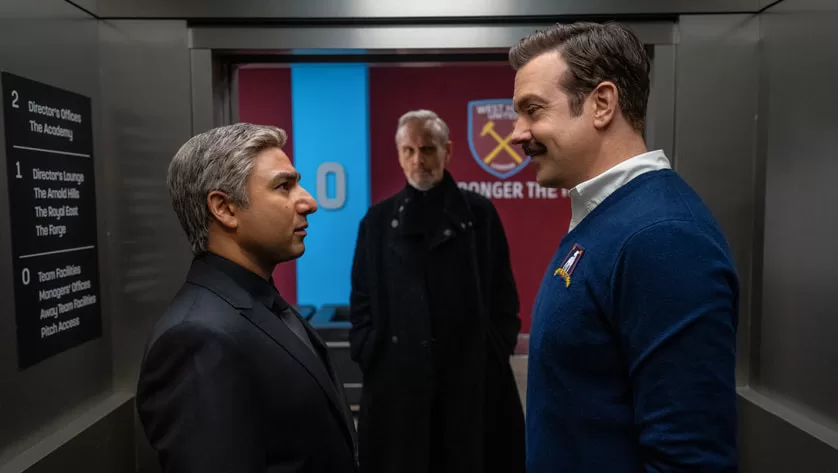 Enter this season's villain: Nate the great, as we've heard Ted call him many times, is now working for the competition. He's come all the way from washing kits to coaching the Premier League title favorites. Ted is the one who gives him a chance to shine in previous seasons, and after taking full advantage of his kindness, he now attempts to take his former mentor down.
Nate is the perfect choice for this season's antagonist. They could bring in another movie star to play the coach of West Ham, sure. But why not make it someone we have a connection to? We spend the better part of two seasons rooting for Nate, and even when he begins to turn against Ted, we all feel some hope that he will do the right thing in the end.
This is, of course, not the case. He breaks Ted's heart, and now he can kick rocks for all we care. Any antagonist that you truly despise is a well crafted antagonist. Bill Lawrence and Brett Goldstein's writing for a hateable character within such a loveable show is a testament to both of their creativity.
Hat's off to Nick Mohammed for playing such a hateable character.
The state of the team in the Ted Lasso season 3 premiere
It's true, if the media are correct in their predictions, AFC Richmond will not only be relegated at the end of the season, but will finish in dead last. How is the team responding to this news? Well, that depends on who you ask.
Coaches, players, and upper management all seem to have a different view on the idea of relegation. Team owner Rebecca Welton (Hannah Waddingham) is furious—the thought of them finishing in last, and her being humiliated by Rupert once again, is not something she can bear.
The players, however, seem to find themselves woeful, rather than angry. As the news spreads among them, they feel depressed and disrespected. They fought so hard for their spot in the Premier League, and to them, it feels discourteous to be written off so soon.
Coach Lasso has taken a different approach to the whole idea of relegation. It's not unfamiliar for Ted to find himself with his back against the ropes. No one has believed in him since he arrived. Remember, he's just some dumb American coaching "soccer" in London. Coach says they "have 38 chances to prove them wrong" regarding his team's performance, it'll be surprising to see them do anything but that.
We're going to be alright
Ted Lasso—the character and the show—have a special ability to just flood your heart with comfort. I can hardly imagine this show coming to a conclusion at the end of this season, but a recent report from Deadline suggests exactly that.
Ted is a complex character, driven by very simple motivations. He's a man that focuses on moving through life and doing the right thing at every turn. Although he's not always perfect, he doesn't ever let those mistakes define him. Coach Lasso doesn't have all the answers; none of us do. But we love him because he does the best he can.
He wants to help his players achieve all their professional goals, but more importantly, he wants to help them grow as human beings.
The Ted Lasso season 3 premiere is a home run return to AFC Richmond. Bill Lawrence and Brett Goldstein's writing on this show is nothing short of brilliant. I wouldn't trust anyone else with these characters, and they're sure to lead them towards an emotionally meaningful ending.
Follow the Agents of Fandom on socials for all the latestTed Lasso news.
'Ted Lasso' Season 3, Episode 1 Review
'Ted Lasso' Season 3, Episode 1 Review
Rating of the season three premiere of Ted Lasso.
Rating of the season three premiere of Ted Lasso.
The Good
Great performances across the board
All the delightful humor and feel good moments
More emotionally layered story, feels very personal for each character