This review was made possible by screeners of episodes 1-4 of Ted Lasso season 3, provided to Agents of Fandom by Apple for review purposes.
---
Raindrops on roses. Whiskers on kittens. AFC Richmond's tumultuous journey to become Premier League kings. These are a few of my favorite things.
Okay, I may have lied about the roses and kittens, but there's a reason Ted Lasso remains a Goliath, in terms of streaming series' (and certainly for AppleTV+). Maybe it's the simple, yet striking wit, delicately crafted by a writing team that by this point is firing on all cylinders.
Or perhaps it's the ensemble cast, whose performances feel fully realized and three-dimensional, giving the audience a real investment in their lives and relationships. There's a sense of joy and whimsy to the show that is infectious, and it's impossible not to feel uplifted after watching an episode.
In a world that can often feel bleak and unkind, Ted Lasso is a beacon of hope and humanity.
Premier League and premier form
Hot off the tail of the renewal for a second season of his new AppleTV+ original series, Shrinking, Bill Lawrence proves why Apple continues to put their faith in him. Both Lawrence and Brett Goldstein (who portrays gruff former-Captain and current Assistant Coach Roy Kent) seem to collaborate on a level similar to that of Ted Lasso and Coach Beard, though they probably have a bit more success to show for it.
With news coming from Deadline that season three will likely finish the Ted Lasso story (and I'll be honest, I'm all for finishing a story organically), things waste no time in kicking off. Lingering issues from past seasons are brought up immediately, though that's not meant to say we aren't given the intimate time with each character that we're used to—episode one is fairly centered around Keeley Jones (Juno Temple) struggling to take control of her burgeoning career and business.
At its core, Ted Lasso's success revolves around its ability to throw deep, heaping piles of shit onto its characters and watch them either blossom, or (d)evolve into the person they're meant to be. We're seeing this in the case of "the wonder kid" Nathan Shelley (Nick Mohammed), returning to face the man who recognized him in his obscurity. His rise to stardom at West Ham United under the mentorship of Rupert will be a pivotal aspect of this crowning season.
Whether looking for redemption, revenge, success, or acceptance, expect characters like Rebecca Welton (Hannah Waddingham), Jamie Tartt (Phil Dunster), Sam Obisanya (Toheeb Jimoh), and even Trent Crimm from The Independent (James Lance) to surmount some obstacles.
Hopefully the ending of this season will see the show's core members find the happiness they (mostly) so desperately deserve.
'Ted Lasso' is grounded in reality
The ability to take legitimately real, and often hard-to-tackle topics such as divorce, anxiety attacks, or infidelity and whittle them down into bite-sized pieces with diffusing humor is an achievement I can only place with Ted Lasso or the similarly feel-good Shrinking. (Bill, you might be onto something here.)
In doing so, the show treats with respect topics that lesser shows use as jokes. I'm particularly happy that a very realistic and candid scene about periods and tampons occurs in such a mainstream (and probably male-dominated audience) series—handled particularly delicately by both the writers and the actors.
These topics can sometimes be inaccessible for men, though I am particularly lucky to broach the subject of periods with my partner. (She has an oft-overlooked condition known as premenstrual dysphoric disorder (PMDD) and we are both advocates for greater access to reproductive health information and research!)
Adding these issues in a climate where the United States has seen an upheaval of reproductive rights in the overturning of Roe v Wade is a brave stance that is backed by the show's commitment through three seasons to continually face the world head-on (in a Ted Lasso way, of course).
I mean, we're talking about a show with a plot line involving the AFC Richmond players covering their team's logo with black tape in order to stand in solidarity against the pollution of Nigeria by team sponsor Dubai Air…are we really surprised?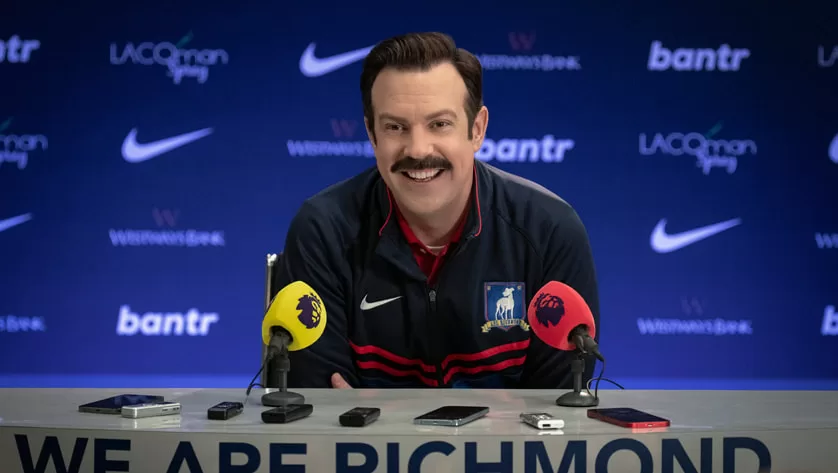 Ted Lasso. is. life.
But what truly elevates Ted Lasso above other series is its ability to balance comedy and drama with seamless precision. The show's humor is never used as a cheap gag, but rather as a means to explore deeper themes and emotions. Conversely, its emotional moments never feel contrived or overwrought, instead they are earned through careful character development and organic storytelling.
The show's exploration of top-level sports is a breath of fresh air in the landscape, though Ted Lasso is not only a celebration of the sport; it is a meditation on the human condition and our shared experiences. It reminds viewers of the power of human connection and the positive impact that we can have on each other's lives.
Ted Lasso's masterful combination of humor, heart, and depth will continue to capture the attention of audiences worldwide. Season three emphasizes character-driven storytelling, standout performances, balanced humor and drama, and inspirational themes— elements that plant the first two seasons firmly in my list of top five shows.
Expect your favorites (and least favorites) to make tough decisions, take risks, and possibly face the music, in what is sure to be the most exciting season of Ted Lasso yet.
Ted Lasso season 3 releases on AppleTV+ on March 15. New episodes release every Wednesday.
Stay tuned to the Agents of Fandom socials for the latest on Ted Lasso.
'Ted Lasso' Season 3 Review
'Ted Lasso' Season 3 Review
The Good
Stellar performances from the cast (esp. Jason Sudeikis, Hannah Waddingham, and Juno Temple)
The writing continues to be some of the best on TV currently
Broaching important life topics delicately
The Bad
I'm still not sure if Nate can ever meaningfully turn things around