Last week, director/writer/producer Kevin Smith announced the trailer release date for his fourteenth film, Clerks III. Lionsgate dropped the online trailer earlier today, and it's high time we head back to Quick Stop for a game of rooftop hockey!
CLERKS III: IN RETROSPECT
Clerks III conforms to Smith's anecdotal storytelling we've come to love since the first installment back in 1994. The trailer opens with a few Easter eggs from previous movies, then leads into Randal Graves (Jeff Anderson) suffering a syncopal episode due to a major heart attack. This personal narrative alludes to Smith's own near-fatal experience in 2018 when he collapsed onstage at an event for Yoga Hosers. Randal plays a slightly different role from the previous two movies. Formerly, he's been the antithesis to Dante's (Brian O'Halloran) unending lament about taking control of his life. Now, Randal looks into his own past, realizing the amount of time he's wasted just watching movies. So, what do you do when you're tired of watching movies? You make one, naturally.
LIGHTS, CAMERA…MOOBY?
The movie, aptly titled "InConvenience," mirrors the events of Clerks, while Dante, Randal, and Elias (Trevor Feherman) act as clerks while still performing their normal jobs…as actual clerks. Paying more meta homage to the first movie, Randal's version is also filmed in black and white. He even visits the idea of killing off the "Dante" character, as portrayed in the original ending. (Because who would want to make a sequel to this, right?) This full circle development of Clerks III is familiar to Smith's style. His last full-length feature, Jay and Silent Bob Reboot, gives closure to Jay and Silent Bob Strike Back and even to Chasing Amy, as one example.
WHAT ELSE CAN WE ANTICIPATE?
For one, expect the re-emergence of original characters, and even beyond the world of Leonardo, New Jersey. Becky (Rosario Dawson), now married to Dante, and Elias both return from the second installment. Of course, the View Askewniverse's own Jay and Silent Bob (played by Jason Mewes and Kevin Smith himself, respectively) are back. This time, they don't look like they're simply loitering, as the RST Video next to the convenience store now reads "RST THC". With the legalization of cannabis in New Jersey, perhaps they decided to take legitimate business matters into their own hands. The jail scene in Clerks II reveals that Jay had a small fortune sacked away and lends money to Dante to reopen Quick Stop.
And Easter eggs galore! Hidden in plain sight are ads for Chewlies gum and Nails Cigarettes, not to forget the sheet sign. This time, it assures that Randal is still alive (written in shoe polish?).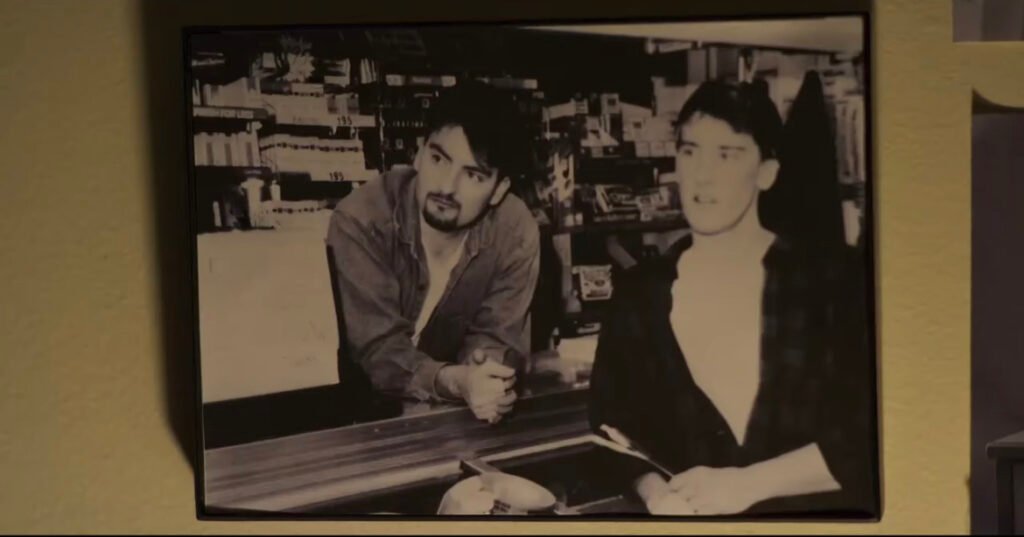 TOO OLD FOR THIS SHIFT?
The original Clerks debuted nearly thirty years ago, putting our boys Dante and Randal at least in their late forties, early fifties. Dante appears to have settled down with Becky, who was pregnant at the end of Clerks II. He's plenty comfortable in his position now that he calls the shots. He allows Randal to shoot the movie on the property. Additionally, Dante encourages Randal's idea to give his life the meaning he desires. It's refreshing, rather than harrowing, to view adults coming into their own despite their age. This gives us the perspective that new opportunities for growth aren't limited to individuals slogging through their twenties.
Personally, I could not think of a better way to capture life than to document it, even the most mundane moments, before senility takes over.
Smith's creative ability to paint his characters as imperfect, well-rounded entities makes them relatable amidst the comedic chaos. In all likelihood, Clerks III (which, if I may add, resembles a subtle parallel to the theme of The Unbearable Weight of Massive Talent) will bring its own cinematic universe to a close upon its release this September!