Violent Night arrived in theaters to kick off the holiday season, and it is without a doubt the Christmas movie you didn't know you needed, but won't be able to live without. The tales of Santa Claus we've become accustomed to are usually that of an unwaveringly jolly, feel-good nature, and this take on St. Nick is anything but that. This isn't the film I'd recommend taking your parents to, and probably not the kids either, but if you're looking for two hours of intense, hilarious Christmas fun, look no further than Violent Night.
David Harbour Decks The Halls
With a title like Violent Night, you go in with certain expectations for the levels of violence, and this movie exceeds every single one of them. I had the idea that we were going to see a tactically trained Santa, moving through a house full of Christmas decorations picking off bad guys left and right like ornaments off the tree. This isn't the Santa whose story they want to tell, and they establish that immediately. With an all-time introduction, we meet David Harbour's Santa Claus half-drunk in a bar, chopping it up with a mall-Santa fresh off duty. We see right away that this version of Kris Kringle understands the stress most people endure during the Christmas season.
The only minor issue I have with this movie is with the handling of Santa's backstory, but that's as specific as I'll be for the sake of avoiding spoilers. This authentic portrayal of Santa Claus stands out in comparison to other iterations. It seems genuine for him to behave this way, considering his main duty is to break into our homes and deliver us presents. He's dealing with burnout from working too much and trying to keep everyone happy during the holiday season, which is something a lot of us can relate to. Certain aspects of his past give him some level of training, but nothing can prepare him for what he's going to deal with this Christmas. He makes his way around the house, using string lights, toys, and other Christmas decorations to best his enemies, which makes the action so much more captivating.
Violent Night – A Jolly Good Time
Violent Night does a phenomenal job from start to finish, delivering captivating action sequences and gut-busting humor. After seeing Glass Onion: A Knives Out Mystery in a packed-out theater, I assumed it would be a long time before another movie reached that level of audible laughter from the crowd, and it held that title for just over a week. Violent Night had my entire theater bursting with laughter from the opening credits until the lights came on, but it's so much more than just a funny, violent Christmas movie. The story around Santa Claus builds on these trivial complications that families face during the holidays in an emotionally gripping way. The concept of "What does it mean to truly believe?" is meaningfully present.
Ho Ho Harbour and Friends
I'd be remiss if I didn't talk about what really makes this a great Christmas movie, and that's David Harbour's performance as Santa Claus. He fits effortlessly well into this role of a grumpy old man, tired of bringing gifts to people who don't appreciate him. His ability to display the emotions he's feeling coupled with the emotions that lurk beneath the surface proves how easy this Santa is to root for. He's also just so relatable and charming in the sense that, if we had to deliver presents to eight billion people in one night, we'd probably be reaching for the whiskey instead of the milk too.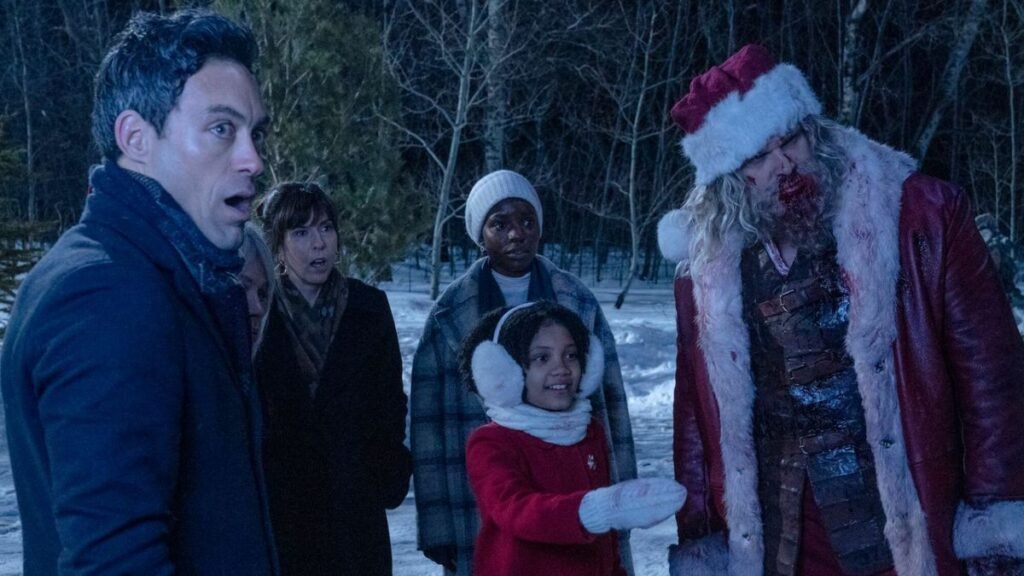 The performances across the rest of the movie all hold up fine, and John Leguizamo plays a serviceable, albeit slightly forgettable villain who goes by Scrooge. Scrooge's main motivation is that he just truly hates Christmas and the general Christmas spirit, so it makes sense for him to be the central antagonist in a movie that features Santa Claus. Out of the rest of the family, Trudy (Leah Brady) stands out the most, she's absolutely delightful in a Home Alone-esque role that sees her assisting Santa in taking down bad guys with a youthful flare.
And To All A Good Night
When you add all these pieces together, you're left with what is personally one of my favorite Christmas films of all time. I can't recommend this movie enough, it's a fable full of Christmas puns, unforgettable action, relatable emotional moments, and enough humor to cheer up anyone dealing with the holiday blues. It is a unique addition to the collection of Christmas movies, and something I'm sure we'll see many attempts to replicate going forward. Violent Night is an absolute riot from start to finish and a must-see addition to the holiday season.
Be sure to check out Violent Night in theaters everywhere. Did you enjoy the movie? Share your thoughts with me on Twitter!
'Violent Night' Review
'Violent Night' Review
The Good
Loads of Christmas fun
David Harbour is awesome
Action is great
The Bad
Story takes a few weird turns