Netflix's hit series Stranger Things defies many odds compared to long-running shows within the same genre. The powerful plot lines, coupled with the consummate acting abilities of the main cast, continues to enthrall audiences of all ages. One fascinating factor of Stranger Things is this powerful capacity to connect with the characters, despite their age. As a child of the 1980s myself, it resembles a time capsule of memories. Now, as a parent, I see much of myself in both Joyce Byers (Winona Ryder) and Karen Wheeler (Cara Buono). Nostalgia aside, witnessing these children mature as these characters is as familiar as watching my own kids grow up. In this volume of season 4, our main cast dives further into the truth about Vecna, after discovering the horrific past of Hawkins, Indiana that began long before the events of season 1.
WILL BYERS
When the first trailer for Stranger Things dropped, the main attraction was the disappearance of Will Byers (Noah Schnapp); last seen leaving the Wheelers' home after a long D&D campaign. He is the quietest of the bunch, possibly the most analytic, as most introverts are. Yet, he also carries the burdensome experience of trauma after his venture in the Upside Down. Most of Will's scenes in Season 1 focus on his life prior to his disappearance. A glimpse into his family life prior to his parent's divorce suggests this may have been just as traumatic. With the company of his older brother, Jonathan (Charlie Heaton), and his friends, Will has found an outlet through music and Dungeons & Dragons.
Throughout Seasons 2-3, the turmoil of Will's connection to the nightmarish Upside Down, still lives in his head. Later in season 4, we learn Vecna's influence preys on Will's insecurities. Then, as he wrestles with his friendships and his identity, he finds himself more distressed; making him feel more alone in the world with few to turn to. He finally puts these feelings to words in "Papa" (Season 4, Episode 8), though not directly under his own narrative. Instead, he uses Eleven's name to convince Mike that she thinks highly of him. Noah's heartfelt delivery with urgency and emotion is uncanny; the years of hiding the essence of who Will is catching up to him.
MIKE WHEELER
On the bright side, Mike later uses this as advice to finally tell Eleven how he feels towards the end of season 4. In season 1, he takes it upon himself to give her houseroom after the gang discovers Eleven wandering not far from where Will was last seen. Soon after, Eleven's psychokinetic powers reveal themselves to the boys. Mike appears to be the leader of the group, taking charge with confident ease. He also possesses a protective streak when it comes to Eleven, especially when Lucas states he doesn't trust her. Punches are thrown (because middle school boys) and Lucas is nearly concussed by El, as she's trying to protect Mike. Later, they are able to salvage their friendship, though Lucas remains distrustful of El.
In the season 2 finale of Stranger Things, Mike and Eleven's relationship blossoms into exclusivity. Insecurities emerge when he believes El is stronger than he will ever be. Also, his other friendships start to take a backseat to the time he spends with her (this is not uncommon). In season 3, when Jim Hopper (David Harbour) threatens Mike to spend less time with El, Mike starts to avoid her in order to save their relationship. The lying and subterfuge catches up to him eventually, as these things usually do, but in the end love wins when Mike expresses his truth.
LUCAS SINCLAIR
Lucas (Caleb McLaughlin) exudes both a stubborn and pragmatic streak, though this comes in handy. In earlier episodes, his skeptical nature is remedied when he realizes what is going on in Hawkins. He's a voice of reason to Mike's assertiveness (and in general) though this causes a rift with Lucas' distrust of Eleven. This changes, however, when she ends up saving Will's life. When his younger sister, Erica (Priah Ferguson) comes into the picture, it's easy to see where his headstrong personality manifests, and the protective nature that he has in common with Mike. In season 3, he becomes entranced by Max Mayfield (Sadie Sink) and, like Mike and El, they establish their relationship at the Hawkins Snowball dance.
Upon entering high school, Lucas plays bench warmer for the Hawkins High basketball team. Along with Mike and Dustin, he still dabbles in D&D by joining the Hellfire Club (run by the ever-charming Eddie Munson). Stuck between a rock and a hard place, Lucas skips a campaign to continue bench warming, and gets called into play, finally. He ends up scoring the game winning basket, but even in celebration, he realizes his place isn't on the team. Lucas softens by the end of season 4 when Max succumbs to injuries inflicted by Vecna. Much like Noah's performance, Caleb's display of anguish as he embraces Max is raw, bringing his Stranger Things character full circle. This development differs a bit from the others, as Lucas' confidence guards his emotions. Still, he stays strategic. (His other best moment is when he is reading The Talisman to Max as she lays comatose in the hospital)
DUSTIN HENDERSON
The most curious and scientific-minded of the bunch is Dustin (Gaten Matarazzo). His time is spent on finding out how things work, and what goes on around him. Not that he isn't focused on friendship, after all he plays peacekeeper so the task at hand is the main point. For example, when Mike and Lucas are at odds about El, Dustin plays mediator so they can save Will. In season 2, some interest builds around Max, but his attention shifts momentarily. Somehow, a small gecko-like creature had made its way to his house. With his tender nature, he takes in the creature, naming it Dart. Much to his dismay, he later learns it's actually from the Upside Down. He begins an unforeseen friendship with Steve Harrington (Joe Keery) after seeking advice on how to get Max's attention.
Even with a long-distance girlfriend, Suzie, in Season 3, Dustin feels left out as his friends begin to become distant from the group. Steve becomes the older brother Dustin never had, though Steve sees it more as a "babysitter" relationship. This doesn't change much, even in season 4 when Dustin begins a similar relationship with his Dungeon Master, Eddie. Eddie's death hits Dustin the hardest, having spent the most time with him through campaigns and being there at the moment of his death (right after giving the most metal scene in Stranger Things, a hill I will die on). At the end of "The Piggyback," Dustin makes sure that Eddie's uncle knows he died a hero and that he'll never be forgotten.
ELEVEN / JANE
Out of the entire gang, Eleven (Millie Bobby Brown) has the most complicated background. Not only was she abducted as a baby, she lived her childhood as a Hawkins lab experiment, as her mother, Terry Ives, had done during the MK-Ultra testings. Mike tells her in season 4 that his life started when they met, but this is also true for Eleven. She finds friends, learns to adapt socially for the most part, and eventually finds herself. El (birth name Jane) considered Martin Brenner (Matthew Modine) her "papa" for much of her life. In season 3, her friendship with Max deepens as she shows El the power of individualism; and how to be more than an extension of Hopper or Mike's girlfriend. El strives to find a part of herself that is more socially acceptable, superhero powers or not.
At the end of season 3, Hopper disappears and El moves across the country with the Byers. They relocate to California to leave everything in Hawkins behind, but now El is an outcast. This makes her a target for one female bully at school. She is also coming to terms with the loss of her powers from Season 3, until she regains them later. Her later confrontation with Brenner is something to behold as she airs out years of the abuse she's endured from Brenner in the lab. He implores to El that he did this out of protection, but she knows he wants to harness her powers for his own good. The culmination of the years of psychological abuse weigh so heavily, she barely mourns him in death. Her reunion with Hopper at the end of "The Piggyback" reminds El that he's the only father figure she needs.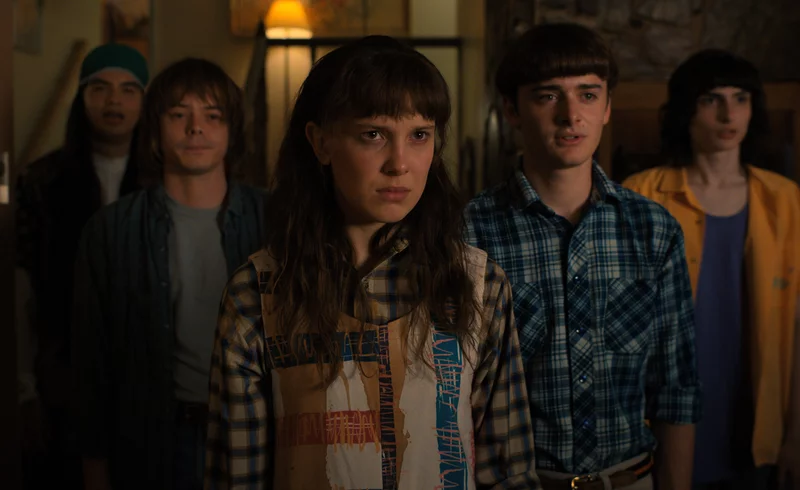 CONCLUSION
Throughout the six years and four seasons of Stranger Things, we've watched these kids grow into teenagers facing real life struggles. These include distancing friendships, navigating relationships, and dealing with profound losses. The supernatural and other-worldly scenery makes this show convey a larger-than-life atmosphere. Yet, we are still provided the perfect balance of escapism and engaging with our emotions. Season 4 ends with a contrast of the now surfacing hellscape to a colorful wildflower-filled field in Hawkins, leaving the gang to face their worst fears come to life. Undoubtedly, Season 5 will end with the show on an unpredictable note, but one that will honor the last four seasons.