WWE's biggest event of the year is here! WrestleMania 39 is loaded with 13 matches across two exciting nights from sunny Hollywood, California! With six championships on the line and over a year of storytelling, this might be the best WrestleMania in years! We have you covered with our predictions on what might go down, kicking things off with the return of the G.O.A.T.!
Contents
John Cena vs. Austin Theory (United States Championship)
Damon: I'm going with Theory here. I can't see Cena winning and then sticking around for the U.S. titles for more than a day. It also gives Theory another push that, honestly, I think he has earned.
Ruben: I have been going back and forth with this one, but I think with them announcing this as the day one opener, I see no other path than John Cena. I think his reign will only last a day or two, however, thanks to his U.S. Championship Open Challenge.
C.J.: This one might seem pretty straightforward, but I'm not sure that it is as simple as we think. This would be a gigantic win for Theory, and I do not believe Cena will be sticking around long. However, it would not shock me to see Cena win and then lose the title to someone like Solo Sikoa on the RAW after Mania. So I'm going John Cena!
AF: The "repackaged" Austin Theory is a huge improvement from the selfie-taking gimmick that never really did much for his character. His mic skills and performances in the ring have improved, but like John Cena said, he's not ready. I'm going with a John Cena win, breaking the record for the most U.S. Championship reigns in the WWE. I doubt it will last long, as he'll most likely lose it within a week, so he can get back to acting!
Callum: At first I thought this was quite hard to call, but with it opening night one, I can't see anything other than a John Cena win. Big Match John winning the title and then losing it on either night two of Mania or the RAW after Mania makes a lot of sense. Especially if it's to a certain debuting Switchblade…

Seth Rollins vs. Logan Paul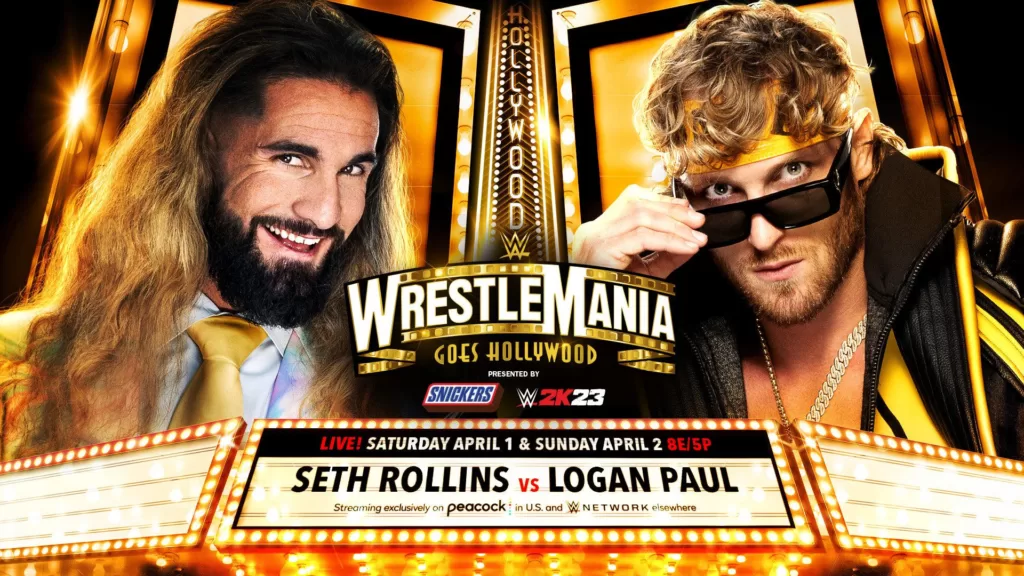 Damon: As much as I would want Seth Rollins to win, it just has to be Logan, right? The oddity is, outside of this match being entertaining, there isn't much for either side to gain.
Ruben: Week after week, Rollins has not been able to catch a break. I think Seth Rollins finally gets the job done for good.
C.J.: I think this may be the most predictable match on the card, as I would be shocked if Logan Paul comes away with the win here. With Cody Rhodes set to win the big one, it would not shock me if Seth is one of the first to challenge him! So I'm taking Seth Rollins all the way.
AF: I'm going with a Logan Paul win here. Seth has been on a lengthy run of putting other stars over, and I don't think this one would be any different. Logan has all the tools to be a top performer in the WWE. My prediction is that Seth will go on to face eventual Undisputed Universal Champion winner Cody Rhodes at Summerslam and finally get the win to complete his redemption arc.
Callum: Although it wouldn't surprise me to see Logan Paul pick up the victory here, I still think Seth Rollins will be the man with his hand raised at the end of the match. The former Universal Champion has been on fire this year, and it's time the company repays him by seeing him move past Paul and onto bigger and better things.
Brock Lesnar vs. Omos
Damon: This match falls under the "Oh yeah, this is a thing" category. Omos could use a big win, and one over Brock would be monumental for him. Can it be entertaining, though? That's the bigger question.
Ruben: This is truly once in a lifetime because I never want to see this ever again. I was willing to give them the benefit of the doubt, but there has been absolutely no build-up for this that has piqued my interest. That being said, I'm going with Omos!
C.J: Brock Lesnar will get thrown around for three minutes, then hit a superhuman F5 on Omos to win! This one is not going to be pretty, but it really is pretty predictable.
AF: Is Omos huge? Yeah. Is Omos strong? Yeah. Does Omos have the charisma and star power to get one over Brock Lesnar on the biggest stage of them all? I don't think so. I hope this match is the turning point in Omos' career. My prediction? Brock Lesnar wins, and Omos gets the entertaining match that jump starts his push into relevancy.
Callum: In the most respectful way possible—there's no way Brock Lesnar loses to Omos this weekend. Beating Lesnar still means something in WWE, and his losses are continuously saved to put over the right talent. That just isn't Omos right now. He might be ready in the future, but the big man isn't quite there yet, so I've got Lesnar winning this inevitably short-but-wild war between two of the biggest men in WWE.

Gunther vs. Sheamus vs. Drew McIntyre (Intercontinental Championship)
Damon: The winner of this is all of us. This will prove to be a fantastic match where Gunther continues to show how much of a monster he is in this company.
Ruben: This one is going to be fun! One thing we can all agree on is there is no way Gunther is getting pinned. With that being said, I think if you're going to have him drop the title for a potential World Title run, you gotta give it to Sheamus.
C.J.: This one is a bit of a toss up for me. Gunther is on a tear like no other, and I don't see him being pinned anytime soon. However, with this being a triple threat, he can lose this match without being pinned. I think Gunther is set for a push towards the Undisputed WWE Universal Championship, so I think this match will finally give Sheamus the one belt he's never won when he wins the Intercontinental Championship!
AF: Gunther vs. Sheamus gives us one of the best matches WWE has seen for a very long time. Add Drew into the mix and this could have the legs to be the best matches of Mania weekend. I think Drew gets the W in this one. He carried the company when Covid was at its peak and no crowds were allowed. This will be a well-deserved reward, with the Intercontinental Championship finally having its status elevated.
Callum: You could make a case for either Drew or Sheamus getting the win here. Both have been on fire this year and fully deserve a title run, but Gunther is no ordinary champion. This man is built different and is currently embarking on the longest Intercontinental Championship reign in 35 years. In my eyes, he isn't losing the gold until he's broken the Honky Tonk Man's 454-day record.

Trish, Lita, Becky Lynch vs. Bayley, Dakota Kai, Iyo Sky (Damage Ctrl)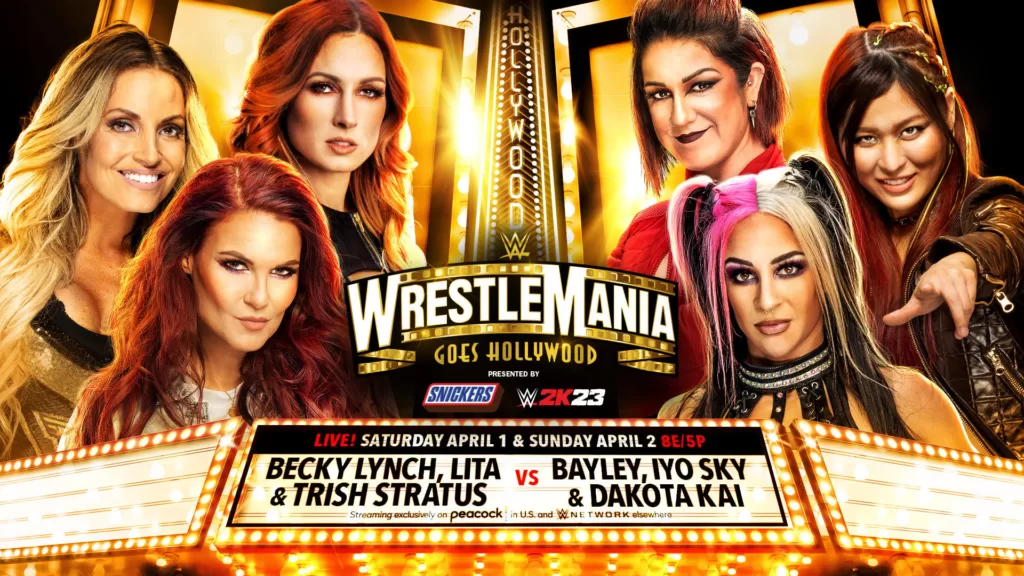 Damon: I mentioned earlier that Judgement Day needed some wins, that also applies for Damage Ctrl. If they don't win this, I don't know what comes of that team moving forward.
Ruben: This has Damage Ctrl written all over it. I already sense some turmoil between Trish and Becky. This should play out nicely.
C.J.: This is a must win for Damage Ctrl. I think they pull away with the win here and we see the seeds of a Trish Stratus heel turn, as all roads lead to Trish Stratus vs Becky Lynch.
AF: I think Trish, Lita, and Becky lose this one. WWE are diving into long-term storytelling with Trish naming her "wrestling Mount Rushmore" as herself, Lita, Sasha Banks, and Bayley. Becky won't appreciate that, especially since Bayley is their enemy right now. I think Becky does something to cost them the match, Damage Ctrl wins, and we see Trish vs. Becky at WrestleMania Backlash. Probably.
Callum: When Damage Ctrl debuted last summer, I had such high expectations for them; it's safe to say, the team have fallen way short of meeting them. They've been booked pretty poorly throughout their run, but I'm a dreamer, and still believe they can succeed on the main roster. The best way to turn their fortunes around is with a win over Trish, Lita, and Becky here.
Edge vs. Finn Bálor (Hell in a Cell)
Damon: We have been teased of the return of Finn's Demon. Judgement Day are set to have a great WrestleMania, as Finn Bálor will top Edge to show how far this faction has become.
Ruben: 'The Demon' Finn Bálor is back, and he is ready to finish Edge for good. I honestly thought this rivalry was going to come to a close at Elimination Chamber, which I was okay with—until we started hearing the rumbling of a possible Hell in a Cell match at Mania. This is going to be brutal, and this one was tough for me, but I think we're going all in with Judgment Day at WrestleMania 39!
C.J.: This needs to be Finn Bálor's night. This feud with Edge has been going on for a couple of months now, and it seems Edge has mostly had the upper hand (outside the match at Extreme Rules). I think that changes inside Hell in a Cell, and this is the night where HHH sends Bálor to the top of the card with a dominating win over Edge.
AF: I have a feeling that this match will be Brood Edge vs. Demon Balor, and I'm not going to lie, that sounds amazing! It could be Edge's final match at WrestleMania as the curtain on his career slowly draws to a close. However, the Demon will be too much for him, especially if The Judgement Day is standing ringside. Bálor wins this one.
Callum: Growing up, I was the biggest Edgehead, and I'm not sure if that's influencing my decision here, but I can't see him losing to Finn Bálor, even if the Demon is making an appearance. As Edge nears the end of his career, it makes sense for his losses to be used sparingly and for talent that benefit from it. It's time to move past this rivalry, and the best way to do that is for the Rated "R" Superstar to get the dub and look ahead.
Women's Tag Team Showcase Match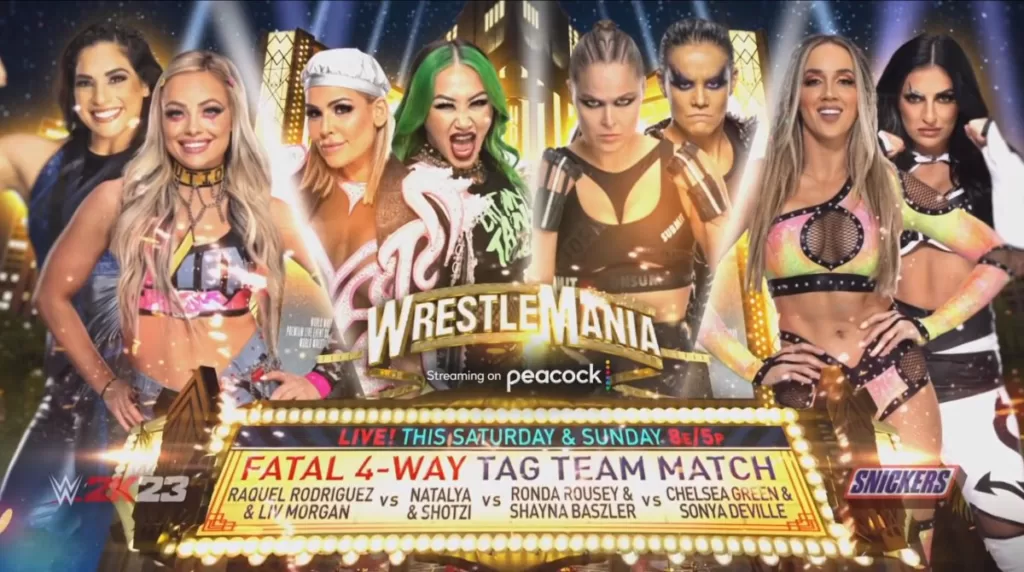 Damon: Ronda and Shayna are really the only pair here that have history. If this is a "who I want to win," it's Liv and Raquel. But Ronda and Shayna will probably dominate this match.
Ruben: Seems odd this isn't being listed as a #1 Contenders match. Regardless, the only teams that really stand out and can make a real run at the titles are Shayna Baszler and Ronda Rousey.
C.J.: This Tag Team Showcase might as well be called the Shayna Baszler and Ronda Rousey Showcase. This match will be a dominating win for half of the four horsewomen of MMA, as they head towards the Women Tag Team Titles.
AF: Who would I like to win this one? Any team that has Liv Morgan on it. Who do I think will win? Ronda and Shayna, and I don't even think it will be much of a contest. Raquel is a powerhouse, but the combined experience of the former MMA athletes will be too much for any performer in the squared circle.
Callum: When Lita and Becky won the tag team titles, I was adamant that it was so Shayna Baszler and Ronda Rousey had the chance to take them from the two babyfaces. I still don't feel any differently. This match will serve as a dominant showing for the two ex MMA fighters, and they'll stake their claim for a future title shot.
Men's Tag Team Showcase Match
Damon: I'm not sure who will win, but I know that the Street Profits will lose. My gut is telling me this is the beginning of the end of the road for this tag team. Let's go with Braun and Ricochet! The new little-big is in the house.
Ruben: On paper, Braun Strowman and Ricochet shouldn't work, but something about them has been nothing but fun to watch.
C.J.: I think this match will serve as a last hurrah for the Street Profits as they share one last win together at WrestleMania. I'm hopeful that the Street Profits' story comes to a happy end with no one having to turn heel. This win could be that end for them.
AF: Braun and Ricochet will win this match. They have been in the spotlight for the past few weeks. Their chemistry as a tag team improves with every match. This match could signal the end of the Street Profits. Montez Ford could well start his solo career from this point forward. Alpha Academy will be split as well, with Otis joining MMM instead.
Callum: While the tag team championship match is one of the hottest contests on the WrestleMania card, the rest of the division is severely lacking—as proven with this bout. With two teams seemingly on the verge of a split, the only viable options are Braun Strowman and Ricochet, and the Viking Raiders. As my later prediction will explain, it makes more sense for the next title challengers to be villains, so on that note, I'm going with the Viking Raiders (but I don't feel confident or bothered in the slightest with this one).
The Usos vs. Kevin Owens and Sami Zayn
Damon: This truly feels like a main event. The story surrounding this match has been top-class. For the Bloodline, their tag team title reign will end here: at the hands of the former Honorary Uce. Sami and KO will take the titles. Maybe some self-sabotage in play as well? Who knows.
Ruben: I don't care what anyone says, this has to be Saturday's main event. Some of the best storytelling we have had in years, and it's finally coming to a close. We get new Tag Team champs, I got Zayn & Owens.
C.J.: In my opinion, this should be the main event of Night One. I think this is the culmination of the best story WWE has told in years and will be the beginning of a rough weekend for the Bloodline. Sami Zayn and Kevin Owens will finally hold tag team gold together and end the historic reign of the Usos. Welcome to WrestleZaynia baby!
AF: 12 months of storytelling. 12! If this doesn't pay off with Sami Zayn having some gold around his waist, then what are we doing here? I think Jey Uso will cause the loss here, to crown Zayn and Owens as new Undisputed WWE Tag Team Champs. And who knows…maybe he will cause Roman Reigns to lose the big one too!
Callum: I still can't believe Sami Zayn's big moment has come down to a Tag Team Champion match, but he has to emerge victorious now that he's here. Sami's reunion with Kevin Owens is one of the better moments from WWE so far in 2023, and the story that's been woven over the last 12 months has been riveting. While it's not quite the conclusion I wanted to see, Zayn and Owens have to beat The Usos to become the Undisputed WWE Tag Team Champions. They just have to, right?
Rey Mysterio vs. Dominik Mysterio
Damon: Could Rey really lose on his Hall of Fame induction weekend to his son? Of course he will! Dom has come so far over the last few months and as much as I want to see Rey put Dom in his place—the sun will set on the old, and rise with the new.
Ruben: I've been one of the biggest supporters of Dominik's in-ring career and what he laid out this past Monday makes me believe that he is ready to claim the Mysterio name! I pick Dominick Mysterio, no question.
C.J.: This match will be the start of Dom's reign as the head of the Mysterio table. I think he gets the win here, sending his father packing before Rey inevitably comes back and makes things right with Dom before he retires.
AF: Dom has improved so much as a performer over the past few months, but I don't think he wins on the big stage—not on the weekend that his dad gets inducted into the WWE Hall of Fame. Rey has buried all of his frustration and anger, and once Mania weekend hits, Dom will be sorry that he ever thought he could take on his dad, the legendary Rey Mysterio.
Callum: Well, Rey finally did it. After teasing it over a decade ago, Rey Mysterio finally got to beat his kid after he laid hands on Dominik recently, setting up this match. But unfortunately for the future Hall of Famer, it's time to pass the torch. Initially a bland babyface, Dominik Mysterio has done some incredible work turning his career around and solidifying himself as one of the most entertaining villains on the entire WWE roster. With Rey's career winding down, facing his son at Mania will be reflected upon as one of his favorite matches, but it's one he'll be on the losing end of.
Bianca Belair vs. Asuka (RAW Women's Championship)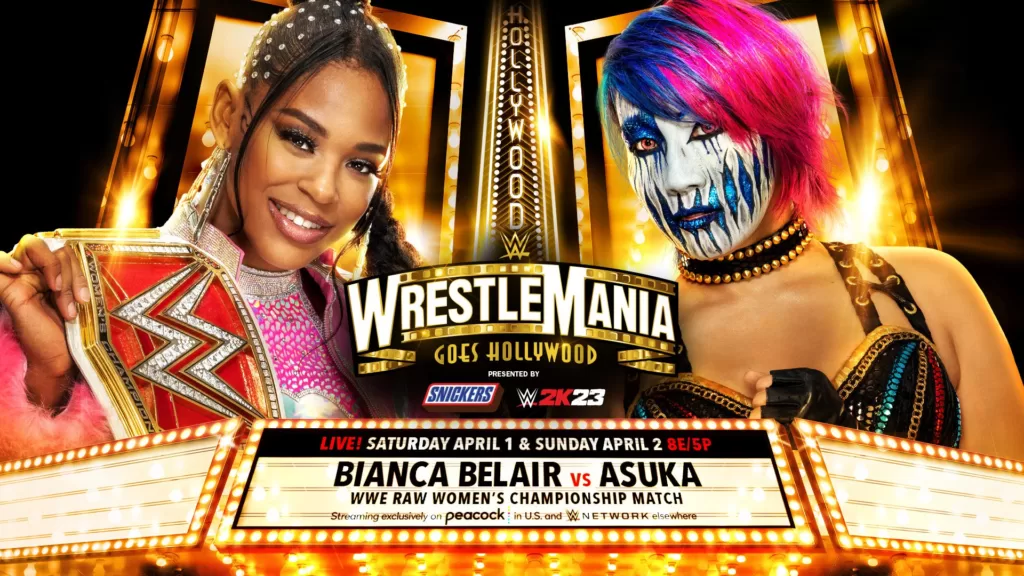 Damon: Bianca's title reign will continue. I cannot envision Asuka taking it away from her. I expect some shenanigans at the end of this one though!

Ruben: Nothing has really sold me on this match, but I think WWE keeps Belair's incredible momentum going; no reason to take it away now.
C.J.: Despite Asuka's new killer persona and incredible popularity, I think it would be a mistake to take the title from Bianca Belair. Belair has now grown a great reputation for her Mania performances, and I think this will be another great match, leading to her becoming Mrs. WrestleMania and maintaining RAW Women's Champ.
AF: It has to be Bianca, right? She has dominated the Women's division since she won the title back. Asuka will be no easy task, though, as she's shed the "nice person" persona and looks more aggressive than ever. The creatives could pull a fast one on us, but it's WrestleMania! This is Bianca's home turf. It's all her right now.
Callum: Asuka's transformation has been a breath of fresh air for her character, but Bianca Belair is doing some incredible work at the top of RAW's Women's division, and I don't see that coming to an end this weekend. Belair is a star, and having both herself and Rhea holding the titles as the weekend comes to a close will signal a new era for WWE's Women's divisions.
Charlotte Flair vs. Rhea Ripley (Smackdown Women's Championship)
Damon: Judgement Day needs some wins in WrestleMania 39. Rhea is coming into this with all the momentum of story and fan push to win this belt. It should go to Rhea.
Ruben: Rhea Ripley has been on an absolute tear as of late. I see her leaving WrestleMania 39 with the gold, no question!
C.J.: If this doesn't go to Rhea Ripley, I will be very confused. No one in the Women's division has as much star power as Rhea Ripley and Bianca Belair right now, and this serves as the perfect moment for Rhea to ascend to that next level.
AF: Is it weird that I don't have much attachment to this match? However, Rhea has looked mighty impressive in her recent matches, so I think she carries all the momentum here. More often than not, the Royal Rumble winner goes on to win the big one at Mania. I think Rhea Ripley gets the win. WrestleMania 39 could signal the full power of Judgement Day, with a prediction they all leave the event with W's.
Callum: After their last WrestleMania match, there's no way Rhea Ripley loses to Charlotte Flair again. The work Ripley has done in transforming herself on the main roster has been tremendous, and she's shown that she is more than ready to hold gold. It's Rhea's time.
Roman Reigns vs. Cody Rhodes (Undisputed WWE Universal Championship)

Damon: I know many are thinking the worst case scenario, but Cody has to win here. The story is there, the setup is there. With the new WWE motto of "finishing your story," this is as clear-cut as it should be.

Ruben: It has to be Cody Rhodes, he set this opportunity in motion since his first day back. I think it'll shape up to be the most memorable WrestleMania moment we've had in the last 10 years.
C.J.: This is Cody Rhodes' moment. For the past year since Cody has returned, all roads have led to the Undisputed WWE Universal Championship. I think Roman has done just about everything possible as champ, and it's time to move on to the American Nightmare's run at the top!
AF: For anybody that has been following the pro-wrestling circuit for the past 12 months, this result would seem cut-and-dried. It has to be Cody Rhodes. The storyline emphasizes it every week. Cody will be the one to end the reign of the Roman Empire.
Callum: Roman Reigns has given us one of the greatest title reigns in the history of professional wrestling, but his time as champion is coming to a close this weekend. Cody Rhodes left WWE an unwanted commodity, and came back to become one of the most popular stars in the company. While climbing the mountain hasn't been easy, he's finally made it to the top and there's no way he falls now.
The road to WrestleMania 39 is up!
With this being the first WrestleMania with Triple H as Head of Creative, you can expect him to make a big splash! Whether it be surprises, returns, or just some really great wrestling, almost no weekend is as fun as this one!
WrestleMania 39 is live from SoFi Stadium (Los, Angeles) on Peacock in the US and WWE Network Internationally, on Saturday, April 1 and Sunday, April 2.