Cody Rhodes is without a doubt one of the most influential figures in wrestling history. Carrying the legacy of his father with him, he heads into WrestleMania poised to win the Undisputed WWE Universal Championship. However, his journey to this moment is as powerful as any, elevating Rhodes from undesirable to undeniable.
Built from legacy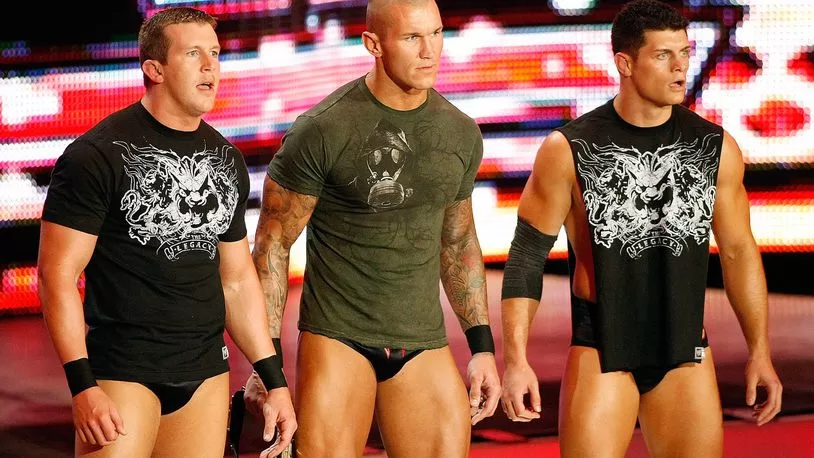 When Cody Rhodes first arrived in the WWE, he had the entire world in front of him. Set to be the next big WWE superstar, Rhodes debuted against Randy Orton on Monday Night Raw in 2006. Just a few years later, Cody Rhodes really started to make an impact, and that came in the form of the faction: The Legacy. 
Alongside the aforementioned Randy Orton, and Ted Dibiase Jr., this faction is built on the Legacies of their fathers before them. Building from this faction led Cody to become a star in WWE in the Late 2000s or early 2010s, leading him to multiple runs with the Intercontinental and United States Championships following the split of the group.  
He closed this initial run teaming with his brother Goldust (aka Dustin Rhodes) and winning the Tag Team Championships. Despite never winning the WWE championship, his time in WWE up to this point is viewed as mostly a success. Rhodes' run with the Intercontinental Championship is still mentioned as one of the better reigns of all time. However, after this point, things drastically changed.  
Stardust
Due to the close ties to his brother Goldust at the time, and a lack of creativity, Cody Rhodes made a character change, and on June 6th, 2014, Stardust was born. Based on the character of Goldust, this character was made with the idea to make the team of Cody Rhodes and Dustin Rhodes more cohesive, and to add a breath of fresh air (it wasn't fresh) to Rhodes.
This was not a good change at all, taking away from Cody Rhodes' great qualities, as well as the uniqueness of Goldust. Knowing this wasn't working, WWE felt the need to switch things up again and made Stardust turn on his brother, ending the team and setting up Cody to finish his time in WWE on a solo run.
Outside competing in some great ladder matches at WrestleMania 31 and 32, Stardust never really found success. Cody Rhodes even said that despite trying to make the best out of it, he felt "dead inside" playing Stardust. So, in 2016, Cody Rhodes made a decision that would change the landscape of wrestling forever, and left WWE.
From undesirable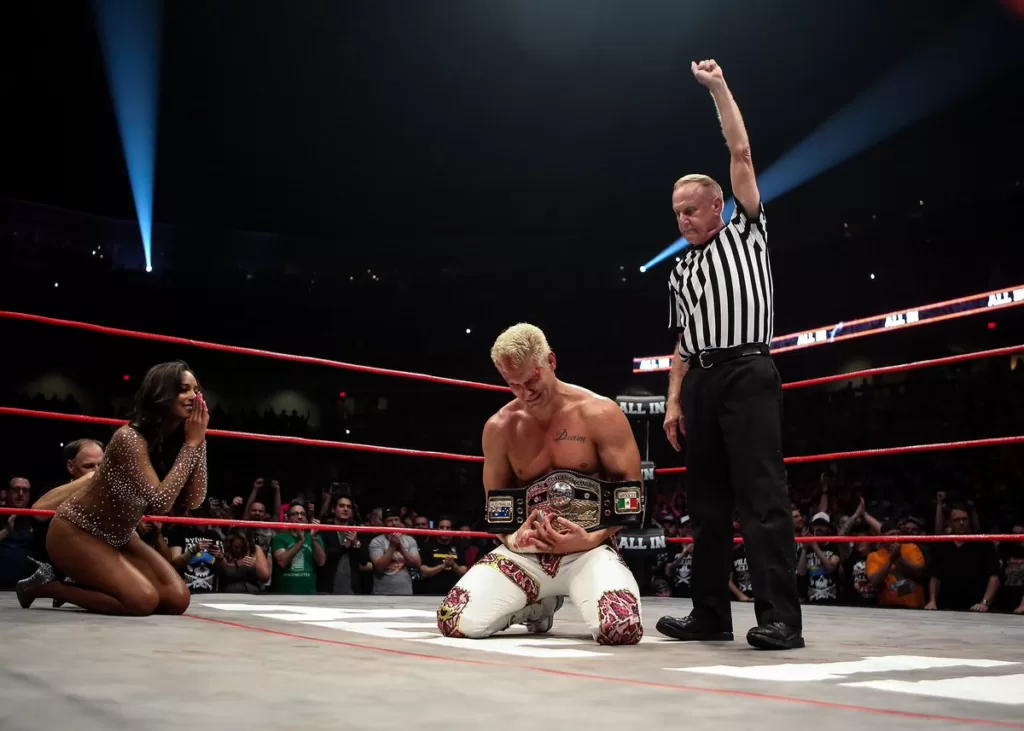 After leaving WWE, Cody Rhodes immediately went to the independent scene, taking on matches against Kurt Angle, Pat Buck, and a lot of big stars in the scene at the time. Even calling out some of the biggest names such as Moose, Roderick Strong and Adam Cole (Bay Bay). His decision to set the tone made an immediate impact, and created one of the best periods in Indy wrestling history.
In this new era for Cody Rhodes, we see him step into his family's legacy yet again, but this time in his own way. Paying homage to his late father, The American Dream, Cody steps into his role as the American Nightmare and begins to write his own legacy. One that really took off with one of the biggest non-WWE events in history, All In.
All in, which takes place on September 1, 2018, is the most important non WWE show ever. This show features Cody Rhodes winning the NWA World's Heavyweight Championship, and really feels like the beginning of a revolution. With great matches and a great profit, the wrestling landscape would never be the same.
To undeniable
What a revolution it's been, following the success of All In and the undeniable popularity of Cody Rhodes and his friends the Elite, (Kenny Omega and the Young Bucks) AEW was born. As a founding father of AEW, Cody's role in the upbringing of the company is of upmost importance. An undeniable top star, Cody has gone on to win the TNT Championship three times, and also make stars out of Darby Allin and Sammy Guevara in the process.
However, you could tell towards the end of his AEW run that things were going to be limited for him. Early on into the brand, Cody Rhodes lost a match with the stipulation that he could never challenge for the AEW World Championship. So with that ceiling, and already having delivered great matches with the late great Mr. Brodie Lee and Chris Jericho, Cody reached his ceiling in AEW. This led him to change the business once again.
Kingdom come
After 6 years away from the company, Cody Rhodes made his emphatic return to WWE at WrestleMania 38. In full American Nightmare form, Cody Rhodes took the whole wrestling world by storm and defeated Seth Rollins in his return. When asked why he decided to come back, Cody says "there is one thing left for me to do". And from that moment it was all eyes set towards the WWE Undisputed Universal Championship.
Sadly, after a phenomenal trilogy with Seth Rollins, Cody had to take a multi-month hiatus to repair a torn tricep, a major setback in his journey. Not only did Cody get stronger from this setback, but the timing worked perfectly for a return at the Royal Rumble.
One last step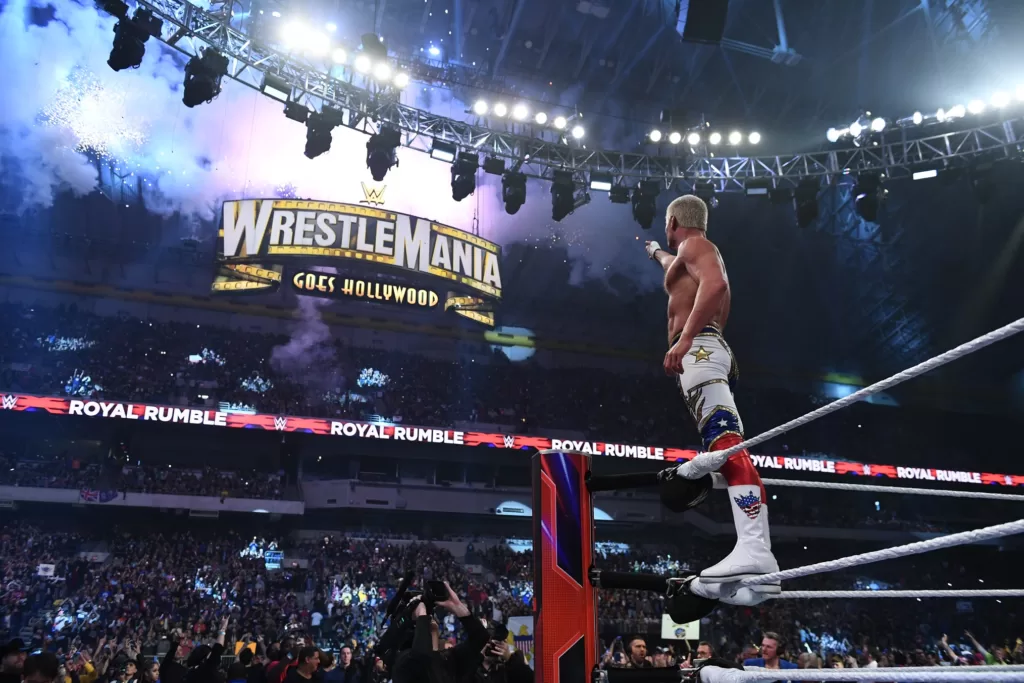 After entering number 30 and spending 15 minutes in the ring, Cody Rhodes eliminated Gunther and cleared his path to WrestleMania. The date is set, the dream is in sight, and on April 2nd Cody Rhodes can fulfill his destiny and bring the WWE Championship to the Rhodes Family. However, to do so, he must go through one of the greatest WWE champions of all time: Tribal Chief Roman Reigns.
This ultimate meeting for the WWE Undisputed Universal Championship has all the makings to be a top tier WrestleMania moment. Will Cody Rhodes fulfill his destiny, or will Roman's legendary reign continue?
If you're interested in more wrestling content, let us know on Twitter! And make sure to follow me on all my socials to see my reactions to WrestleMania 39!