WrestleMania 39 has come and gone, and left a gigantic impact on the world of WWE. With battles between Beasts and Giants, Queens and Eradicators, and Nightmares and Chiefs, this weekend had some of the most entertaining wrestling of the year!
Here are your WrestleMania 39 results from SoFi Stadium in Los Angeles, California, with ratings of every match.
Contents
Austin Theory vs. John Cena (United States Championship)
WrestleMania 39 opened with the United States Title match between the G.O.A.T John Cena and the future Austin Theory. Going into this match, Austin Theory wanted to make Cena a believer. After a referee bump and low-blow, Theory was able to defeat John Cena.
For the story they were telling, this finish didn't make a lot of sense. Theory wanted to prove that he was better than Cena, and despite winning the ref bump, a missed tap out and low-blow sequence is something we have seen time and time again. It doesn't do a lot for Theory going forward, and it would have been more effective for Theory to win clean.
Ring-wise, the match was slow, and the ending is uninspired for the story being told.
Match Rating: 2/5
Tag Team Showcase Fatal 4-Way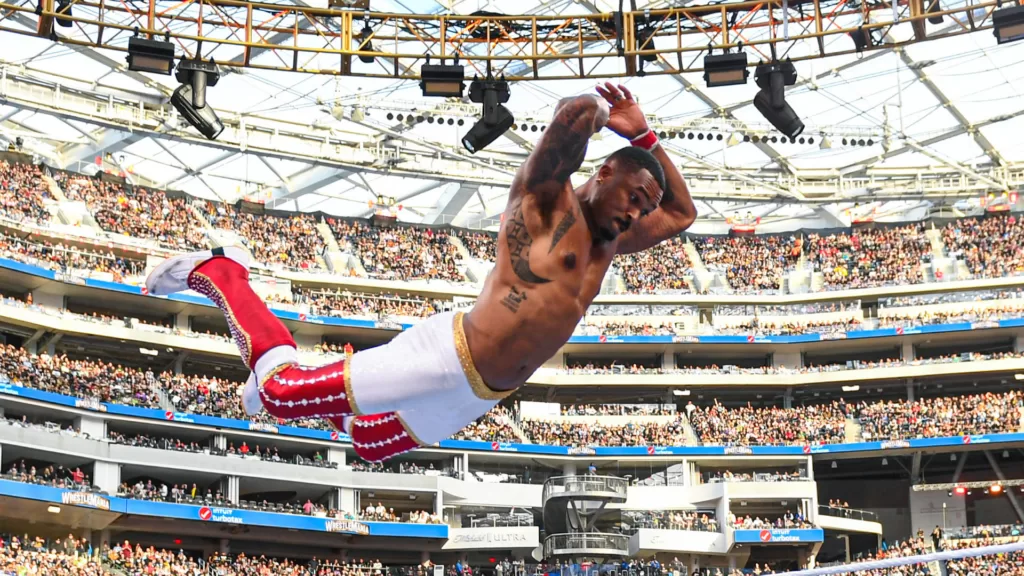 The Tag Team Showcase match was a straight injection of adrenaline. These four teams seemed to be on a mission to prove to the entire world that they are stars. Standout moments from this match are endless. Chad Gable's Chaos Theory on Braun Strowman was insane. Ricochet got loads of shine, including an insane Springboard Shooting Star Press to the outside. However, all the shine at the end goes to the Street Profits.
Montez Ford and Angelo Dawkins continue to be a great presence on WWE TV, and this win is just another example of how fantastic they are.
Match Rating: 4/5
Seth Rollins vs. Logan Paul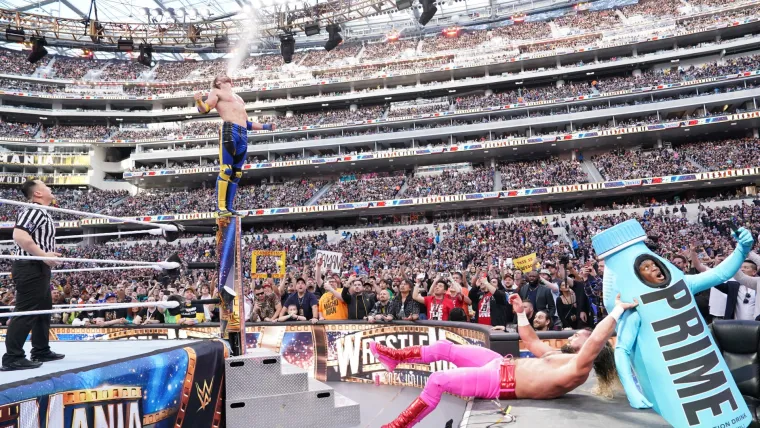 In maybe the most surprising match of Night One, Seth Rollins defeated Logan Paul after an insanely fun match. Both had fantastic entrances, including Paul Ziplining to the stage to meet up with a gigantic Prime bottle mascot!
Little did we know that inside the suit was KSI! KSI, co-owner of Prime alongside Paul, made his WWE debut to aid Paul. This didn't last long, as shortly after the reveal, Rollins was able to pull KSI onto the table right before a frog splash from Paul, sending KSI through the table.
This was a fun match with great WrestleMania moments for Logan, Seth, and KSI before a great win from Seth Rollins. Hopefully, this win finally means a push towards the title for Seth Rollins.
Match Rating: 3.5/5
Lita, Trish Stratus, and Becky Lynch vs. Damage Ctrl
Legends made their return at WrestleMania! Alongside Becky Lynch, Trish Stratus and Lita came to WrestleMania 39 and made their statement defeating Damage Ctrl and getting the win. This was a fun match that gave a big shine to all involved, but specifically Iyo Sky, who I thought looked fantastic in this match.
Going forward, I struggle to see a future for Damage Ctrl, as they haven't felt dangerous since they first debuted. This was a good match. Lita and Trish had a couple of sloppy moments, but overall looked great in victory.
Match Rating: 3/5
Rey Mysterio vs. Dominik Mysterio
It was a Mysterio family civil war at WrestleMania 39! Both men had special entrances, with Rey paying homage to the late Eddie Guerrero with his theme and his patented low rider. What followed is one of the best stories of the weekend—Rey Mysterio defeating his son Dominik Mysterio.
This is just a great match accompanied by loads of great moments. Dominik tossing the drink in his sister's face, Rey whipping Dominik with the belt, and LWO taking out the Judgement Day all make for some highlights, making this one of the most over matches of the night.
Overall, seeing how Dominik has progressed in the ring is exciting, and this was by far his best match to date. The involvement of Bad Bunny is exciting as well, hopefully setting up a match at Backlash.
Match Rating: 4/5
Rhea Ripley vs. Charlotte Flair (Smackdown Women's Championship)
Not just one of the best women's wrestling matches ever, but one of the best wrestling matches ever. A story playing off three years of history, Rhea and Charlotte continue to prove that they are two of the best in the game.
This match was special. Charlotte's counter of the Riptide into the DDT was seamless. Rhea's storytelling of learning from her previous encounters and differing her offense based off of that is great storytelling. However, the coolest moment of this match is when Rhea drops Charlotte on the ring post knocking her out, before delivering a Riptide off the top rope sealing her victory.
This match is going to be one that young girls will watch and decide they want to wrestle. It was perfect in my mind, proving that when you turn on the brightest lights, no one is better than Rhea Ripley and Charlotte Flair.
Match Rating: 5/5
Pat Mcafee vs. The Miz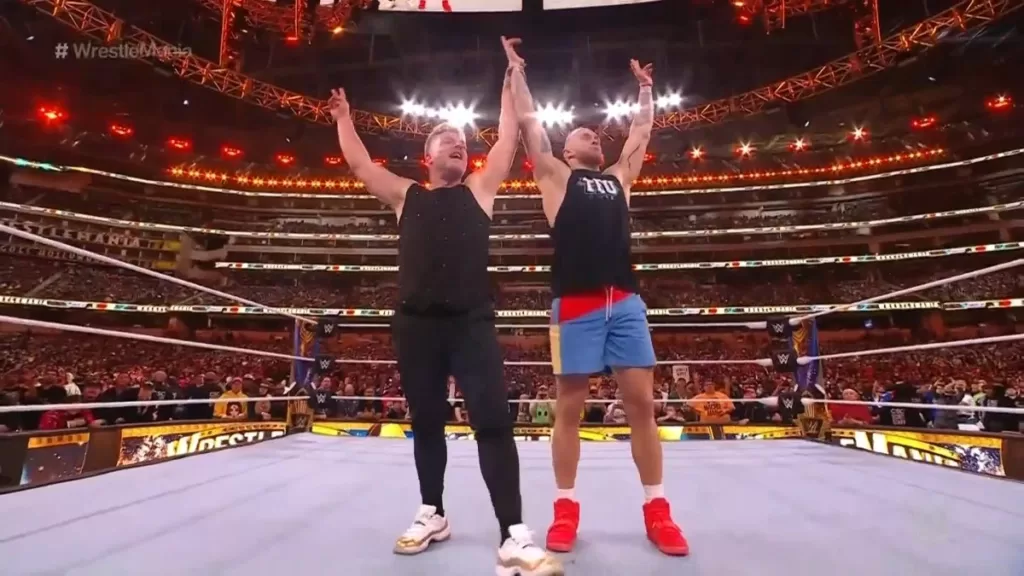 After a surprising open challenge from the host of WrestleMania, Pat Mcafee returned to WWE and defeated Miz in a short, harmless match. Mcafee was charismatic as always, and George Kittle got to have a WrestleMania moment from his dreams. A quick sprint of a match and a nice win for Pat Mcafee before the legendary main event.
Match Rating: 2.5/5
Kevin Owens and Sami Zayn vs. The Usos (Undisputed Tag Team Championship)
A year worth of story telling came to ahead in the main event of Night One of WrestleMania 39. This was a pure story of emotion whihch created one of the best wrestling moments I have ever seen. When Sami joined The Bloodline, it added a whole new level of storytelling to WWE TV. This match is just another prime example of that.
For the first time ever, tag team wrestling was in that main event of WrestleMania, and it proves it should not be the last. Jimmy and Jey Uso were seamless as always, and they were fantastic foils in the ring for Zayn and Owens. The moments where it seemed like all hope was lost for Zayn and Owens made this match a nail-biter, and led to one of the best moments of the weekend.
When Owens tagged-in Sami Zayn, SoFi Stadium erupted like never before—creating one of the hottest tags in WWE history. Sami came into the ring and delivered three Helluva Kicks to Jey Uso before claiming the Undisputed Tag Team Championships. The emotion was painted all over the faces of Zayn and Owens, making this a moment to remember forever.
Match Rating: 4.5/5
Brock Lesnar vs. Omos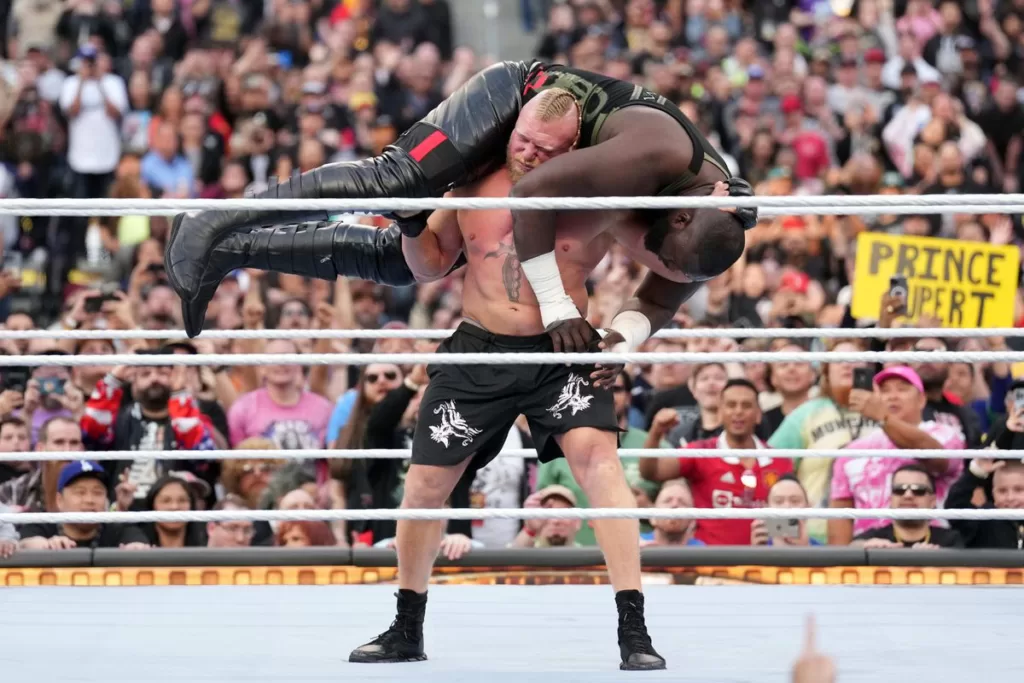 Kicking off Night Two of WrestleMania 39, in a match that no one was really expecting much from, Brock Lesnar and Omos deliver a quick, predictable sprint of a match. This match started with Omos throwing Lesnar around the ring before the Beast awoke. Lesnar gave the Nigerian Giant a couple of Suplexes and an F-5 before securing the win.
Match Rating: 2.5/5
Women's Tag Team Showcase
The Women's Tag Team Showcase struggles to find the same magic that the Men's did the night prior. With some sloppy moments, a lack of stakes and an uninspiring finish, this one falls short for me.
Chelsea Green and Liv Morgan were the standouts of this for me—when Green was tagged into the match and refused to go in, I was laughing out loud. Liv Morgan and Raquel also had a ton of great moments. However, this match ended after Ronda Rousey—who did just about nothing in this match up until this point—locked in her Arm Bar and secured the victory for herself and Shayna.
Match Rating: 2/5
Gunther vs. Sheamus and Drew McIntyre (Intercontinental Championship)
Banger after banger after banger is what it has been for the Intercontinental Championship as of late. Gunther, Sheamus, and Drew McIntyre put on a physical showcase of how great all three of these performers are and an all-time classic.
The amount of Chops in this match was crazy. Within a couple of minutes of this match starting, all three men's chest were turning pink, and by the end they were blood-red. With multiple Brogue Kicks and Claymores, it might seem fit for Sheamus or Drew to have walked away. However, Gunther makes this another example of why he is one of the best in the world, pinning McIntyre and retaining the Intercontinental Championship.
Match Rating: 4.5/5
Bianca Belair vs. Asuka (RAW Women's Championship)
Ms. WrestleMania proved herself again as one of the top stars in WWE at WrestleMania 39. Bianca Belair arrived in Hollywood with a group of youth dancers welcoming her to the ring, making her feel like a mega-star. Great gear and a fantastic opponent in Asuka made this an exciting contest on Night Two of WrestleMania.
After classic matches with Becky Lynch and Sasha Banks, Bianca faced her third WrestleMania match-up, this time against the Empress of Tomorrow, Asuka. These two had great chemistry, and together they made a great match. Bianca's Deadlift Power Bomb looks fantastic, and her counter from the Arm Bar to the KOD was unbelievable. Bianca picked up the win and made her mark on WrestleMania once again.
Bianca continues to prove time and time again that she is one of the best superstars in this company, and I don't see her losing this title anytime soon. Here's to manifesting a Rhea Ripley vs. Bianca Belair WrestleMania main event in Philly next year.
Match Rating: 3.5/5
Snoop Dogg vs. The Miz
Up until the main event, I thought this would be the most confusing thing of the night. After announcing Night Two's attendance, Miz and Snoop Dogg began to argue over Snoop's creation of a match for Miz the night before. Snoop called for another opponent for The Miz to face, and out walked Shane McMahon.
Shane came out for the match—and it started—before Shane quickly tore his quad and was taken out. This resulted in what was an on-the-fly match between Snoop Dogg and The Miz, in which Snoop decked The Miz with a right hand before hitting the People's Elbow for a win.
Match Rating: 2/5
Edge vs. Demon Finn Bálor (Hell in a Cell)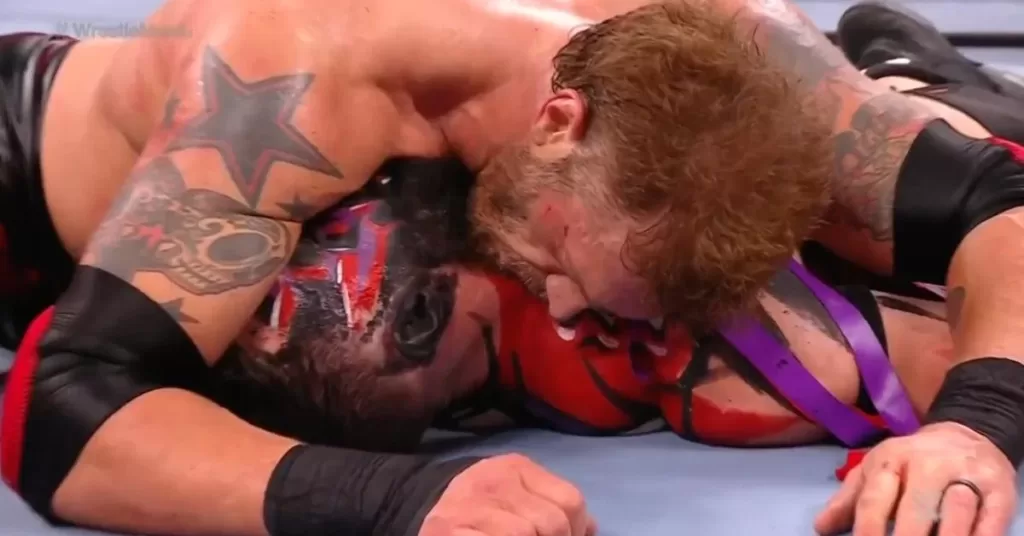 At WrestleMania in Hollywood, Finn Bálor and Edge turned the City of Angels into Hell. The Demon Finn Bálor and Brood Edge both made their entrances in epic fashion. This match inside Hell in a Cell was one that looked to be a brutal feud-ending fight before Bálor was cut open by a vicious ladder to the head.
This caused the match to be temporarily stopped before concluding with a couple of awesome spots, including Finn delivering a missed Coup De Grâce through a table! After this, Edge was able to capitalize and win the match, ending his saga with the Judgment Day.
Match Rating: 2.5/5
Roman Reigns vs. Cody Rhodes (Undisputed WWE Universal Championship)
Roman Reigns has shocked the world yet again. In the buildup to WrestleMania 39, almost every wrestling fan on the planet would have predicted that Cody Rhodes would walk out of SoFi Stadium the Undisputed WWE Universal Champion. However, when the night ended, Roman Reigns would still have the belts.
This match was near perfect in terms of in-ring quality. It had a great story of Cody overcoming the numbers of the Bloodline throughout the match, which would have succeeded if Cody had won. This match began to end after a ref bump empowered The Usos to get involved before Kevin Owens and Sami Zayn took them out. This allowed Cody to hit the Cross-Rhodes and look to win the title before Paul Heyman distracted the ref and allowed the previously ejected Solo Sikoa to get involved, giving Roman the opportunity to ultimately win.
The decision to have Roman Reigns retain in this match is puzzling to me. Roman has been The Guy in this company since 2020. Now, three years later, this was a perfect time for his reign to come to an end. Cody is incredibly over with the crowds and overcame so much adversity to get to this moment. This was Cody's day; even if he gets his rematch a month or two down the line, it will never have the same reaction it would have gotten in Hollywood.
Even more frustrating is the fact that Cody lost in an incredibly unoriginal manner. This is the exact formula we have seen from almost every Roman Reigns and Bloodline match over the past year. Roman and Cody are both so great at what they do, so to see this match end this way makes little sense. If not Cody Rhodes at this moment, who will ever beat Roman? This will go down as one of the largest booking blunders of all time.
Match Rating: 4.5/5 for the match, 1/5 for the booking.
WrestleMania 39 results per night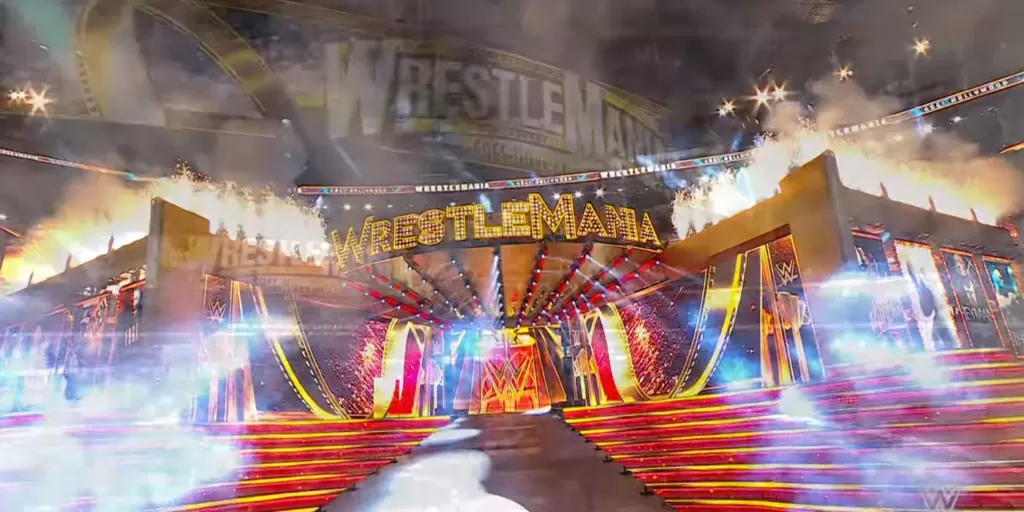 Overall, this WrestleMania is a tale of two nights. Night One was one of the best nights of WrestleMania I've ever watched. Legends returning, new champions crowned, and great match after great match made for an extremely awesome night of WrestleMania.
Night One Rating: 4.5 /5
Night Two of WrestleMania struggles to capture the same magic of the night before. Two extremely great matches for the Intercontinental and RAW Women's Championships carried this card. Filled with weird booking and some sloppy wrestling, Night Two should have been so much better.
Night Two Rating: 2/5
What did you think of WrestleMania 39? Let me know on Twitter, and make sure to check out my further thoughts on Fandom Academy!