It's finally here, webheads! In what can only be described as a cruel joke, Sony decided to drop the latest trailer for the highly anticipated sequel to 2018's Spider-Man: Into The Spider-Verse during the wee hours of Tuesday morning. The animated film, which returns key members of its voice cast and is set to introduce several exciting newcomers, is slated to hit theaters June 2.
This new look into the latest chapter in Miles Morales' story gives us a ton to theorize, so why not dive right in and start the speculation? You can watch the Spider-Man: Across The Spider-Verse trailer below:
And you think that we have a lot of Spider-People in the first film? What we see here is mind-blowing—and there are undoubtedly more surprises waiting for us when we see the finished product on the big screen. Here's what stands out:
Miles seems a tad overwhelmed
I mean, can you blame him? Having to juggle schoolwork, crime fighting, and family obligations can't be easy, and just from the first few seconds of this trailer, Miles (Shameik Moore) seems to be a bit stressed out. Wisecracking to your mother after showing up late? Yikes. We've all been there, and it never goes well.
You can see the look on Miles' face, and he knows that the wrath of his mother is ten times worse than anything The Spot (Jason Schwartzman) can throw his way. And getting a B in Spanish on top of it all? Uh oh. I remember my parents' reaction when I didn't get an A in Italian—Miles is in for it, folks.
Speaking of The Spot (who Miles hilariously confuses for a cow or a dalmatian), it looks like his ability to open interdimensional portals could be a big reason why our hero travels the multiverse in the first place. Just when it looks like we couldn't possibly see any other distractions pile onto Miles' plate, we get the payoff from the final moments of Into The Spider-Verse: Spider-Gwen (Hailee Steinfeld) asks Miles if he wants to go for a little trip. I can't imagine there was much hesitation!
Tons. More. Spider. People.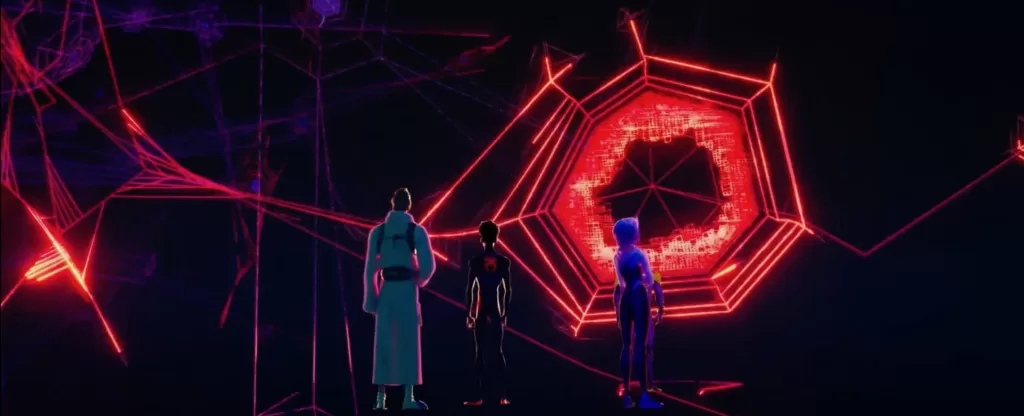 We see a handful of Spider-Man variants cross over into Miles' dimension during the previous film, but that was merely an appetizer for the feast we're about to get! Spider-Punk (Daniel Kaluuya)?!? Spider-Woman (Issa Rae)? Pavitr Prabhakar (Karan Soni)!! And of course, the return of Peter B. Parker (Jake Johnson), who not only reunites with MJ, but now has a Spider-Baby of his own. How cool!
However, this pales in comparison to what we've all been waiting for: Spider-Man 2099. Five years after his appearance in an Into The Spider-Verse post-credit scene, we get a much more extensive glimpse into Miguel O'Hara (Oscar Isaac), who…is kind of a jerk?
I can't be the only one with that takeaway, right? They lay it on pretty thick here; from the second we see Spider-Man 2099, he doesn't want to let Miles into this cross-dimensional Spidey team and even takes a shot at MCU Spidey and Doctor Strange (I guess Miguel would have approached the events of No Way Home differently!)
A direct reference to the MCU here is pretty sweet. Sure, there are references to the Tobey Maguire films in Into The Spider-Verse, but those are Sony Pictures projects. Directly acknowledging the events of the MCU here is a pretty clear indicator of how Sony and Marvel Studios have improved their relationship. What a difference 4 years makes!
What we don't really know at this point is: why has Miguel formed this massive team of Spider-People from across the multiverse? Did Gwen recruit Miles without permission? Because it kind of seems that way. Are all of these efforts just to battle The Spot, or is there something deeper at play here?
Whatever his reasoning is, it definitely seems to weigh on him a lot. We don't know exactly how much time has passed between films, but it's a safe assumption that Miles is still fairly new to his responsibilities as Spider-Man, and it doesn't appear that Miguel believes he has what it takes.
Who (or what) is the real adversary?
One of the ongoing themes of this franchise is that the main antagonist(s) we're presented with aren't actually Miles' biggest obstacle. In Into The Spider-Verse, Miles may have gone toe-to-toe with Prowler, Doc Ock, and Kingpin, but they aren't what he is truly fighting.
Miles' true opponent at that time is his own self-doubt; he isn't confident in his newfound abilities, is understandably hesitant about fighting his uncle Aaron (Mahershala Ali), and he is completely convinced he will let his fellow Spider-People down. It isn't until he takes the "leap of faith" (one of the coolest scenes ever in a CBM, by the way) Peter tells him about, that Miles is able to defeat these inner demons and subsequently subdue Kingpin and Doc Ock.
From the look of things, Miles is undergoing a similar crisis of confidence in Across the Spider-Verse. Can he set aside his own personal goals and ambitions and focus on the greater good? Miguel tells Miles that "being Spider-Man is a sacrifice" and that he has a choice between "saving one person and saving every world."
Anyone who's familiar with Miles' story, regardless of the iteration (comics, film, video game, etc.) knows that Miles is going to lose his father, Jefferson Davis (Brian Tyree Henry) at some point. We get a shot of Jefferson falling from a high distance in this trailer; obviously, context is everything and trailers are often edited in misleading ways, so we don't know what's happening here.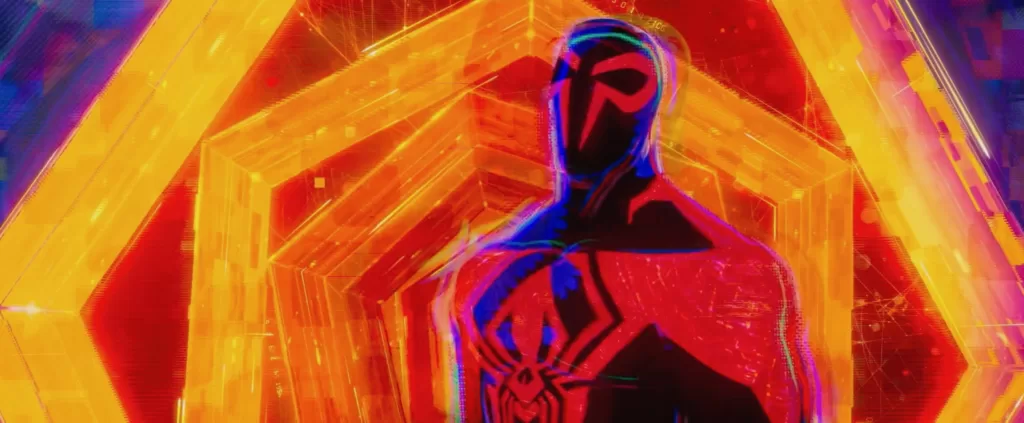 It seems clear that Miguel is urging Miles to become a better multiversal Spider-Man, and the clashing of their conflicting ideologies is going to be a major conflict in this movie. So, while Spider-Man 2099 is not a villain here per se, his mission appears to represent a direct adversarial force to Miles.
Miles is clearly struggling with balancing his new responsibilities as Spider-Man with the life of an ordinary teenager. He's lying to and snapping at his parents, trying to maintain the longest of long distance relationships and, on top of all that, is tasked with a new multiversal adventure. It's a lot to handle, but Miles doesn't want to choose one life or the other—he thinks he can live them all. Is Miles' own ambition and/or naivety his true adversary this time around? We'll have to watch and find out.
They did the pointing meme!
You didn't think I could just go this entire time without mentioning this, right? Just as we received the live action version of the Spider-Man pointing meme in No Way Home, we get a new animated version of the point in this trailer. In one of the sure-to-be frequent injections of humor into this movie, the Spider-People become confused when Spider-Man 2099 instructs the rest of his team to "stop Spider-Man."
This naturally leads to a lot of pointing and questioning of which Spidey they're supposed to be after. Priceless—thank you, Lord and Miller.
Who do you think is going to stand out most in Miles' newest adventure?
Besides brief glimpses of the newest members of the Spider-Verse, the focus in this trailer is mostly on Miles, Gwen, Peter, and Miguel. However, as we recall from the first film, some of the secondary characters provide incredible value to the story. Spider-Man Noir (Nic Cage) and Spider-Ham (John Mulaney) are tremendous additions to the story and provide great comic relief.
Sadly, neither of these characters appear to be returning for this sequel, but that gives our new entrants into the Spider-Verse a chance to shine! So, who do we think will steal the show this time around? Spider-Punk, Spider-Woman, or Scarlet Spider, perhaps? We get a brief glimpse at him, too! Lots of possibilities here.
Are there any special surprises in store for us on June 2?
We get a direct reference to Tom Holland's Spidey in this trailer. The events of the Tobey Maguire films are directly acknowledged in the first film. So, I just have to ask: do we think any or all of our live action Spider-Men will lend their vocal talents to Across The Spider-Verse? Everyone else is there; we even have PlayStation Spidey!
I totally get that we don't want to take the shine off of Miles' story, but having animated versions of Tom, Andrew, or Tobey's characters show up briefly wouldn't do that. Perhaps they'll appear in the third film, but either way, consider my eyebrow raised!
Across The Spider-Verse trailer final takeaways
How did you feel about the Across The Spider-Verse trailer? We've waited five long years to see the next chapter in Miles Morales' story, and if what we see in this latest peek behind the curtain is any indication, it's going to be an emotional ride that is worth the wait. Miles, Gwen, Peter, Miguel, and a seemingly infinite amount of other Spider-People swing into theaters on June 2, so let the countdown commence!
Stay tuned to Agents of Fandom socials for the latest news, reviews, and interviews!