On a busy news day in film media, one of the crown jewels is Greta Gerwig's Barbie trailer! Based off the toys by Mattel, Barbie follows a Barbie doll who is sent away from Barbielandia for not being perfect enough, trying to find happiness in the human world.
With Margot Robbie and Ryan Gosling at the forefront, this star-studded cast is set to deliver in one of the summer's hottest blockbusters. Here is our rundown of the trailer!
Hey Barbie trailer!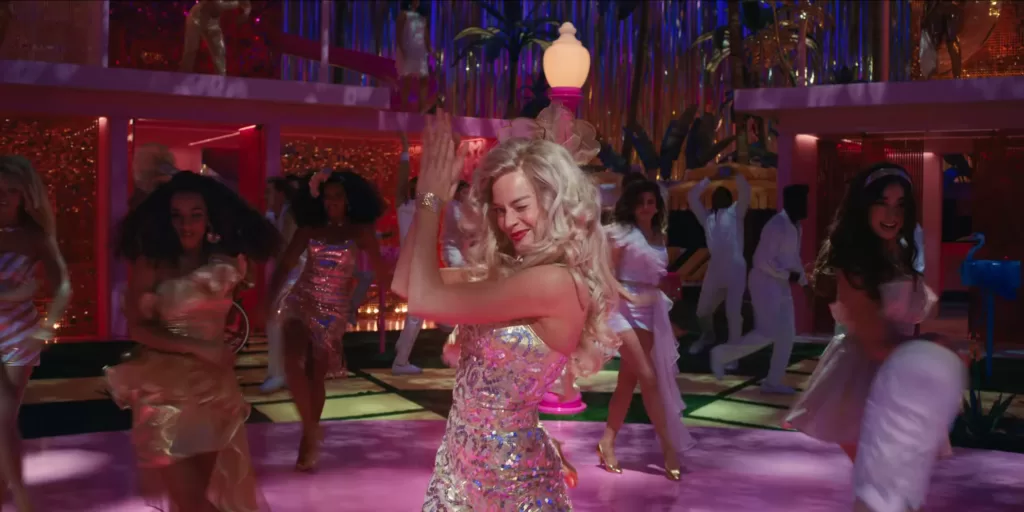 This Barbie trailer is everything, and so is Margot Robbie as Barbie! We've seen the glamorous stills and set photos, but the trailer confirms there is no one better to play the title character.
Between her fantastic looks and flashy outfits, Robbie truly feels like the perfect Barbie. Her comedic beats are filled with charisma, and Barbie will be another addition into the list of iconic characters portrayed by Robbie.
"Did you bring your rollerblades?"
Every Barbie needs their love interest. For Robbie, it comes in the form of Ryan Gosling's Ken. Gosling brings a dorky energy to his perfect Ken, and it is everything that fans have ever wanted. This mix of typical perfect Ken doll characteristics with flamboyance is great.
These two sharing the screen as Ken and Barbie will be an unforgettable movie experience. Their moments in the Barbie trailer are instantly iconic. Ken asking Barbie to spend the night and the silence that follows is hilarious, and I need more of their interactions as soon as possible.
The Real World
In terms of the story, the Barbie trailer only gives a couple of hints. The most noticeable is the gigantic sign showing the way to the Real World. Based on the synopsis of the film, this will be where we see Barbie and Ken head to try and find happiness outside Barbielandia.
These two exploring the human world will be filled with great moments learning to live outside their dream house. This includes a run in with Will Ferrell's character, a business executive looking to profit off Barbie. We briefly see Ferrell alongside his intern Connor Swindells who seem to be very excited about seeing Barbie in their building.
"I'll beach you off"
Alongside Robbie and Gosling, the unbelievable supporting cast gets some shine. Issa Rae's President Barbie is in action in a courthouse setting. Kate Mickinnons Barbie is doing splits, and Simu Liu and Ryan Gosling's Ken get into it on the beach.
The Ken's egos are on full display as Liu and Gosling go back and forth, ending with a threat to "beach each other off!" The Kens beef is hilarious, and it will be fantastic if every Ken quarrels with one another. Especially if Scott Evans, Ken, gets a spotlight!
The real Barbies of Barbielandia
The Barbie trailer's biggest selling point is the aforementioned A-List cast. Ryan Gosling and Margot Robbie star as leads, but the supporting cast might be the best one of the year. Simu Liu, Issa Rae, Scott Evans, Michael Cera, Helen Mirren, Alexandria Shipp, Will Ferrell, and Kate McKinnon are just a few names accompanying our flagship Ken and Barbie.
Along with the release of the great character posters and the trailer, we get the announcement that pop superstar Dua Lipa joins the cast of the film as Mermaid Barbie, and DC/WWE star John Cena as an unknown character!
The taglines are a fun aspect of the posters. The Barbies feature in different jobs such as a doctor Barbie, an author Barbie, and a president Barbie. However, for Ken's they all are just another Ken. This is a great detail that hints at the theme woman can and will be anything they dream.
A whole new world!
This whole movie is set to be a peak theatrical experience. With the loaded cast and great summer vibes, this movie is poised to be a gigantic success. Greta Gerwig's filmography is second to none, and I'm thrilled to see how this film turn out. Let's start the Barbie movie Best Picture campaign right now!
Barbie releases exclusively in theaters on July 21! Are you excited? Let me know on Twitter and make to check out Fandom Academy next week for our full reactions to the trailer!