Peach Momoko's yōkai world has been a fascinating concept, with her entries in Demon Day and now Demon Wars all beautifully crafted. Her latest issue ends her second saga with Demon Wars: Scarlet Sin #1.
With an overall story of grief and compassion, this issue of Momoko's story is a lovely cap to the collection. But what makes this world so interesting is that it doesn't take place in the usual Marvel universe. This story isn't canon per se, and for that reason Momoko is allowed free rein on what this corner of the universe is.
What is Demon Days and Demon Wars?
This world is completely unique to anything I've seen in comics. Per the slogan of the title, "This is the Marvel Universe like you've never seen it before." It is an incredibly accurate statement because it hardly even is the Marvel Universe.
This creation is the world of yōkai, supernatural beings and spirits in traditional Japanese folklore, but with a Marvel twist. The result of that is each of the yōkai have a Marvel character associated with them visually. Take, for example, a spider yōkai. The easy connection would be to have them colored red and blue and associate them with the classic Peter Parker Spider-Man character. Or, a character who is a double agent that has similar visual trademarks, like stunning red hair, to associate them with Black Widow.
The connections don't stop at the visual level, as there have been stories told of two samurai who have differing opinions. One samurai wears magnificent metaled armor and the other sports a grand shield. Sound familiar? Of course it does—as Peach turns that classic folklore into her version of Civil War.
The tales are not Marvel stories, per se. Simply, they are retellings of yōkai folklore, just with a Marvel twist or visual overlay.
How does Demon Wars: Scarlet Sin #1 play into the overall saga?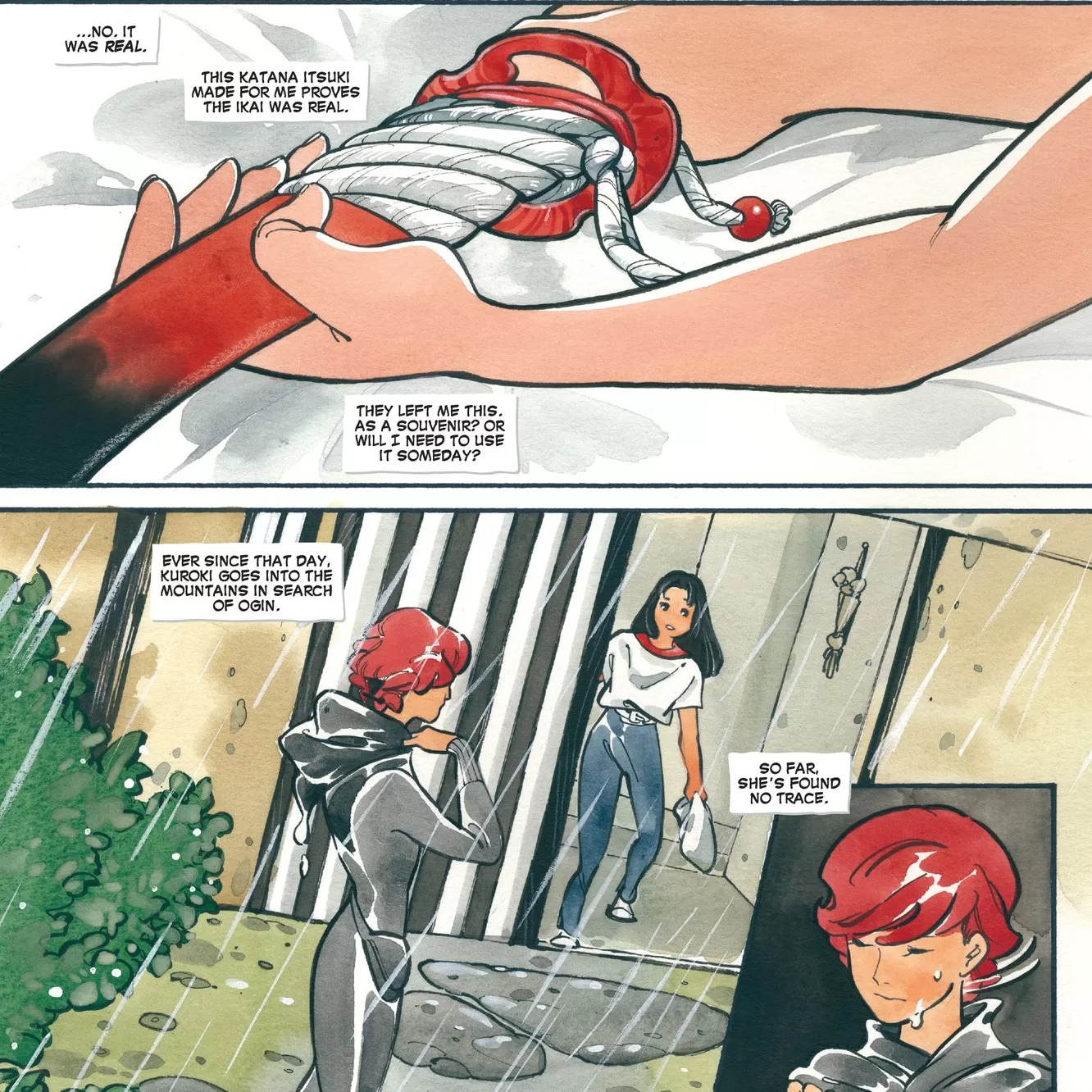 This issue is the culmination of the complete arc of four previous Demon Wars titles. This particular story follows Mariko Yoshida, a young woman who finds out she is a descendant of the Omi (yōkai) king. After learning that one of the samurai is under control of a mind-manipulating yōkai named Momiji, with a Marvel representation of the Scarlet Witch.
Once again, Peach Momoko finds fascinating ways to tell the stories of this particular yōkai and relate them to characters we already know and love. This version of Momiji is based off the yōkai Hannya—which is a masked oni consumed by jealousy and rage and sorrow. It is important to note that the oni, the woman, is not the yōkai—but the mask itself. Often creating a Frankenstein-esque form of confusion. Nonetheless, Momiji is misunderstood and corrupted by the mask, similar to how Wanda Maximoff has been corrupted by her own powers and emotions, or turn to the MCU the darkhold.
What makes Demon Wars: Scarlet Sin #1 stand out?
Peach Momoko is the star of the show in both Demon Days and Demon Wars. The standout artist not only creates full issues in her dazzling water color paintings, but is also the writer and creator of each installment in the series.
If the reader isn't interested in the story, the art will keep them coming back. Each issue is incredible with its extraordinarily unique style that only Peach Momoko can provide. Every page and each panel is something I would hang on a wall. The pastels that naturally come with watercolor are woven with Momoko's soft style of facial expressions. Seeing all of our favorite Marvel characters morphed into a yōkai is not only a breath of fresh air, but opens the door to tell many types of stories around the world.
The story is fascinating and at the same time extremely informational. Many people in the western world are unfamiliar with yōkai on a fundamental level, and this is a fun way to introduce a great deal of fans to Japanese folklore. At the back of each issue, you'll find a section that goes into detail on some of the yōkai introduced in the story. It gives the histories and backgrounds of each yōkai, and it is genuinely a brilliant touch.
While this issue does end the Demon Wars saga, there can always be more to come—as this is the sequel story to the original Demon Days arc from 2021. I would love to see more of these characters, and this world, again—even if it is just visually.
Check out Demon Wars: Scarlet Sin #1 at your local comic shop or wherever you get your comics and follow the Agents of Fandom on socials!
Demon Wars: Scarlet Sin #1
Demon Wars: Scarlet Sin #1