Grab your tissues, folks. Guardians of the Galaxy Vol. 3 will leave you a blubbering mess. Almost a decade ago, Marvel Studios took one of their biggest risks by introducing fans to an obscure team of characters that featured a talking tree and a raccoon.
Guardians of the Galaxy was the first Marvel Cinematic Universe project to take place almost exclusively off Earth and feature alien beings. But even with the lack of humans, or its space setting, the characters and the performances of the cast grounded the film. Writer-director James Gunn delivered on telling a heartfelt story about a group of outsiders overcoming the odds—something anyone could relate to.
Flash forward past Phase 4 and the Guardians are featured in Avengers: Infinity War, Avengers: Endgame and Thor: Love and Thunder, they headlined the MCU's first Holiday Special, and now they're wrapping up their story in a trilogy. This team of lovable losers is Gunn's baby, so you know he is not holding anything back in this final film.
*The following Guardians of the Galaxy Vol. 3 review is spoiler-free!*
---
Guardians of the Galaxy Vol. 3 does not break the chain of trauma
What makes Guardians of the Galaxy Vol 3. so special is how it celebrates what it means to be part of this team. In the first film, Peter Quill/Star-Lord (Chris Pratt) says that the team is full of losers, more specifically "folks who have lost stuff…homes, and our families, normal lives." But even with everything they have lost, they continue to take chances to protect what they believe in.
The Guardians may be a quirky cast of characters, but this team has endured so many hardships together. Rocket Raccoon (Bradley Cooper) and Nebula (Karen Gillan) saw their team members get dusted by Thanos. Star-Lord and Nebula are still affected by losing their version of Gamora (Zoe Saldana) and processing it in different ways.
Mantis (Pom Klementieff) and Peter are half-siblings who had to fight against their biological father, Ego (Kurt Russell). Kraglin (Sean Gunn) and Peter lost their captain/father figure, Yondu (Michael Rooker). Drax (Dave Bautista) still covers the pain of losing his wife and daughter by masking himself with humor. And Groot (Vin Diesel) has become a completely different being after sacrificing himself in the first film. This is only a fraction of the trauma they've all experienced.
Guardians of the Galaxy Vol. 3 will have you hooked on a feeling
Writer-director James Gunn previously shared that Guardians of the Galaxy Vol. 3 is "not about saving the universe—it's about the Guardians saving themselves." All of the team have their own internal demons and insecurities they have to confront and overcome. James Gunn weaves an incredibly personal story for each member of the team that further develops the arc we've seen them on throughout the MCU.
It's heartwarming to see the characters reflect on their issues, and not shy away from helping their fellow members see what's holding them back. This form of character development adds a layer of emotion and relatability that fans have come to expect with Gunn's writing. He continues to balance these sentimental moments with quippy dialogue and comedic timing to keep the audience from not feeling emotional whiplash the entire film.
You can feel the chemistry amongst the cast even more so. The way they are able to bounce off one another feels natural, as if they are truly embodying their characters and reacting the way their character would.
There ain't no mountain high enough to hide The High Evolutionary
Guardians of the Galaxy Vol. 3 features the introduction of The High Evolutionary (Chukwudi Iwuji) in the MCU. I mean it as a compliment when I say Iwuji plays one of the cruelest and harshest villains the MCU has ever seen. We've seen the Guardians face some formidable foes, but The High Evolutionary is their biggest and scariest threat. Iwuji takes his experience as a Shakespearean actor and channels that rage into his character. At times it's hard to look at, but you can't help but be in awe of his performance.
Following a tease at the end of Guardians of the Galaxy Vol. 2, Adam Warlock (Will Poulter) finally makes his debut in this film, but unfortunately it feels like he doesn't fit the story being told. Poulter gives off a fun performance that shows just how strong Adam Warlock is—an asset to whatever side he's on—but I wish more time was spent to learn more about this character, and how the Sovereign view him. It's understandable that Gunn would want to tie up this loose end before he wraps up his MCU journey, but it winds up feeling unfortunate that Adam Warlock's introduction is featured alongside the Guardians' farewell.
Fooled around and fell in love with Rocket Raccoon
If you've seen the trailers or posters for Guardians 3, then you know Marvel are not hiding the fact that this film will have a huge focus on Rocket Raccoon. In the first Guardians film, we saw a brief glimpse of the machinery on Rocket's back, but Star-Lord doesn't ask about it. Later in the same film, Rocket says:
"I didn't ask to get made! I didn't ask to be torn apart and put back together over and over, turned into some…some little monster!"

—Rocket Raccoon in Guardians of the Galaxy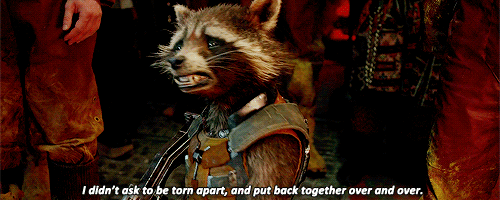 After these small teases of Rocket's origin, Guardians 3 provides fans with answers to the lovable trash panda's traumatic backstory, and The High Evolutionary's involvement. These moments are both the most heart-wrenching, yet heart-warming scenes of the film. Arguably, Rocket is the Guardians member with the biggest arc in the MCU, and that is only exemplified in this film.
Sean Gunn has previously provided the motion capture for Rocket in the MCU, but this time around, he also gets to voice a young version of Rocket, and it is one of the best performances in the film. Since The High Evolutionary is integral to Rocket's origin, we get to see many moments where Sean Gunn and Bradley Cooper play off of Chukwudi Iwuji, and it is a masterclass in acting. The passion and emotion in their performances is palpable.
I do have to share that this film will be a very tough watch for animal lovers. While no real-life animals were harmed in the making of this film, the imagery will still make you want to turn away. Thanos may have wiped out half of the universe, but The High Evolutionary is still a crueler, more terrifying MCU villain.
The dark imagery will be uncomfortable to watch for many, especially younger audiences, so keep that in mind if you're thinking of bringing young ones to your screening. James Gunn is not holding back.
Come and get your Guardians of the Galaxy Vol. 3 love
As to be expected with James Gunn's projects over the past decade, the soundtrack for this film is stellar. The music embodies the emotions we're supposed to be feeling in a given scene, and amplifies them. From the very first song in the film to the final song in the credits, fans will give them all a boost on the streaming charts in the weeks to come. There's one action scene set to a banger song that will have viewers losing their minds.
Gunn's eye for visual excellence shines in this film, with the beautiful scenery and kick-ass fight sequences. Just when you think you've got a handle on his directing style, he continues to surprise you. I can't wait to see what he does with Superman: Legacy and other projects at DC Studios.
James takes delicate care in handling the characters he's been attached to for almost a decade—they're given satisfying conclusions that are in tune with their development. But I do wish we do get to explore some of these characters again, and further expand upon them. Knowing that it's an ending for these characters and James' time at Marvel Studios makes it that much harder to process. From the deeply emotional story, top-tier performances, breathtaking visual design, and world-class music choices, this just might be my favorite MCU trilogy.
Let us know your Guardians of the Galaxy Vol. 3 reactions on the Agents of Fandom socials, and stay tuned for more Guardians coverage!
'Guardians of the Galaxy Vol. 3' Review
'Guardians of the Galaxy Vol. 3' Review
Top-tier performances from new and returning cast

Doesn't tie into the overall Multiverse Saga but I'm glad it didn't

You really feel like these settings in space exist. Animals look very realistic

Deeply emotional

The soundtrack is a character in and of itself

Satisfying arcs for old characters, not much development given for the new ones