Michael B. Jordan steps into the ring in Creed III, making his directorial debut. While this is the third Creed film, it's the ninth film in the Rocky/Creed franchise. Ryan Coogler injected new life into the franchise with the creation of Adonis Creed in Creed (2015), while Steven Caple Jr. has Creed step out of his father's (Apollo Creed's) shadow in the 2018 sequel.
While the previous Creed movies focuse on legacy, this entry breaks free from that. Ryan Coogler, his brother Keenan Coogler, and Zach Baylin tell a deeply personal story for the titular character. Jordan delivers an emotional and exhilarating film with intense boxing matches, and strong performances from the cast.
The family life in Creed III
In this third film, Adonis embraces his new life after retiring from being the heavyweight champion. He's managing a boxing gym alongside Little Duke (Wood Harris), the son of Apollo Creed's trainer. Adonis' wife, Bianca (Tessa Thompson) is thriving in her career as a music producer after stepping away from performing. The past two films saw Bianca dealing with hearing loss, and this film establishes that it affected her ability to sing live.
In Creed II, Bianca and Adonis dealt with the possibility that this trait would pass down to their daughter, Amara, at birth. With Creed III set a few years later, Mila Davis-Kent makes her feature debut as their daughter, who is actually deaf in real-life. While the previous films touched on the subject of American Sign Language (ASL) and being hard of hearing (HOH), having an actual deaf actor in the film allows this element to be explored further.
The characters that interact with Amara all use ASL. Even if they're not fully fluent, Adonis or Bianca teach these characters the signs in order to communicate with her. It is amazing to see the deaf and HOH community represented and embraced in this film. Following Creed, the chemistry between Jordan and Thompson's characters continues to feel genuine. Seeing them together as parents is a new dynamic, but they adjust to these roles well.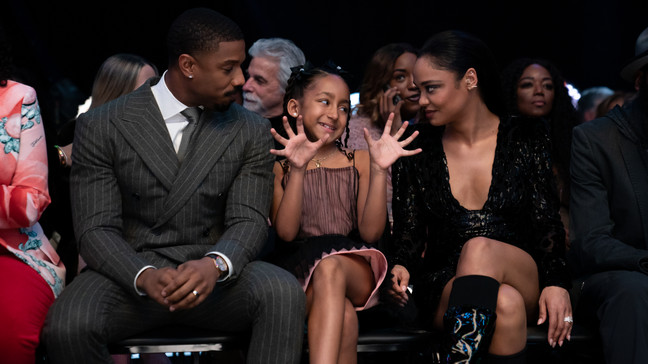 Creed III's Major(s) threat
Jonathan Majors continues to make the rounds and prove himself an acting champion. He enters this franchise as Damian Anderson, Adonis' childhood friend that he considers his older brother. An incident in their past causes Damian to end up in prison for almost half his life. When he's released, he catches up with Adonis, and sees the life he could've had.
I've seen Majors in other projects, but this role might be his scariest yet. Damian holds a large amount of anger and resentment inside him. Whenever he speaks, I worry that he'll snap, and let all the energy come out. This is the first project featuring Majors and Jordan together, yet the comradery between them feels authentic.
The bond between Adonis and Damian forms the backbone of this story. This isn't someone from his father's or Rocky's past. Adonis has a personal connection to this new friend-turned-rival, and having this history makes it even more difficult. Damian wants to tear down everything that Adonis has built.
Anime-inspired action
Jordan is open with his love for anime, citing Dragon Ball, Naruto, My Hero Academia, Megalo Box, and Hajime no Ippo as his favorites. Fans of these series will notice their influences in Creed III's story and fight scenes. Jordan directs each boxing match different from one another, increasing the intensity as the brawls go on.
Previous directors, Coogler and Caple Jr., execute powerful sequences that feel like each punch is really thrown, with the actors looking like they take every hit. The same can be said for Jordan's directing style. While viewers will be on the edge of their seat watching these bouts, some CGI and slow-motion won't work for everyone, as the fights sometimes look gimmicky.
However, as someone who watches the majority of the anime series Jordan draws inspiration from, it's fun to see what action scenes he recreates in this film. The final match between Adonis and Damian is intense and might be the best in the franchise. I need Jordan to direct an anime-related project, or anything involving hand-to-hand combat.
The low blows
While this film does stand tall on its own, it's hard not to notice what's missing from what came before. This is the only film in the 47-year history of the series that doesn't feature Rocky. Stallone made it clear that he wants nothing to do with any project that has Rocky rights owner Irwin Winkler involved. While Creed II gave Rocky a fitting sendoff, I was hoping for some sort of mention from the character with inspiring words to give Adonis just the right push. Regardless, his presence is still felt in the values and lessons imparted on Adonis.
Composer Ludwig Göransson worked on the previous Creed films, but sadly didn't return to score Creed III, and it is noticeable. Göransson's score always hit at the right moment, essentially feeling like a character in and of itself with how it delivers the emotions the viewer is experiencing.
The training montages in this film franchise are known to get viewers excited, and have them wanting to run to their nearest gym, but Joseph Shirley's score isn't uplifting enough to do that. The Dr. Dre produced song by J. Cole, "Adonis Interlude (The Montage)", plays during this segment, and it is inspiring, but only a minute and a half long. Regardless, Jordan and Majors put in work in this training montage that I can only assume pushed their bodies to the limit.
Creed III is a Knockout Film
While not a perfect film, Michael B. Jordan demonstrates his talent as an actor and director. He accomplishes the franchise's most ambitious and electric fight scenes, and leads this cast in delivering amazing performances (but I'm sure Majors didn't need much guidance). This is the first sports film to be shot in IMAX, and it's well-deserved that MBJ will forever hold this title with Creed III.
I'm excited for whatever Jordan directs next. He deserves to expand his range behind the camera, just as he's shown on screen. Majors is hands down one of, if not the best actors in the game right now, and he's still just getting starting. This film provides the deepest exploration of Creed in the entire trilogy, while setting up future stories with the different characters in this film.
I jumped into this franchise with Creed, and immediately fell in love with it. This is personally one of my favorite film trilogies of all time. It tells an inspiring underdog story that'll have viewers believing in themselves. As Rocky tells Adonis in Creed, "the toughest opponent we're ever going to face is staring at us in the mirror."
Creed III is now playing in theaters everywhere. Share your thoughts with us on our socials!
'Creed III' Review
'Creed III' Review
The Good
Michael B. Jordan shines with his directorial debut
Amazing anime references
Boxing matches are unique
Deeply personal character driven story
Deaf and hard-of-hearing representation
The Bad
Instrumental score isn't up to par with Ludwig Göransson
Lack of a Rocky Balboa mention