Game of Thrones is regarded as one of the best TV shows of all time. So when House of The Dragon was announced to be released on HBO Max, it created a lot of hype. This prequel series, based on the book Fire and Blood by George R. R Martin, lives up to the hype and the Game of Thrones brand in its first episode.
This story unfolds 172 years before the birth of Daenerys Targaryen, House of the Dragon inserts us into the ninth year of King Viserys Targaryen's (Paddy Considine) rule, where he and his wife Aemma Arrynn (Sian Brooke) have only one child, Princess Rhaenyra (Milly Alcock). Still, the family is without a male heir to the Iron Throne. This catches the attention of King Viserys's brother Prince Daemon Targaryen, played by Matt Smith (Doctor Who, Morbius), who has his eyes set on the throne.
Review
House of the Dragon immediately takes us back into the beautiful yet mad world of Westeros, with the expansive set designs, costumes, and cinematography that immediately creates an immersive experience for the audience. For the amount of exposition the writer's needed to lay in the pilot episode, the pacing is handled well. There were, however, some things that could have played differently given more time. The action and fighting scenes continued with the precedent set by Game of Thrones with intensity and gore at the forefront. This bodes well for the future of this series considering it already has the biggest premiere of any HBO series ever.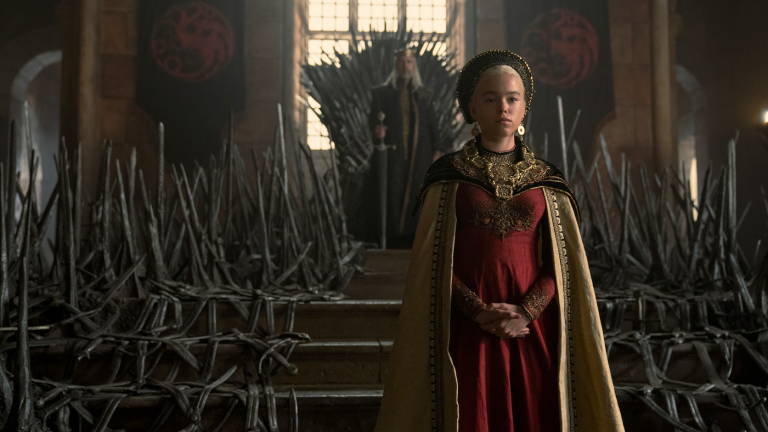 Star-Studded Cast Takes on Westeros
A lot of what makes Game of Thrones so special is its phenomenal cast. The whole cast shines in this first episode, but the standout is Alcock's Rhaenyra. Alcock brings charisma and confidence to this role, making her an easy character to root for. The chemistry between the cast is also extraordinarily strong. Rhys Ifans' Otto Hightower is used in the first episode to amplify Daemon Targaryen's (Smith) persona, setting us up for another memorable villain in the Throne's history books. Smith's portrayal as Daemon serves as another high point of this episode, as he delivers in every way, and is going to be a crucial part of this show going forward.
Conclusion
House of the Dragon has the potential to be one of the most successful and critically acclaimed shows of the year. The HBO Max original series is already a success for Warner Bros and could mean the beginning of an expanding Game of Thrones universe of stories for years to come.
How did you feel about the House of the Dragon premiere? Come chat about it on Twitter with me and let me know if you think this new show will live up to the hype!
Read More – She-Hulk: Attorney at Law – Incredibly Funny
: House of The Dragon: An Epic Return to Westeros