The Hustle is Real
In the new Netflix movie Hustle, Adam Sandler stars as Stanley Sugerman, an on-the-outs scout for the Philadelphia 76ers who can't ever seem to find the player the organization needs. When the current owner of the 76ers Rex Merritt (Robert Duvall) suddenly passes away, the team gets handed off to his son Vince Merrick (played by a villainous Ben Foster). Sugerman and Foster have already had their disagreements about players the squad requires in the past and thus begins the road to redemption for Sugerman. He is consistently trying to prove that street basketball player Bo Cruz (played by the thoroughly impressive Juancho Hernangomez of the real-life Utah Jazz) that he finds in Spain is the real deal.
Sandler The All-Star
We spend the movie following the outbursts and mellow moments of Adam Sandler's character and his journey to find personal victory in the success of his newfound talent. Once an elite college basketball player, Sugerman permanently injured his hand in a drunken car crash and shattered not only his bones but his future as an all-star ball player in the NBA. The personal investment he has in seeing his skilled Spaniard make it in the big leagues is prominent and palpable from the first moments of the film, and one of the key depths of the movie that make it as powerful as it is. Sandler has been known to bring a dark and troubled past to characters he's previously portrayed in more serious films, namely Howard Ratner, the New York degenerate addicted to sports gambling in 2019's Uncut Gems, and this project is no different. His ability to convey emotions of despair, hope, and namely stress in every pore of his face is top-tier acting from the Sandman himself. The sheer amount of passion in his performance is something special. Something that elevates beyond the screen. Something that makes you care about basketball. Deeply.
Nearly halfway through the film, Sandler gives the pivotal inspirational speech to his player that doubles as a commentary on Hollywood and the actor himself. "Do you love this game?" he starts off, obviously referring to the passion it takes to make it in professional basketball. "I love this game. I live this game. And there's 1,000 other guys waiting in the wings who are obsessed with this game." he continues on, drawing parallels to his over 70 acting credits through the past 30 years and his ability to consistently, whether good or bad, pump out movies. He finishes with the emotional push to bring the point home – "Obsession is gonna beat talent every time." I'm not sure if it's just me, but boy do I love it when obsessive, passionate movie stars are able to work in parallel meanings and subtle nods to the Hollywood existence. And Sandler is exactly what he says: obsessive.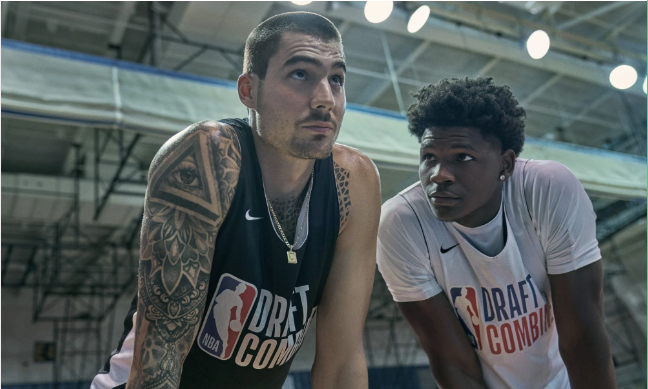 Netflix's NBA Draft
Although I don't consider myself a knowledgeable basketball fan by any stretch of the imagination, I know Julius "Dr. J" Erving and Dirk Nowitzki when I see them. And that doesn't even begin to crack the stacked list of NBA stars that make appearances in this movie. Adding an element of believability and pure fun by letting these incredible athletes be, well, incredible athletes, on camera. I don't think it should be understated how much the appearance of these professional athletes makes this movie feel like a big, bold, basketball flick. Without their presence, you automatically lose the prominent power of the sport itself. Well done, Netflix.
Hall of Fame Basketball Flick?
Formulaic at its core, but in a good way, Hustle is able to add meaningful depth to the oh-so-common trope of rags to riches. The wives in sports movies are generally sidelined characters, merely added to make you root even harder for the "family man" at the center of the success story. Queen Latifah, who plays Teresa Sugerman, was not having any of that. She came to play. And not off the bench. I'm talking Starting 5 caliber performance from the Queen herself. I particularly enjoyed her ability to call out Sandler's character and push him to do even more soul searching; helping him understand just how good of a person he is to not only his own family, but to Cruz on his journey to become an NBA star. Furthermore, I'm always a sucker for the "washed-up-old-guy-who-blew-his-chance-at-glory-shepards-young-gun-to-stardom" trope in sports movies. And this movie is no different. But Sandler delivers the special sauce on top of the stale storyline.
HUSTLE To Watch This!
With the downright delicious menu of movies 2022 has been presenting us this year, it's tough to say this is one of my favorites of the year… but, it's one of my favorites of the year. It's heartfelt, sensitive, energetic, and just freaking fun. The sports montages are full-tilt and the emotional beats are delicately perfect. It automatically finds its place among the best basketball movies ever made and deserves to be in the discussion for the second-best film Adam Sandler has ever made (behind the masterpiece that is Uncut Gems of course, which, ironically enough, was distributed by both A24 and Netflix). It's unfortunate this one won't hit the big screen, but it just means you don't have to wait until Saturday at 7 pm to watch it. You get the joy of turning it on RIGHT NOW. Because you absolutely should.
[letsreview]
Interested in some other movies to stream? Check out our review of The Unbearable Weight of Massive Talent and The Northman, now available to stream on Peacock!