The penultimate episode in Part 1 of Invincible Season 2 expands the narrative to multiple different planets, effectively driving home the point that this story is no longer strictly terrestrial. With only one episode remaining in Part 1, the series continues to build out the universe and establish handfuls of new characters; any satisfying resolution will likely have to wait until Part 2 debuts on Prime Video in 2024.
Invincible Season 2, Episode 3 offers a look inside the life of Allen the Alien (Seth Rogen), a genetically enhanced Unopian designed to take on Viltrumites. The latest episode also established other characters who will be familiar to Invincible comics fans, such as Thaedus (Peter Cullen) and Allen's girlfriend Telia (Tatiana Maslany). This installment is jam-packed with new information, characters, and set pieces, so let's unpack it all in our Invincible Season 2, Episode 3 recap.
Allen the Alien Introduces the Coalition of Planets in 'Invincible' Season 2, Episode 3
Episode 3 opens with Debbie Grayson (Sandra Oh) dropping her son off at college. Mark (Steven Yeun) can physically fly, but it's now time for him to step out of the metaphorical nest that he calls home and learn to be independent. Thankfully for his mother, Mark doesn't have to tackle these things alone. His best friend William (Andrew Rannells) and girlfriend Amber (Zazie Beetz) are at school with him; the trio will have to lean on each other if they are going to adapt to this new environment. Mark discards most of his old belongings but makes certain to hang on to a few precious items, such as an action figure and poster of his favorite hero, Séance Dog.
We quickly venture out into space for a sizeable detour from the college crew to establish an entirely new plot line. It's revealed that Allen the Alien was created by the Unopians in collaboration with the Coalition of Planets in hopes of standing against Viltrum. This plan proved unsuccessful when Allen went head-to-head with a Viltrumite and lost, but the Coalition realized he still had something to offer. Allen set off in hopes of finding allies to stand against Viltrum, and his search led him directly to Earth and its protector, Invincible.
While the leader of the Coalition, a Viltrumite named Thaedus, is convinced Mark can be a useful ally, the rest of the Coalition is not so quick to trust a half-Viltrumite. Omni-Man's (J.K. Simmons) betrayal has spread like wildfire across the galaxy, severely crippling his son Mark Grayson's credibility to both Viltrum and anyone who dares to stand against them. Allen is the only one that Thaedus can trust, so he lets him in on a little secret: there is a traitor inside the Coalition, and he needs him to snuff them out. It's not until Allen sets off to inform his girlfriend Telia that all hell breaks loose.
Allen the Alien is ambushed by three Viltrumites who demand information on both Mark and Omni-Man. When his answers prove less than satisfactory, the three Viltrumites do what they were trained to do, and brutally murder Allen while his girlfriend Telia is forced to stand by and watch. In the blink of an eye, the Coalition appears to have lost the one person they could count on to stand with them in the coming war.
Back at Coalition headquarters, Allen is revealed to be alive, but in grave condition. Telia has been at his side since he sustained his injuries to ensure he's never alone, and now Thaedus stops by to visit his favorite soldier. He convinces Telia that it's okay to step away for a moment — that he can watch after Allen. As soon as she leaves the room, Thaedus pulls the plug on Allen's life support and watches him die. Thaedus' betrayal spells bad news for the Coalition, who have just lost their most fearsome soldier and their Viltrumite leader in one foul swing.
Things Simultaneously Mesh and Divide at the Guardians of the Globe HQ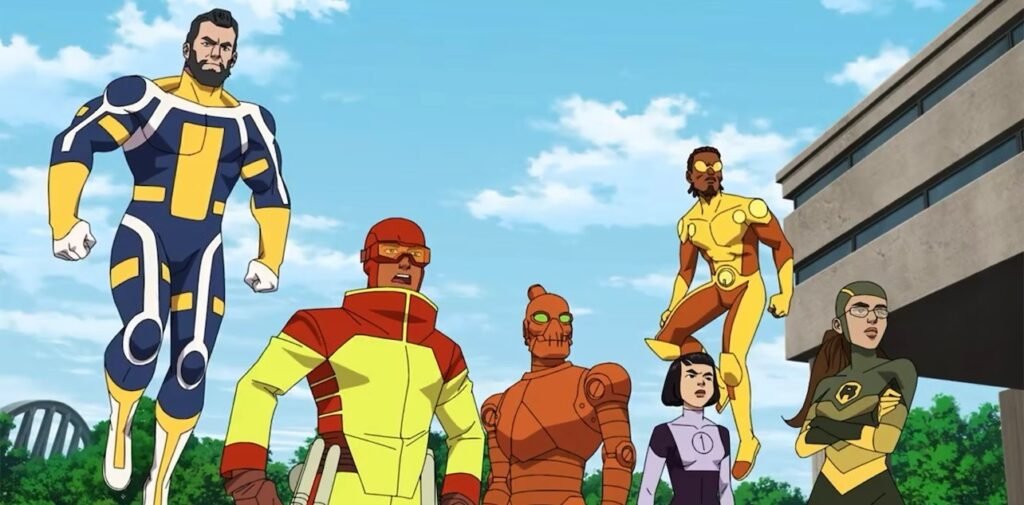 Back on Earth, the Guardians of the Globe continue to increase their chemistry in some areas and grow their divide in others. Rex Splode (Jason Mantzoukas) still harbors ill feelings towards Dupli-Kate (Melise) for her new relationship with Immortal (Ross Marquand). Rex continues his trend of vapid immaturity, which once again proves to hinder the team's ability to get along. A team of superheroes can't be expected to save the world when there's a team member sowing discord throughout.
On the other hand, Amanda (Grey DeLisle) and Rudy (Ross Marquand) are beginning to develop a beautiful relationship. Rudy offers to take Amanda to the movies, before admitting he's never been to the movies or really had the chance to do anything a normal kid should do. The pair spend several delightful scenes watching movies and enjoying burgers and fries together; a delectable reminder that most of these superheroes are just kids, and they deserve a chance to just be who they are when they're not saving the world.
Invincible Season 2, Episode 3 is loaded with emotional character development for Mark's mother Debbie. She decides to take Olga (Grey DeLisle) up on her offer and give her mystery number a call. This call ultimately leads her to a superhero spouse support group, where she's free to share her feelings with others and retain complete anonymity. This "support" quickly crumbles when she reveals her identity to Green Ghost's (Sonequa Martin-Green) husband. He quickly pieces together that Debbie's husband murdered his wife, and tells her never to show her face at a meeting again.
The last few minutes of the episode close out with a shocking revelation. Despite Mark finally finding himself comfortable at school, superhero duties come calling. A rogue Thraxan appears in the form of Mark's idol Séance Dog, who quickly takes on his true Thraxan form to explain his dilemma. Invincible has to leave Earth and make the six-day journey to Thraxa where he can save the Thraxans from dangerous meteor showers. Cecil (Walter Goggins) strongly objects, and although Mark follows in his father's footsteps by refusing to follow Cecil's orders, he knows in his heart he's doing the right thing. This is how heroes are born.
Omni-Man Returns in 'Invincible' Season 2, Episode 3
When Mark arrives at the planet Thraxa, he quickly learns he's been deceived. There is no imminent meteor shower threatening to kill the innocent people he agreed to save. When he demands answers, the only one he gets is that "The Monarch" will answer any question he has. They reach the throne to find The Monarch is no Thraxan, but Mark's father, Omni-Man. It's unclear whether he came straight here after he left Earth, but Mark and his father are finally reunited, and Nolan actually seems happy to see him.
This father-son reunion comes at the perfect time for Part 1 of Invincible Season 2. Although this episode lacks the multiversal aspects of previous installments, Mark discovering his father provides all the necessary thrills. With only one episode remaining in Part 1, we're set for an exciting mid-season finale that is likely to end on a nail-biting cliffhanger.