For some, White Men Can't Jump with Woody Harrelson and Wesley Snipes is the top sports comedy ever made. It would be tough for Jack Harlow and Sinqua Walls to live up to their predecessors. Although like many 90s classics, there are multiple jokes that don't age well, it's still a film that lives fondly within the hearts of many. When a White Men Can't Jump remake was announced, most of us were incredibly skeptical.
However, Jack Harlow and Sinqua Walls have incredible onscreen chemistry and the basketball skills to match. At the press conference for the film, the duo detailed how they built that chemistry, what makes the White Men Can't Jump remake so special, and how it pays homage to the original.
Jack Harlow and Sinqua Walls ball out
The press conference also featured cast members Teyana Taylor (Imani) and Laura Harrier (Tatiana) who you may recognize from the MCU's Spider-Man franchise. The virtual presser included director Calmatic, who was clearly very passionate about the project. The director was born and raised in Los Angeles and knows the basketball scene incredibly well, which is evident throughout the film.
"You know, like I always say, James Harden, he went
to Audubon Junior High. That's like, a very specific junior high. If you see the way he play and the way he be doin' his little weird step backs that look like they might be travel, like, that's
some Audubon shit. You know what I'm saying? And so, I think, you know, the way Russell Westbrook plays, like, he went to Henry Clay Middle School, and that's, like, the crazy, you
know, middle school where the kids are just running out of control, you know what I'm saying? So, I think for me, you know, it's really just about showing the world my LA and how I see it."

—White Men Can't Jump Director Calmatic at the film's press conference
He also detailed how this wasn't necessarily a White Men Can't Jump remake, but a sample of the original film—comparing it to hip hop. For example, it's not a one-for-one copy. The characters are totally different. It was very important to Laura Harrier that she didn't attempt to copy Rosie Perez' iconic role from the original and work to create something new.
"I mean, it was definitely very big shoes to walk into. Rosie Perez is an actress I've always looked up to. And I think her in the original film is such an iconic role and character. So, I
wanted to not try and reference any of that because I didn't wanna try and do a recreation of what she was doing. I wanted to give Tatiana her own character and her own person and my
own interpretation of who she was."

—Laura Harrier on her character at the White Men Can't Jump press conference
Even with an amazing director and a wonderful supporting cast, for this movie to succeed, Jack Harlow and Sinqua Walls would need to recreate the magic previously seen between Woody Harrelson and Wesley Snipes. Walls revealed their journey as friends was very similar to that of the characters in the film, Jeremy and Kamal.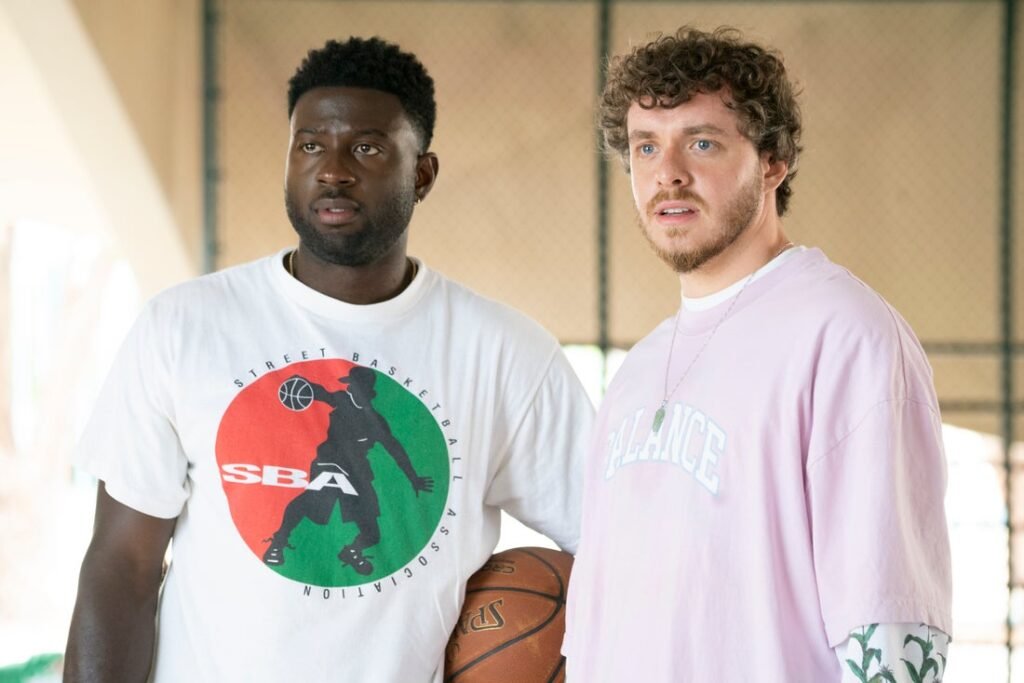 "I think one of my favorite days was our first day where Jack and I were together. We played ball and we really, like, got into the trenches with each other and really got a chance to know
each other and listen to each other. And I always say this because we let each other be ourselves. And I think that's just a testament to life in general. I think why people are responding to
the chemistry that we have or the friendship that we have is because we generally just let each other, like, Jack and Sinqua, be Jack and Sinqua."

—Sinqua Walls on his relationship with Jack Harlow at the White Men Can't Jump press conference.
These two had impeccable chemistry in the film, with the basketball skills to match. Although Harlow was very quiet throughout the press conference, his jokes and dialogue in the movie are fantastic. They obviously couldn't take the same comedic approach as in the 90s, so the film embraced relatable themes to this day and age. With multiple references to therapy, healthy relationships, and personal growth, the White Men Can't Jump remake is a pleasantly surprising hit.
White Men Can't Jump is now streaming on Hulu in the USA and on Disney+ internationally. Check out the Agents of Fandom socials for more coverage from the press conference!