The Marvels go cosmic in the biggest way possible! This time, Captain Marvel is teaming up with new, powerful allies.
The teaser trailer for the highly-anticipated sequel to 2019's box-office success, Captain Marvel, has finally arrived! It's so exciting to see our powerful, cosmic heroes back and together on the big screen! If the teaser is any indication, this movie is set to be peak MCU entertainment, so let's soar into our rundown of the trailer!
Women are soaring, cosmic, and powerful!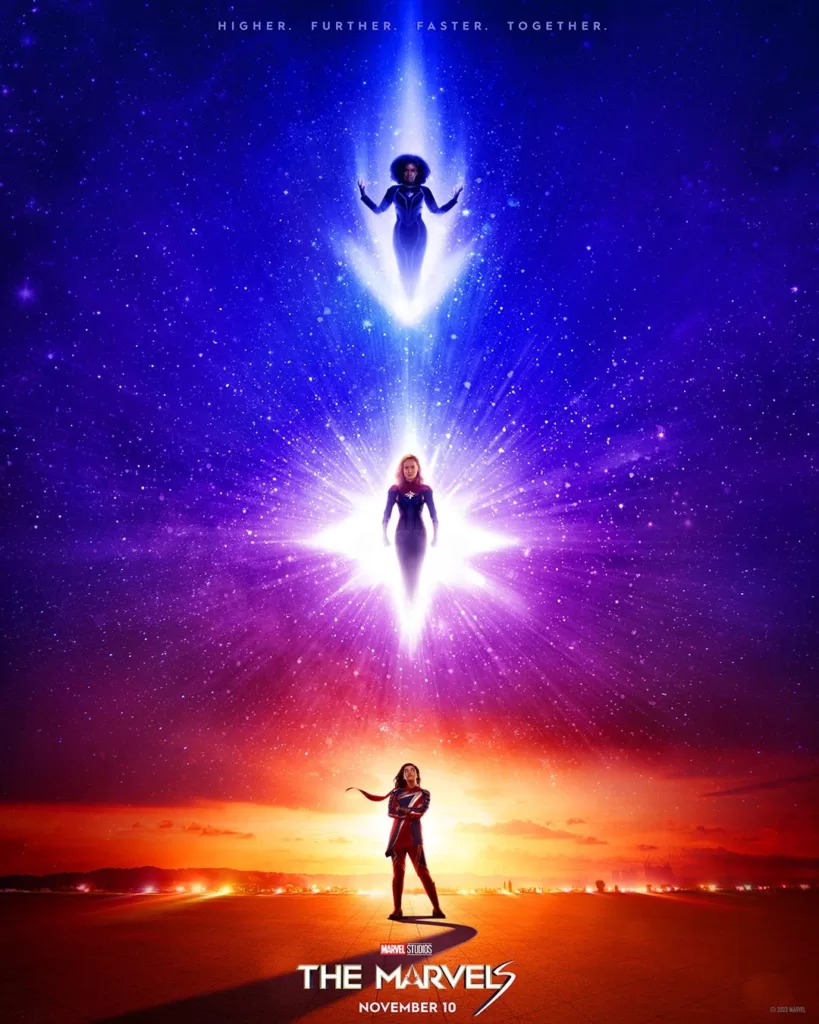 Prior to the trailer release for The Marvels, a first look was shown exclusively at the D23 Expo in early September, along with a tease for the film during the Ms. Marvel post-credit scene where we see Kamala Khan and Carol Danvers seemingly switch places.
The Marvels trailer is so powerfully fun! Brie Larson leads the all-star female superhero trio as Carol Danvers/Captain Marvel, and she's joined by Teyonah Parris as Captain Monica Rambeau and breakout star Iman Vellani as Captain Marvel's #1 super-fan Kamala Khan/Ms. Marvel.
Between the thrilling action sequences, family tension, new female villain, and Kamala's upbeat energy to finally meet her superhero idol, The Marvels looks expand on the true definition of teamwork, love, and female empowerment.
The Marvels explores new worlds in outer space
The movie will go deep into the world of our Marvels characters. The official The Marvels synopsis from Marvel Studios reads:
"Carol Danvers aka Captain Marvel has reclaimed her identity from tyrannical Kree and taken revenge on the Supreme Intelligence. But unintended consequences see Carol shouldering the burden of a destabilized universe. When her duties send her anomalous wormhole linked to a Kree revolutionary, her powers become entangled with that of Jersey City super-fan Kamala Khan, aka Ms. Marvel, and Carol's estranged niece, now S.A.B.E.R. astronaut Captain Monica Rambeau. Together, this unlikely trio must team up and learn to work in convert to save the universe."

– Marvel.com
The synopsis shows that we're in for a space ride adventure the likes of which we haven't seen before in the Marvel Cinematic Universe.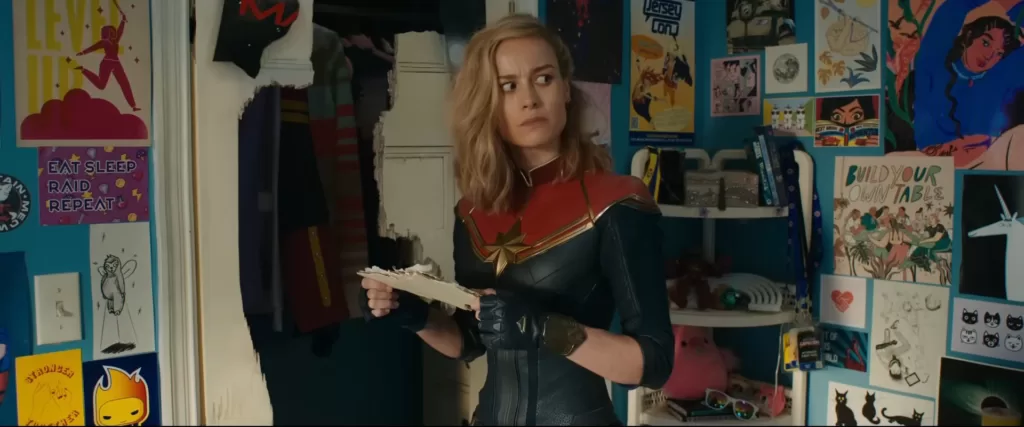 A family tension
During WandaVision, Monica Rambeau has a vibe whenever her aunt Carol Danvers is mentioned, which hints that a problem has arisen between the two. It's likely to do with either the death of Monica's mother, Maria Rambeau, or with Carol being off world for quite some time. Whatever the problem may be, we hope Lieutenant Trouble and her Air Force Captain auntie find closure and reconnect with the love they share in 2019's Captain Marvel.
Teaming up changes everything… or everyone?
The trios ability to switch places with one other is assumedly coming from Kamala's power. This is seen after Kamala excitedly shows her powers to Nick Fury, Monica, and her family, which then lead her on to a spaceship with Goose after swapping places with Carol. Later on, the trio uses the power in their fighting scenes to fight Zawe Ashton's Dar-Benn. The new swapping power might be useful after all.
The bangle returns
In the Disney+ TV series Ms. Marvel, Kamala finds a bangle that allows her to extend herself with cosmic energy thanks to her mutant genealogy. This bangle once belonged to her great-grandmother, Aisha, who was a member of the Clandestines. There are other Clandestines fighting Kamala to get the bangle in efforts for them to return home in the Noor Dimension.
However, Zawe Ashton's villainous character Dar-Benn makes her official debut, presumably wearing the second bangle while also holding Ronan the Accuser's Cosmi-Rod. We don't know a lot about Dar-Benn, but it's intriguing to see where she fits into the storyline. We also don't know how and why she has the other bangle, as well as her motives against the Marvels, allowing for plenty of theories and speculation.
The Marvels' cast and crew
Candyman's Nia DaCosta helms the film as director, and not only is this her MCU debut, but she is the fourth woman, and first black woman, to direct a Marvel Studios' film. DaCosta co-wrote The Marvels alongside Megan McDonnell, Elissa Karasik, and Zeb Wells.
Brie Larson, Teyonah Parris, and Iman Vellani stars as our Marvels, with Samuel L. Jackson returning as Nick Fury, Saagar Shaik and Zenoiba Shroff returning as members of the Khan family, along with Zawe Ashton as the villain Dar-Benn. Parasite's Park Seo-joon stars and fan favorite Flerken, Goose, makes his return to the big screen as well.
Kevin Feige produces, alongside Louis D'Esposito, Victoria Alonso, Mary Livanos, and Matthew Jenkins serving as executive producers.
When does The Marvels release?
After countless delays and project release date shiftings in the Marvel Cinematic Universe, it's time to see our powerful female heroes together in action soon. Carol, Monica, and Kamala together for the first time on the big screen will be electric, powerful, and a huge step for the female empowerment our world strives for. Captain Marvel shows that there's so much female power to explore in the MCU, and The Marvels is going to take it to the next level!
The Marvels flies higher, further, faster into theaters on November 10. Follow the Agents of Fandom on socials for all the latest Marvels news.