Succession episode 4 is the first installment in a new era of leadership. Big changes are happening fast, and it's all contained within an episode that feels very much plucked out of season one. As we close in on the halfway point of the season, characters begin to sift their way through the weeds of grief and try to position themselves for success going forward.
*Warning: Spoilers ahead for Succession season four, episode four*
Coping with loss in Succession episode 4
Episode four really feels like a connecting episode for everything the series has been about to this point, and everything it's going to be about as we head into the final stretch. The first three seasons and some change focus on the family and the business as a whole, but Logan Roy (Brian Cox) is always in the spotlight. Every move and every decision until last week plays directly off of Logan, and now it's time for other characters to forge their own path to the top.
In the wake of their father's death, the kids only have one choice: pick themselves up and continue to trudge forward. Some of them take easier to this than others. Each of them process their grief in very different ways, and in typical Roy fashion, their differences may very well be their downfall.
What's been so nice about the season thus far is that for the first time, we see the kids actually share some heartwarming moments together. This episode continues that trajectory, but previously formed rifts are growing within the cracks of these touching scenes. It's clear they're annoyed with each other, and even the most tender scenes leave a bad taste in the mouth because they simply cannot help but ruin the moment.
Tom Wambsgans check-in
I don't think I've ever been more thrilled in my life to write about a character (except maybe Grogu) than I am Tom Wambsgans (Matthew Macfadyen). I'll never skip out on an opportunity to remind anyone that Tom is one of the most complex, well-written, and perfectly portrayed characters in television history.
There's something fascinating happening with Tom in this episode. Throughout the season thus far, he's really developed into a powerhouse; but he's beginning to regress. Now that Logan is gone, Tom lacks the bravado that helped him rise through the ranks in previous seasons. He is fading back into a punching bag now that Logan isn't around to instill confidence and a sense of self-worth into him.
Make no mistake, Logan didn't do that on purpose. He couldn't care less about the mental state of the people around him, but his sheer, undeniable magnitude radiated a sense of urgency to step up or get out of the way. Tom shares a beautiful moment with Shiv (Sarah Snook) late in the episode, and while she removes herself at the last second, their connection may be on the mend.
The climb to the top looks a lot different at the end of Succession episode 4
After some big-time politicking, the group finally decide by the end of the episode that Kendall (Jeremy Strong) and Roman (Kieran Culkin) should step up as interim co-CEO's. My initial thought is that their crowning throws a serious wrench in the fun guessing game of "who's up next?", but it actually makes it more fun.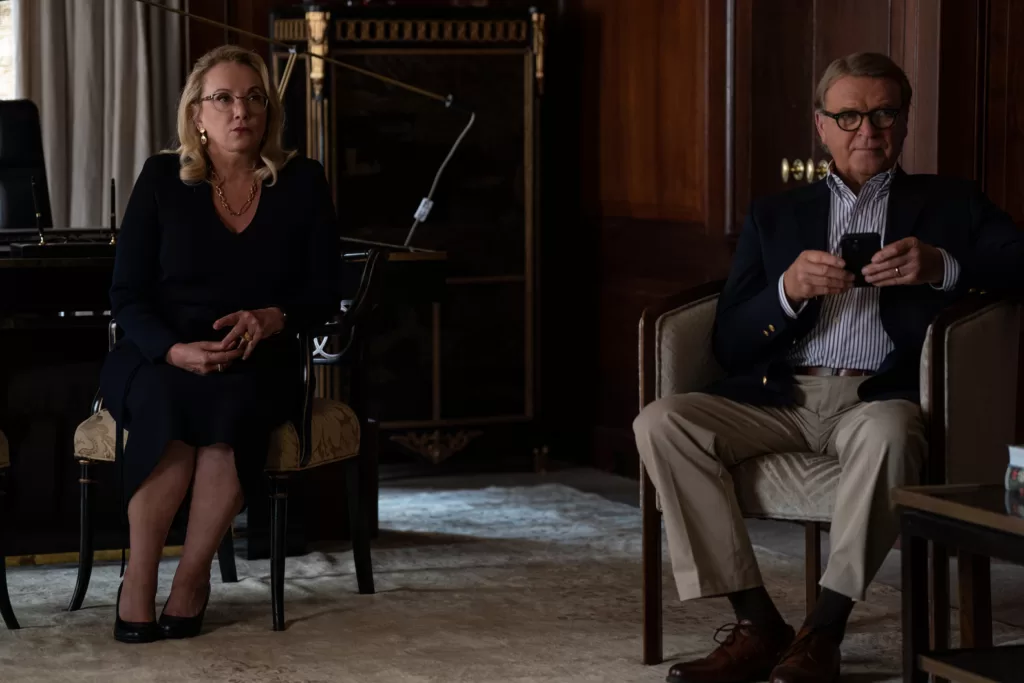 There's a case to be made that Roman and Kendall being crowned CEO's actually removes their names from contention entirely. If they are the ones poised to take over permanently, would we really be crowning them the successors this early in the final season? I'm apt to say no, but after last week you can't rule anything out.
The high-riser on this week's list is Greg (Nicholas Braun). When the gang discovers an (outdated?) piece of paper in Logan's safe roughly detailing his wishes upon his death, there are two names buried within the massive list of requests and suggestions: Kendall Roy and Greg Hirsch. When Greg suggests that this could mean something important for him, every member of the old guard bursts out in laughter. It's ridiculous to them that Logan could have wanted Greg to play a key role; but it feels like a red herring.
All the members of the old guard, including Frank (Peter Friedman), Gerri (J. Smith-Cameron), and Karl (David Rasche) all have to be considered contenders at this stage, but it seems unlikely that any of them make a real push for the top. They'll try, but will inevitably end up siding with one of the bigger players in hopes of latching on like a leech.
Succession episode 4 is old school and well crafted
Succession episode 4 is structured in a way that feels familiar with its cast and setting, but simultaneously fresh thanks to exciting new developments. Almost the entire episode takes place in Logan's penthouse. There's no crazy yacht set pieces, no helicopter flights, just an hour of good old-fashioned palace intrigue. Mattson (Alexander Skarsgård) is set to enter next week, sparking an exciting run into the second half of the season.
We're 40% through the final season, and I've yet to find a reason to dock this show even a single point. This is what happens when you bring together incredible writers, talented performers, and a brilliant director are brought together to let them cook up whatever they desire—it is as close to perfect television as it gets. We have no reason, as of now, to believe the crew are going to deliver anything other than a generational stretch of TV into the second half of the season.
Succession episode 4 is now streaming on HBO Max. Follow the Agents of Fandom socials for all the latest Successions news.
Succession Episode 4 "Honeymoon States" Review
Succession Episode 4 "Honeymoon States" Review
The Good
We can basically never leave the same building and it's captivating
Top-tier writing/pace/structure
Story unfolds beautifully
Amazing performances as per usual
The Bad
This show is so good it's going to ruin other television for me