The Mandalorian Chapter 23: The Spies encapsulates everything you could ever want from an episode of Star Wars television. As far as penultimate episodes go, it's undeniably the best in the series thus far; and one of the more memorable ones in television of late. "Chapter 23: The Spies" is incredibly well-paced, well-written, and relies on nothing but good storytelling to deliver a compelling and entertaining episode.
*Warning: Spoilers for ahead The Mandalorian "Chapter 23: The Spies"*
A menacing villain returns in The Mandalorian Chapter 23
In typical Mandalorian fashion, Moff Gideon (Giancarlo Esposito) makes his appearance in the second to last episode and establishes himself as a menacing threat to all Mandalorians—even more so than before. He arrives with a new set of armor, which proves one of the common fan theories that's been floating around all season:
Mandalore was never cursed or unsafe to inhabit, especially not for soldiers as adept as Mandalorians. The Empire—or rather, Gideon's branch of the Empire—seemingly plants this rumor, so they can set up camp and mine beskar for their own army. It's interesting to note that the planet's remaining Mandalorian inhabitants know exactly where the forge is and how to get there, but are completely unaware of any Imperial presence surrounding it.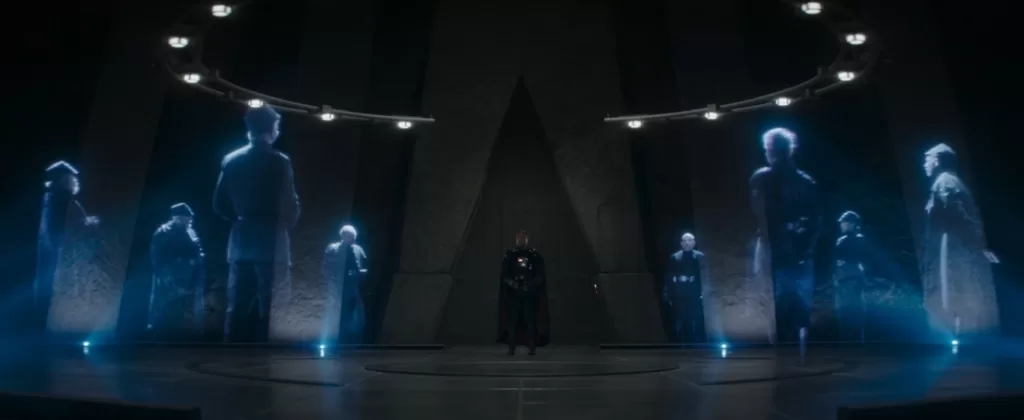 We're introduced to the "Imperialorians," a terrifying hybrid of Imperial soldiers covered in beskar armor. Beskar gives Mandalorians a hefty advantage in battle, and covering the enemy with the metal is an exciting way to even the playing field.
Giancarlo Esposito's performance as Moff Gideon is even more harrowing than we've seen in the past. He is singularly focused on Mandalorian genocide. His past failures and newfound motivations all bleed through in a brilliant showcase of anger and drive. It would've been nice to see Moff Gideon a time or two before this episode, but the building suspense over the past few weeks surely plays into the hype.
Grogu finally shines in The Mandalorian Chapter 23
After complaints in previous episodes about Grogu's lack of important tasks, we finally get to see our little green gremlin step into the spotlight. He earns a new ride/exoskeleton in the form of bounty-turned-nurse droid IG-11, now repurposed into IG-12 (Taika Waititi). As long as he's sporting his new droid, his new name is I-Grogu-12; I don't make the rules.
This is an all-time comedic Grogu episode, constantly mashing his "yes/no" buttons while riding in IG-12, getting caught up in mischief, and giving his dad some grief. But there's more to it than just the humor, as Grogu finally plays a significant part in the episode—doing something of substance besides laugh and coo.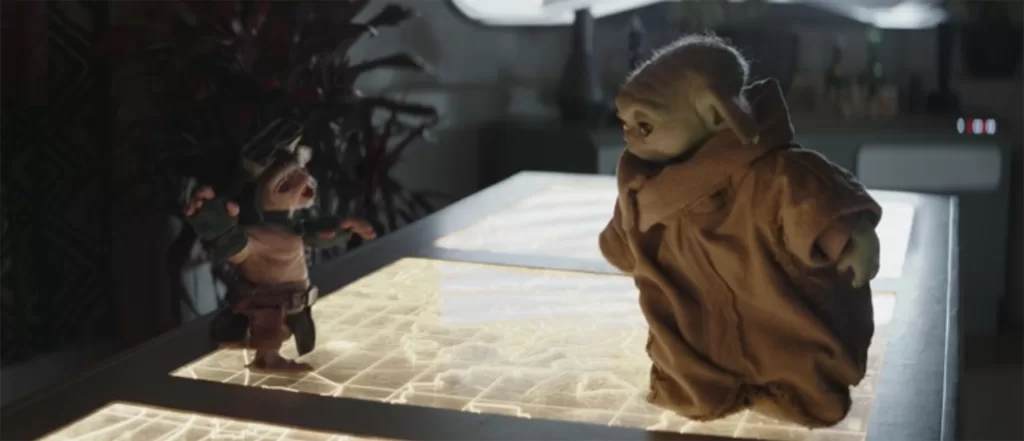 Paz Vizla (Tait Fletcher) and Axe Woves (Simon Kassianides) finally come to blows after a menacing stare down upon their initial meeting. It looks like they're ready to cut each other's throats when Grogu steps between them; one look at his cute little face is all they need to call off the fight. He is already the perfect little peacekeeper.
This is what people have been waiting for. We just want him to do something meaningful to make us, and his dad, proud. He's more than just a little doll now. He's a growing character, on his own path, with his own complexities that all tie into who he is. We never expected Grogu to give intellectual soliloquies about the Force. Some say it's silly to "complain about a fictional space baby puppet's arc," but these stories mean so much to people, and the power they carry should be lifted on a pedestal, not teased and suppressed.
The Mandalorian Chapter 23 is a perfect penultimate suspense builder
Where The Mandalorian Chapter 23 stands out isn't just in cool flying spaceships or blasters like other installments. This is not just a great episode of Star Wars, this is a great episode of television. Period. It's the most well-written episode of the season thus far—the pace is nigh on perfect. Each scene fits together like pieces of an eloquent puzzle, and the 52-minute runtime is over in a flash.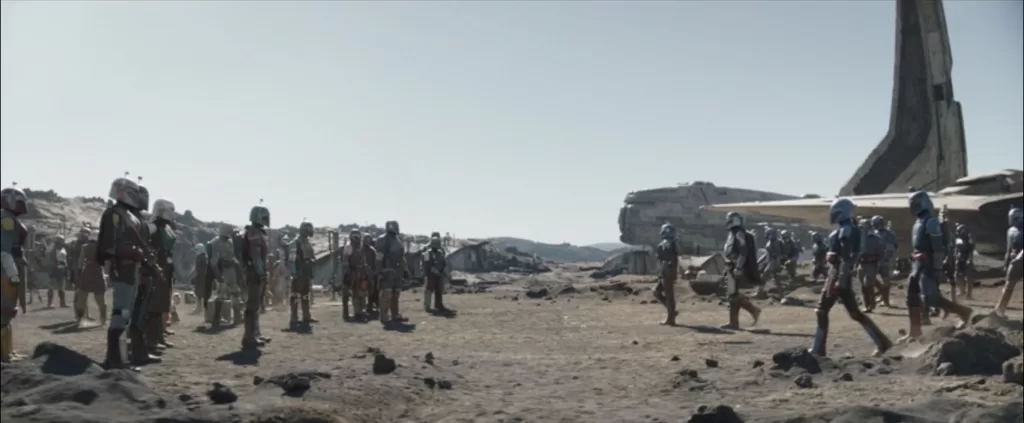 Continuing our Mandalorian penultimate episode trend, we finish with a kidnapping, except this time the tables are turned. In previous seasons, it's Din Djain (Pedro Pascal) who goes on a rescue mission—but now it's Grogu's turn. This is simultaneously an anxiety-inducing and exciting tease, as Grogu is set to embark on the most dangerous journey of his young life. He must rescue Din yet again this season, this time from the far more dangerous clutches of Moff Gideon, and, hopefully, with the help of his fellow Mandalorians.
We say goodbye to Paz Vizla in The Mandalorian Chapter 23, when he sacrifices himself in true Mandalorian fashion so that his brothers and sisters-in-arms can live to fight another day. Fan relationship with Paz has been up and down since his initial appearance in The Mandalorian season one, but it's satisfying to see him go out like a true hero.
One episode remaining!
Look, we all love Moff Gideon, but we are three seasons into his vendetta against Mandalorians. The show has a unique opportunity to tie-up this season and close out the Gideon era, while ushering in a new big bad: Grand Admiral Thrawn.
His name is mentioned in the episode, and after the news broke at Star Wars Celebration London of his return in Ahsoka (set to release later this year on Disney+), it's not out of the question for him to come in, clean things up, and establish himself as the new Heir to the Empire.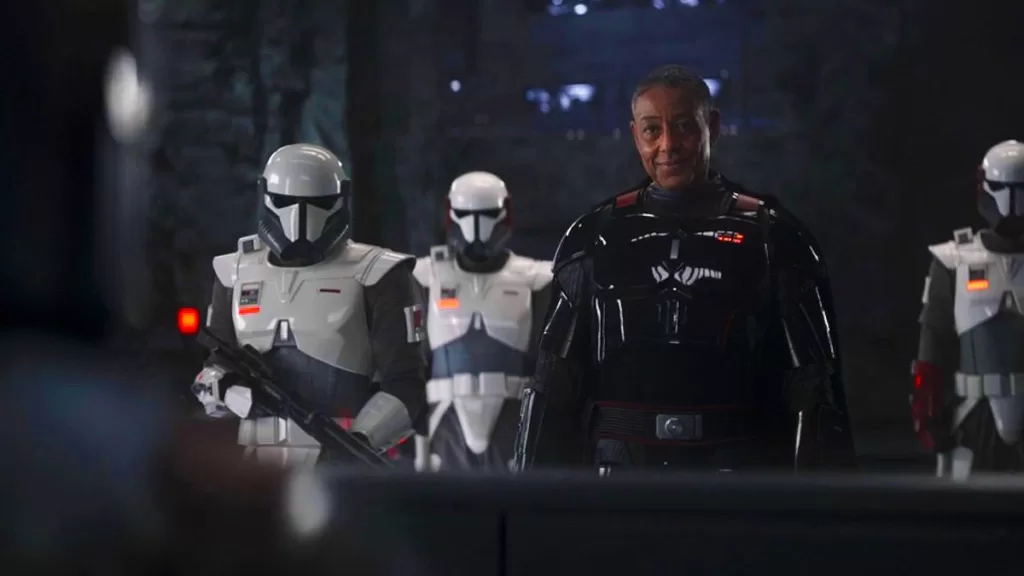 For those of us who've had any doubt over the course of the season, this episode provides every reason to be hopeful about the finale. The Mandalorian Chapter 23 is a perfect showcase of how to tell a captivating story for all Mandalorian people, but also feature Din and Grogu meaningfully to remind us whose show this really is. We're set for an absolute roller coaster of action and emotion as we head into the finale, and anticipation is at an all-time high.
The Mandalorian "Chapter 23: The Spies" is now streaming exclusively on Disney+. Follow the Agents of Fandom socials for all the latest Mandalorian news.
'The Mandalorian' "Chapter 23: The Spies" Review
'The Mandalorian' "Chapter 23: The Spies" Review
The Good
Perfectly written, well paced, well structured
Ton of fun, great action
Moff Gideon rules
Din and Grogu shine as the stars
The Bad
We only have one week left!