Ted Lasso episode 2 follows up a delightful premiere with another touching installment. We see the return of some very familiar faces, while continuing the trend of telling an emotionally investing story. This show is hitting all the corners and penalty kicks, and after another near spotless episode, I'm wondering: Will Brett Goldstein and Bill Lawrence ever miss?
*Warning: Spoilers ahead for Ted Lasso season 3, episode 2*
A not-so-independent return
Trent Crimm, The Independent. I'd bet you read that in James Lance's voice, didn't you? Trent Crimm is back in a new role, no longer working for The Independent. He shows up asking to write a book about the team, and Rebbeca (Hannah Waddingham) leaves the decision up to Ted. What does he do? Naturally, the exact opposite of what everyone is telling him.
Why does Ted agree to let Trent cover the team? It's a growing opportunity for himself, Trent, the others that try to dissuade him, and especially for Roy Kent (Brett Goldstein). If Ted sees a chance to break down someone else's walls, and build them into a better version of themselves, he's going to take it.
This episode strikes a very interesting dynamic within the Trent Crimm/Roy Kent relationship. Now an assistant coach, Roy commands every player to "be quiet" (in a much harsher way) anytime Crimm is in the room; no secrets spilled around the reporter. Kent takes an aggressive tone anytime Crimm enters the room, but is this a typical Roy Kent ice-out or is it personal?
"Newcomer Roy Kent is an overhyped, so-called prodigy, who's unbridled rage and mediocre talent rendered his Premier League debut a profound disappointment." His words stab you right in the heart as you hear Roy read them back in Trent's face.
Roy Kent is absolutely the type of man to hold a grudge, so it comes as no surprise that this is what's making him so angry. It's Ted who calls Roy out, and does everything in his power to make Trent feel at home—an emotional support pillar at the center of it all.
More familiarity in Ted Lasso episode 2
It's more than just Trent Crimm who resurfaces early in the new season. Our beloved, mostly supporting, and always hilarious pub gang is back! Mae (Annette Badland), Baz (Adam Colborne), Jeremy (Bronson Webb), and Paul (Kevin Garry) all reprise their roles in the new season, and it feels oh so good to have them back (especially Mae).
It's not that this series needs any more comedic relief, but this group always seems to show up at just the right time. It's impossible not to enjoy the time you spend with them. Their investment in the team is a tool to align us with them. We know more about the day-to-day operations of the club than they do, but we find ourselves rooting alongside them every match, all the same.
While the matches are intangible, they definitely feel like their own defined character within the show. Ted Lasso episode 2 gets our boots back out on the pitch, as the Greyhounds take on Chelsea. However, the football match is more of a set piece. While there is a game being played, it's far from the central focus.
A new star in Ted Lasso episode 2
Enter: Zava (Maximilian Osinski)—football star, member of 14 teams in 15 years, and carries two things with him wherever he goes: winning and drama. Zava is leaving Juventus and coming to the Premier League. He's playing a cat and mouse game, no one is sure whether he's going to play for Chelsea, Richmond, or West Ham.
Rupert (Anthony Head) and Rebecca both make their pitches, and while one sounds infinitely more enticing, Zava proves himself to be quite the wildcard. It's at a Chelsea press meeting, after a meeting with West Ham, that he announces he'll be playing for Richmond.
Instinctively, we think about how he's going to match up with the rest of the team, and with Ted. He seems like a bit of a jerk, and everyone's excitement upon learning that he'll be joining the team is likely misdirection.
Richmond has never had a player this talented, who single-handedly gives them a shot to win. They're going to win more games, that much is certain; but egos are going to clash, and drama is on the horizon. One thing we can be certain of: he'll be a better man at the end of the season by nature of working with Ted.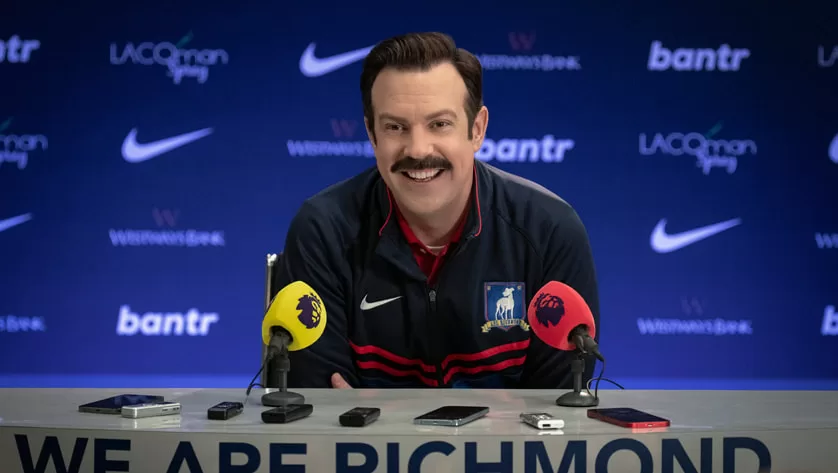 A perfect goal
When Dani Rojas (Cristo Fernández) scores the equalizer against Chelsea right off his face, it's a metaphor for so much more. When life doesn't go according to plan, sometimes things work out in unexpected ways. This show continues to pay tribute to overarching themes in small, touching moments like this.
Ted Lasso episode 2 is a brilliant follow-up to the premiere, with tons of fun, humor, and emotional moments that hit you right in the feels. Few shows in the history of TV are able to operate at this high a level on so many frequencies. I have no doubt it will continue its spectacular run, and wrap things up in a way that's more satisfying than winning the Premier League trophy.
Follow the Agents of Fandom on socials for all the latest Ted Lasso news.
'Ted Lasso' Episode 2 Review
'Ted Lasso' Episode 2 Review
The Good
Perfect TV
Zava is great
Awesome emotional beats