Phoenix's biggest movie event is back, and it's better than ever! Starting on March 23, this year's event promises to be a cinematic extravaganza featuring some of the most highly anticipated films of the year. With a range of genres and styles, there is something for everyone to enjoy.
This article aims to provide an in-depth analysis of the most prominent features of the festival, emphasizing the remarkable skills of the filmmakers, actors, and crew members who have breathed life into these films. We invite you to join us on a captivating journey through the finest offerings of contemporary cinema at the highly anticipated 2023 Phoenix Film Festival.
2023 Phoenix Film Festival Features
Somewhere in Queens (March 23)
Kicking off the event is Somewhere in Queens. Directed by Ray Romano, the film follows the simple yet heartwarming story of Leo Russo (Romano), a Queens resident living a content life with his wife and son. However, when his son's future in basketball is suddenly put into jeopardy, Leo goes above and beyond to keep his son on track.
The film features an incredible cast, including Laurie Metcalf, Tony Lo Bianco, Sebastian Maniscalco, and Jennifer Esposito. With its relatable characters and touching storyline, Somewhere in Queens is a must-see movie that's sure to leave audiences feeling inspired and uplifted.
Little Richard: I Am Everything (March 24)
Directed by Lisa Cortés, this documentary takes a deep dive into the life of Richard Penniman, also known as Little Richard, who is widely regarded as one of the most important and influential figures in music history. Produced by Bungalow Media + Entertainment for CNN Films and HBO Max, in association with Rolling Stone Films, Little Richard: I Am Everything is a celebration of Richard's complicated yet extraordinary life story.
Through interviews with family members and musicians, the film reveals how Richard created an art form for ultimate self-expression. Despite being unable to give what he gave to the world to himself, Richard careened between God, sex, and rock 'n roll, and his unique brand of expression was unlike anything the world had ever seen. With a wealth of archival footage and performances, this film will leave audiences with a newfound appreciation for one of the most influential musical pioneers of our time.
Spinning Gold (March 25)
Spinning Gold tells the story of legendary music producer, Neil Bogart, founder of Casablanca Records, and his journey to create some of the most iconic music of our time. With an all-star cast including Jeremy Jordan, Michelle Monaghan, Jay Pharoah, and many others, Spinning Gold promises to be an unforgettable cinematic experience that will take audiences on a musical journey through the decades. This ragtag team of young music lovers rewrote history and changed the music industry forever, leaving behind a legacy that continues to shape our culture and define a generation.
Still: A Michael J. Fox Movie (March 26)
The honest telling of the legendary actor's life story, Still will incorporate documentary, archival, and scripted elements, providing a unique and comprehensive look at Michael J. Fox's remarkable journey—from his humble beginnings as an undersized kid from a Canadian army base to his rise to stardom in 1980s Hollywood.
It's promising to be a nostalgic thrill ride that will transport audiences back in time. But the film will also delve into the more personal aspects of Fox's life, including the years that followed his diagnosis with Parkinson's disease at the age of 29. With unprecedented access to Fox and his family, Still, directed by Davis Guggenheim, will chronicle his personal and professional triumphs and travails, exploring what happens when an incurable optimist confronts an incurable disease.
Kindling (March 27)
Kindling, directed by Connor O'Hara, tells the story of a group of young men who return to their hometown to support a friend in his final days. The friends come together to turn his last days into a celebration of life and friendship. Explore love, loss, and the bonds of friendship. The project stars George Somner, Conrad Khan, Wilson Mbomio, Mia McKenna-Bruce, Rory J. Saper, Kaine Zajaz, Geoff Bell, and Tara Fitzgerald.
It Ain't Over (March 28)
It Ain't Over pays homage to the life and legacy of Lawrence Peter "Yogi" Berra, one of baseball's greatest players. Directed by Sean Mullin, the film explores the life of the legendary catcher who amassed 10 World Series rings, three MVP awards, and 18 All-Star Game appearances. The documentary features interviews with Berra's family, former teammates, writers, broadcasters, and admirers like Billy Crystal. It tells the whole story of a remarkable man who always stayed true to himself, both on and off the field.
Chevalier (March 29)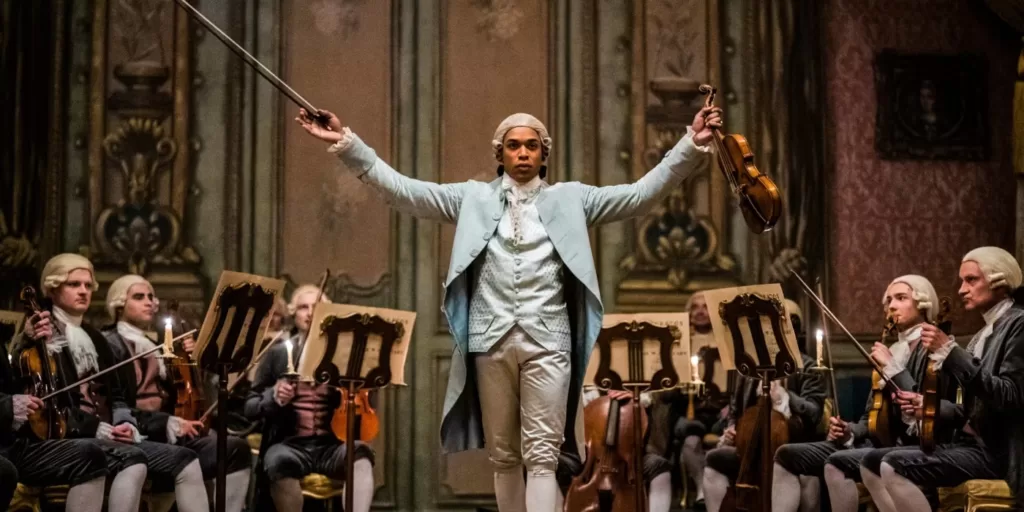 Chevalier is inspired by the true story of composer Joseph Bologne, Chevalier de Saint-Georges, the son of an African slave and a French plantation owner. Kelvin Harrison Jr. delivers a powerful performance as Bologne, who defies the odds and rises to become a celebrated violinist-composer and fencer in French society. The film, directed by Stephen William, also features Samara Weaving, Lucy Boynton, and Minnie Driver. Directed by Stephen William.
Master Gardener (March 30)
A talented horticulturist takes care of the grounds of a wealthy woman's estate, but when he's asked to train her troubled great-niece, he discovers secrets from his past that threatens to unravel his life. Directed by Paul Schrader, and starring Joel Edgerton, Sigourney Weaver, and Quintessa Swindell, Master Gardener promises to be a captivating exploration of hidden pasts and personal demons during the 2023 Phoenix Film Festival.
Stephen Curry: Underrated (March 31)
Directed by Peter Nicks and starring NBA player Stephen Curry, Stephen Curry: Underrated chronicles the basketball star's journey from an undersized college player to a four-time NBA champion, exploring his rise to dominance and impact on the sport. The film blends intimate cinema verité, archival footage, and on-camera interviews to tell the inspiring story of one of the most influential players in the history of basketball. Look for this feature to be one of the msot inspiring at the 2023 Phoenix Film Festival.
Judy Blume Forever (April 1)
Directed by Davina Pardo and Leah Wolchok, Judy Blume Forever traces Blume's journey from a fearful, imaginative child to a storytelling pioneer whose radical honesty about puberty and sex has captivated generations of readers. Featuring intimate conversations with acclaimed authors and artists, playful animations, and open-hearted letters from longtime fans, the film celebrates Blume's profound impact on readers while chronicling her ongoing fight against censorship.
With humor, sensitivity, and adolescent cringe, Judy Blume Forever is a poignant tribute to the woman whose trailblazing books changed the way millions of readers understand themselves and what it means to grow up.
Renfield (April 2)
The most anticipated premiere of the 2023 Phoenix Film Festival, Renfield is directed by Chris McKay and stars Nicholas Hoult, Nicolas Cage, Awkwafina, Ben Schwartz, Adrian Martinez, and Shohreh Aghdashloo.
In this modern monster tale, Nicholas Hoult portrays Renfield, the tortured aide to history's most narcissistic boss, Dracula, played by Oscar-winner Nicolas Cage. Renfield is forced to procure his master's prey and do his every bidding, no matter how debased. After centuries of servitude, Renfield is ready to see if there's a life outside the shadow of The Prince of Darkness, and he must figure out how to end his codependency.
2023 Phoenix Film Festival has it all
The 2023 Phoenix Film Festival has a thrilling lineup of movies that will take audiences on unforgettable journeys. From heartwarming stories of family and friendship to exciting tales of music legends and athletic heroes, there's something for everyone. The festival is not just a showcase of films but an opportunity for viewers to be inspired by the creativity and artistry of talented directors, writers, and actors.
Whether you're a movie buff or just looking for a fun night out, the 2023 Phoenix Film Festival promises to be an event you won't want to miss. So mark your calendars and get ready to be captivated by these incredible cinematic experiences.
Stay tuned to the Agents of Fandom socials for the latest movie news.