Now that time has passed to scour every outlet possible on the Batgirl subject, let's unpack the audacity of Warner Bros. not to release the movie at all. As reported by the New York Post (and The Wrap, then THR, and…you get the idea), Batgirl was shelved due to rising costs for a theatrical release, on top of production figures after COVID-19 hit.
Variety hints at tax issues. Even with unanticipated expenditures, Warner Bros. scrapped the project that denied a streaming option on HBO Max. Another reason for the shelving? DC's desire to promote theatrical releases to the likes of MCU. So the chances of seeing this movie? Absolutely zero.
Batgirl (Doesn't) Begin
Batgirl, originally a Joss Whedon project until his departure a year after the announcement, was handed to Christina Hodson (Birds of Prey) as the new screenplay writer. Before Whedon's initial development for a solo installation, Batgirl had a potential introduction in Birds of Prey. Still, under Hodson's latest script, the movie began filming in Scotland with Leslie Grace (In the Heights) as the title character in November 2021.
Grace, pictured below in her Batgirl costume, promised "badassery" and hinted at a plot beyond action. That foundation is on par with many superhero origin stories. The movie featured J.K. Simmons reprising his role as Commissioner Gordon and Michael Keaton, once again as Batman. No question, these acting veterans would create a box-office smash. Let's not start on Brendan Fraser, who returned to acting recently, and his potential as Firefly. Please!
As an Afro-Latina, Grace embodies representation much needed in the DC Extended Universe (or any other). Grace faced blatant racism after acquiring her role in Batgirl as Barbara Gordon.
After the shelving announcement, this does not put the studio in a good light. Could this fuel a more prominent public relations disaster?
There's looking at the world through a lens that isn't just black and white and seeing the color and the spectrum between things.

Leslie Grace, to Marc Malkin Variety 2022
Inside the Numbers
Directors Adil El Arbi and Bilall Fallah, who worked on the visually stunning Ms. Marvel series, would bring the same magic to Batgirl. Along with El Arbi and Fallah at the helm, Kristin Burr took on the film's production. Burr's production of Cruella amassed $225 million worldwide, with a Disney+ Premiere Access release simultaneously. (Also, Burr! Productions are the company behind The Unbearable Weight of Massive Talent)
Birds of Prey and Ms. Marvel rated relatively well on Rotten Tomatoes, with audience scores of 78% and 82%, respectively. Insert Britney Spears confused GIF here, wondering why Batgirl couldn't generate the same hype as Cruella? Would it reach the box office gross of Birds of Prey, which stands at $201.9 million? If track records don't speak for themselves in the creative community, how will they feel working on future projects for Warner Bros. or the DC Extended Universe?
Film Twitter Reacts to 'Batgirl'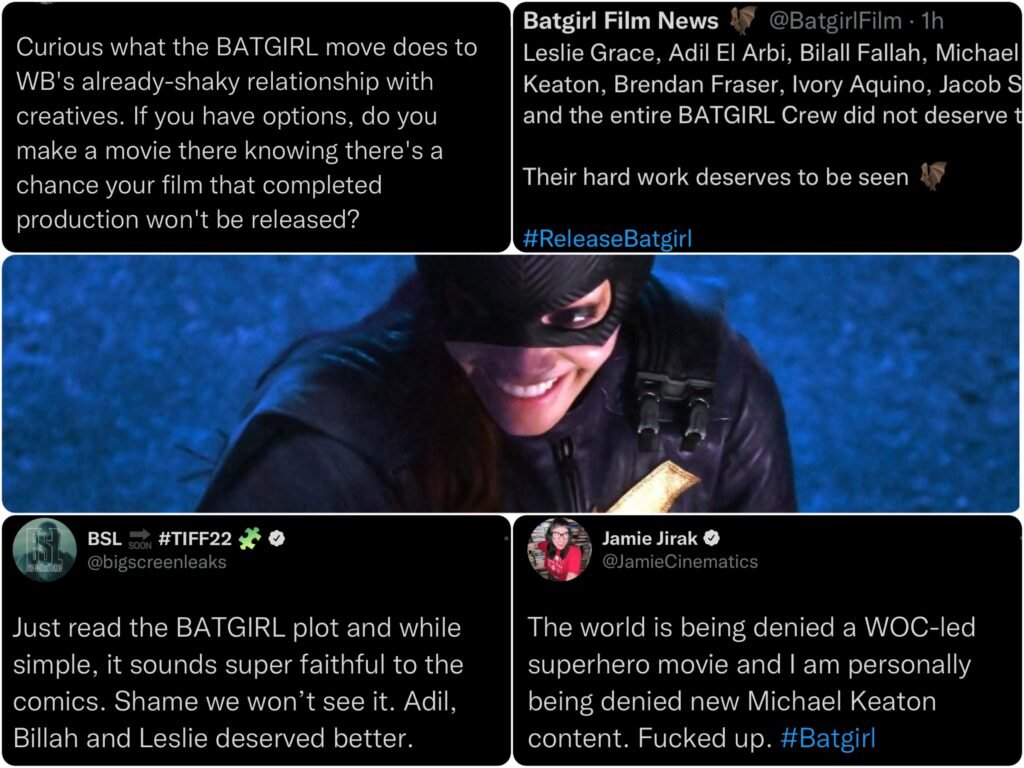 Many superhero fans and DCEU stans did not waste time with social media grievances. After all, when Zack Snyder mentioned his original director's cut of Justice League, the masses headed over to Twitter to create a whole hashtag campaign. (A recent, albeit ridiculous, rumor suggests a concoction by Snyder himself).
Not long after, HBO Max releases the cut in all of its four-hour glory. A streaming run could bring in an audience to decide whether a film like Batgirl is worthy of a theatrical release. We have yet to see even a hint of a trailer. Anything considered "good" or "worthy" falls under the subjective.
While the world still turns, and actors eventually move onto perhaps greener pastures, the question begs (from fellow Agent Shawn Paul Wood) how does DC Super-Pets get a theatrical release but not Batgirl?