This piece was written during the 2023 WGA and SAG-AFTRA strikes. Without the labor of the writers and actors currently on strike, the series being covered here wouldn't exist.
Ahsoka episode 5 is a Dave Filoni special. The creator of the Star Wars animated projects Rebels and Clone Wars has brought his characters into live-action and stepped up his game even further as the fifth episode is nothing short of a masterpiece.
There is a perfect blend of action, character development, and fan service throughout Ahsoka episode 5. The return of Hayden Christensen as Anakin Skywalker exceeds expectations while providing some of the very best live-action Star Wars visuals to date.
Although it's easy to get caught up in the flashbacks and emotions of the first live-action interactions between Ahsoka Tano (Rosario Dawson) and Anakin Skywalker, Ahsoka episode 5 adds brand-new context to the universe's lore while continuing the series' story in an incredibly exciting way.
*Warning: Spoilers ahead for Ahsoka episode 5*
Anakin Skywalker reunites with his apprentice in Ahsoka episode 5
There is no duo quite like "Snips" and "Skyguy" throughout The Clone Wars. Anakin Skywalker and Ahsoka Tano are not only masterful with The Force, but their chemistry and drive make them two of the Republic's strongest leaders. While Ahsoka isn't featured in the Star Wars prequels, fans could still look to animation for stories of the adventurous Padawan alongside her Master Anakin Skywalker in the years leading up to his unfortunate downfall.
However, Hayden Christensen is finally back as Anakin Skywalker, but now, he's interacting with his former Padawan for the first time in live-action. Meeting in the still mysterious World Between Worlds, Anakin and Ahsoka immediately engage in their classic witty banter, as the fallen Jedi Master calls his former Padawan old.
"I'm here to finish your training."

– Anakin Skywalker to Ahsoka Tano in Ahsoka episode 5.
It doesn't take long for Anakin to reveal to Ahsoka that she's in the process of dying. Although it remains a mystery how exactly Ahsoka made it to the World Between Worlds, she has one more important lesson to learn from her former Master before being able to rise from her defeat at the hands of Baylan Skoll (Ray Stevenson).
From the constant referring to Ahsoka as "Snips" to the pair's life-and-death lightsaber showdown, the reunion is everything fans could've hoped for. While the action is incredible, the dialogue steals the show in the latest episode. As Anakin prepares for battle in an attempt to finish his Padawan's training, Ahsoka tells him she won't fight him, similar to Luke Skywalker in the Star Wars original trilogy. However, Ahsoka is forced to defend herself and emerges victorious in their inevitable duel. Anakin smiles with pride, as it's here the real lesson begins.
Ahsoka episode 5 introduces Ariana Greenblatt as young Ahsoka Tano
Ahsoka falls from the World Between Worlds into a flashback from the days of The Clone Wars and surprisingly, Ariana Greenblatt is portraying a young Ahsoka Tano. Hayden Christensen is also sporting Anakin's Clone Wars armor and haircut for the first time in live-action. Greenblatt recently starred in the hit movie Barbie as the daughter of America Ferrera's Gloria. She also plays a young Gamora in Marvel Studios' Infinity War.
The chemistry between Christensen and Greenblatt is reminiscent of Ashley Eckstein and Matt Lanter throughout The Clone Wars. The duo partake in flashbacks from their time battling separatist droids together while maintaining their memories from throughout their lives.
The scenes emphasize how much of Ahsoka's childhood was spent as a soldier, with the majority of her training coming from being thrown into the fires of war. She had to deal with an intense amount of loss and grief at a young age which shaped her into who she is today.
The flashbacks not only showcase Anakin's prowess as a teacher, but they also briefly summarize Ahsoka's journey as a Jedi. She never wanted to be a warrior, that wasn't her understanding of the Jedi. Protecting others is important to Ahsoka, but she never wanted to be a product of war. Unfortunately, as the Sith control the outcome and Anakin falls to the Dark Side, Ahsoka is left alone. The cinematography in this scene, as Anakin transitions to Darth Vader, is truly one of the best visuals in Star Wars history.
With Ahsoka left alone at this point in the timeline as the Clone Wars come to a conclusion, the flashbacks swap to the Siege of Mandalore. Ahsoka battles Darth Maul's Death Watch troopers without aid from the Republic, outside of her trusted ally Captain Rex (Temuera Morrison). Greenblatt's portrayal emphasizes Ahsoka's youth when she was falsely accused of treason by the Jedi Order en route to her departure. The lesson Anakin is trying to teach Ahsoka begins to shine through, as he was only able to teach her about being a warrior before their time together ended.
Imposter syndrome is nothing new in the Star Wars universe. Obi-Wan Kenobi (Ewan McGregor) struggled with his self-worth after losing the Clone Wars and more importantly, Anakin, to the Sith. The same can be said for Ahsoka as she struggles with the reality of her Master becoming Darth Vader. Sometimes, when the darkness is overwhelming, it's tough for the light to shine through.
There is one lesson left to learn in Ahsoka episode 5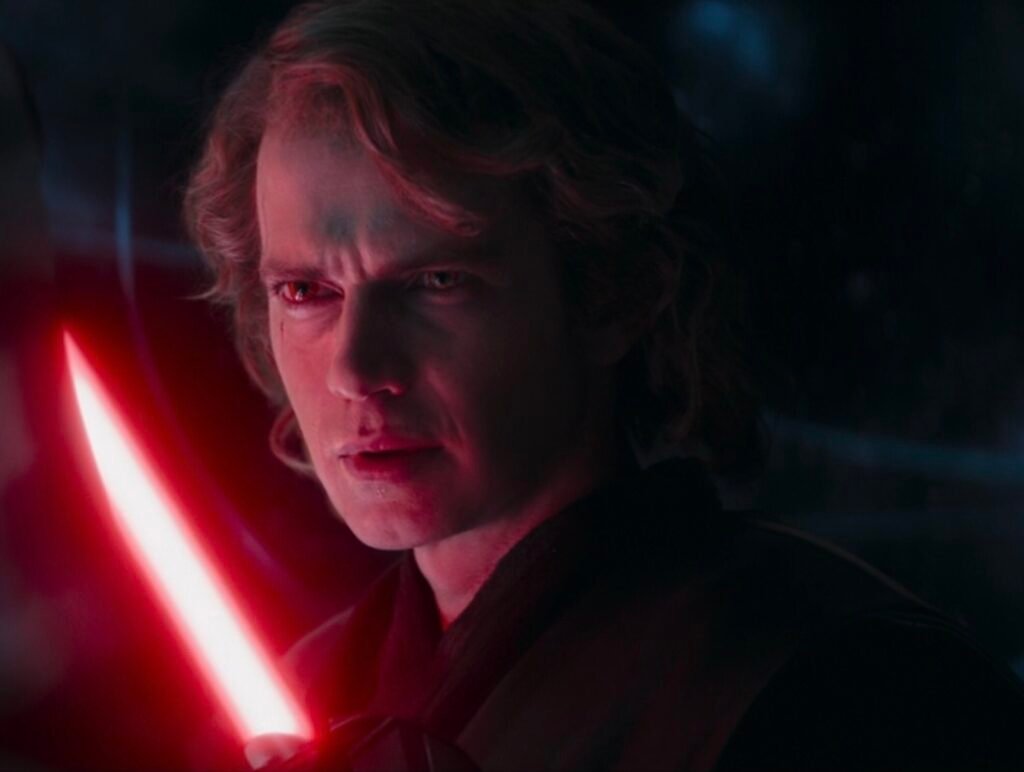 While the action sequences between both Dawson and Greenblatt's Ahsoka Tano and Christensen's Anakin Skywalker are incredibly compelling, the reason behind the fight is what's most significant. Similar to the conversation between James McAvoy and Patrick Stewart as two versions of Professor Charles Xavier in X-Men: Days of Future Past, Anakin is trying to teach Ahsoka to hope again.
Since the beginning of the series, Dawson's portrayal of the character has been stoic and borderline cold. All the grief and pain Ahsoka Tano has endured over the years has clearly taken a toll. The excited, hopeful, and confident Ahsoka Tano from animation seems somewhat of a distant memory. However, Ahsoka has to learn for herself by fighting a dark Anakin Skywalker that they are both more than the darkness within. Ahsoka has to choose to live, to hope.
As Hayden Christensen transitions back from Vader to Anakin with some amazing facial acting, the lesson is complete and Ahsoka returns to reality. It remains a mystery as to how she encountered Anakin in the World Between Worlds, however, Anakin's power to teach Ahsoka a lesson from the beyond does link to a potential Clone Wars storyline.
Anakin and Ahsoka previously embarked on a journey to the planet Mortis, where they encounter a family of beings incredibly powerful with The Force. During their time there, the Father urges Anakin to take his place as a "Force God" of sorts to bring balance to the universe. It remains to be seen what role, if any, Anakin will play for the rest of the series, but he is the star of Ahsoka episode 5.
Jacen Syndulla is the unsung hero of Ahsoka episode 5
The Force works in mysterious ways. At different points in the episode, Ahsoka taps into a power similar to Cal Kestis' (Cameron Monaghan) Force echo from the Star Wars: Jedi video games, finding a memory in an item. He even mimics Ezra Bridger's (Eman Esfandi) ability to communicate with different beings like the Purrgil. However, it's young Jacen Syndylla's (Evan Whitten) Force sensitivity that saves Ahsoka's life.
After Hera Syndulla (Mary Elizabeth Winstead) ignores New Republic orders and decides to help Sabine Wren (Natasha Liu Bordizzo) and Ahsoka, her son, Jacen, plays a critical role in finding Ahsoka. Despite the New Republic sending a fleet to escort them back home, Hera, Carson Teva, (Paul Sun-Hyung Lee) and their small crew of allies continue to search for Ahsoka due to Jacen being able to sense something within the sea and hear lightsabers clashing below.
Huyang (David Tennant) offers some insight for viewers who haven't seen Rebels about Jacen having special powers. This is thanks to Jacen's father, Jedi Knight Kanan Jarrus, while Carson Teva acts as the voice for those picking up the series without watching the animation by shrugging off the mention of the former Jedi and continuing on with the mission. Jacen is able to sense Ahsoka and locate her with the help of the droid Chopper for Hera to rescue her and embark on their mission to find Sabine.
Once Ahsoka is back to full strength, she attempts to communicate with the Purrgil surrounding the planet about how to possibly locate Sabine. In some of the most visually stunning scenes in Star Wars history, Ahsoka embarks on a mission to find her Padawan in biblical fashion. She channels her inner Jonah and hops into the mouth of a giant space whale to embark on a voyage to a new galaxy.
Outside the beautiful visuals, the highlight of Ahsoka episode 5's final moments is Ahsoka's attitude. She is finally back to her confident, jubilant self that is willing to trust in The Force and embark on adventures.
As Ahsoka is off to find another galaxy, Anakin remains in the World Between Worlds and Jacen Syndulla is becoming stronger with The Force each day. There's plenty of intrigue for the final few episodes of Ahsoka. All of these factors combined with the highly anticipated live-action debuts of Grand Admiral Thrawn (Lars Mikkelsen) and Ezra Bridger set up the last three episodes to be an incredibly exciting finale. Ahsoka episode 5 is the best episode of live-action Star Wars television to date and more exciting action and introductions is yet to come.
New episodes of Ahsoka release every Tuesday at 6pm PST/9pm EST exclusively on Disney+. Be sure to check out the Agents of Fandom socials and subscribe to our podcast network where we break down each episode of Ahsoka in depth.
'Ahsoka' Episode 5 Review
'Ahsoka' Episode 5 Review
The Good
Important perspective to what drives Ahsoka
Amazing flashbacks with Ahsoka and Anakin
Clone Wars and Rebels fans are wildly rewarded
Hayden Christensen is back and better than ever
Ariana Greenblatt shines as young Ahsoka
Captain Rex in live action!
Jacen Syndulla is the future
Thrilling Lightsaber Action
The Bad
A small Ezra and Thrawn tease would've been great to close out the episode