This piece was written during the 2023 WGA and SAG-AFTRA strikes. Without the labor of the writers and actors currently on strike, the series being covered here wouldn't exist.
Ahsoka episode 4 "Fallen Jedi" finds Ahsoka Tano (Rosario Dawson) and Sabine Wren (Natasha Liu Bordizzo) racing against the clock and stranded without means of communication to their friends in the New Republic. The sinister Grand Admiral Thrawn (Lars Mikkelson) has been located by his allies, and they have begun the attempt to rescue him from another galaxy.
Delivering immediate suspense, Ahsoka episode 4 is the best entry in the series thus far. The amazing performances from the cast, incredible cinematography from Spider-Man: Into the Spider-Verse director Peter Ramsay, incredible world-building from Rebels and Clone Wars creator Dave Filoni, Ahsoka continues to prove itself an incredible piece of art.
*Warning: Spoilers ahead for Ahsoka episode 4 "Fallen Jedi" and Star Wars: Rebels*
Ahsoka episode 4 opens new pathways in the 'Star Wars' universe
While there's been a fractured dynamic between Sabine and Ahsoka throughout the series, this episode adds additional context. Although the two don't have much of a connection throughout Rebels, it has been alluded to throughout the first four episodes that the Master and Padawan relationship in the unseen gap didn't go particularly as planned.
Despite Huyang's (David Tennant) pleas for the two of them to stick together, Ahsoka and Sabine spend most of the episode apart. True motivations come to light throughout as Sabine refuses to prioritize her Master's wishes of ensuring Thrawn doesn't return, in favor of finding her good friend, the long-lost Jedi Ezra Bridger (Eman Esfandi).
While her motivations seem selfish at first, Ahsoka episode 4 unveils that the entirety of Sabine's family has been wiped out, likely in the Night of a Thousand Tears. Additionally, former Jedi Baylan Skoll, played by the late Ray Stevenson, suggests Ahsoka may have played a part in the disaster.
With the best intentions of sticking together, Ahsoka and Sabine are met by Shin Hati (Ivanna Sakhno) and the mysterious inquisitor Marrok. Ahsoka swiftly dispatches with Marrok, showcasing her prowess with a lightsaber. Potential theories about Marrok's identity are now shattered, but his death provides additional intrigue into the history of this mysterious character. While it remains unknown who was behind the inquisitor's mask, he disintegrates into a greenish dust upon his death, suggesting connections to the Nighsisters of Dathomir's magic and likely Morgan Elsbeth (Diana Lee Insanto).
As Ahsoka departs to steal the map which charts the way another galaxy so Thrawn doesn't return, Sabine is left face to face with Shin Hati, offered a rematch for a chance at redemption. Sabine proves to be much more of a challenge for Shin with the inclusion of her Mandalorian armor, showing the same prowess seen throughout Dave Filoni's Star Wars: Rebels. Her fake Force-ploy to disguise Mandalorian weaponry that gives her an edge in the fight is phenomenal.
Despite her Master's prowess being on full display against Marrok, the dual between Sabine and Shin is arguably the best action sequence of the episode. However, there's no need to compare the two, as the four different colors of lightsabers battling simultaneously is a spectacle that should simply be enjoyed.
Although Hera Syndulla (Mary-Elizabeth Winstead) was previously denied permission to support Sabine and Ahsoka on their mission, fans of Rebels know silly guidelines aren't going to stop her from doing the right thing. Once a Rebel, always a Rebel. She immediately embarks on a rescue mission in the live-action debut of her ship, The Ghost, alongside her son Jacen (Evan Whitten), Chopper, and some additional New Republic reinforcements.
The benefit of a connected universe is the potential for characters from different properties to interact. While it used to be the Skywalkers, the glue holding the television corners of the Star Wars universe together at this point is Ranger of the New Republic Carson Teva (Paul Sun-Hyung Lee).
His appearance to support Hera provides hope for fans clamoring to see the Ghost Crew's Zeb (Steve Blum) make his debut in the series, or even a potential cameo from Din Djarin (Pedro Pascal). Unfortunately, the comfort of seeing Carson Teva support Hera and company is short-lived, as Dave Filoni teases Jacen Syndulla's Force sensitivity when he senses the chaos unfolding on the planet below.
Baylan Skoll is not to be trifled with in Ahsoka episode 4, "Fallen Jedi"
The showdown in Ahsoka episode 4 between Baylan Skoll and the titular character may go Ahsoka's way at first, however, her edge against her opponent is fleeting. Although she delivers the coldest line from the series to date, after Baylan mentioned her former Master Anakin Skywalker spoke highly of her, stating "funny, he never mentioned you." Ahsoka has never strayed away from verbally assaulting those who utilize the Dark Side of The Force, and Baylan is no exception.
The verbal showdown between the two is a sight to behold. Stevenson's excellent performance as Baylan Skoll can't be overstated. The antagonist provides a new perspective from a Star Wars villain. Plenty of characters have fallen to the Dark Side, Baylan brings a unique realism and reluctance to his goals. His logical attitude toward the challenge and borderline unwillingness to face Ahsoka is a brand-new take.
Ahsoka fairs well against Baylan's powerful, Form V lightsaber technique taught by the Jedi order, unfortunately, it is a temporary success. After managing to disconnect the map to Thrawn, Ahsoka is injured by Nightsister Morgan Elsbeth's magic that was keeping it in place.
While the title of the episode "Fallen Jedi" could be interpreted metaphorically about Baylan Skoll or even Sabine Wren, it is unfortunately used literally when describing Ahsoka's fate in the battle. After tapping into the Dark Side to launch Shin Hati into a rock, Baylan Skoll defeats Ahsoka and sends her off the cliff.
Sabine succumbs to the Dark Side in Ahsoka episode 4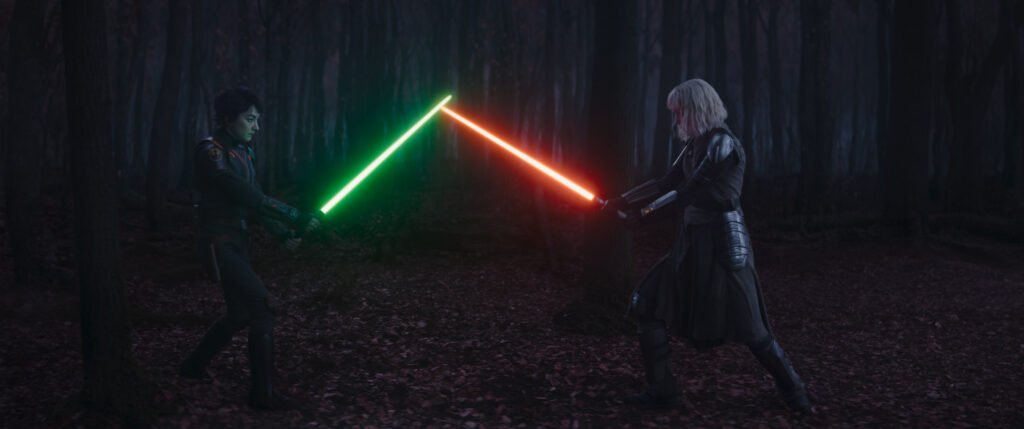 Believing her Master has died, Baylan tempts Sabine with an offer. Should she surrender, she can join the voyage to find Thrawn and potentially Ezra. Dark Side lures Sabine, using her attachment to Ezra Bridger against her, similarly to how the Jedi Order warned.
While they handle their "no attachment" rules poorly, the Jedi were correct in that temptation due to these connections can lead to poor decision-making. Sabine believes she's keeping her promise to find Ezra, when in reality, she's going directly against his attempt to separate Thrawn from the Empire in the first place.
After Baylan destroys the map, he departs to find Thrawn alongside Sabine, Shin and Morgan, just as Hera and her fellow Rebels arrive at the planet. Unable to help her friends, Hera now finds herself in poor standing with the New Republic Galactic Senate, and no leads on how to proceed.
Hayden Christensen returns as Anakin Skywalker in Ahsoka episode 4
When all seems lost, a "mysterious" voice as described by the Disney+ subtitles calling out to "Snips" sends shivers down viewers spines. Star Wars fans will immediately recognize the voice of Hayden Christensen, back in his iconic role of Anakin Skywalker to guide his former Padawan from the Clone Wars, fallen Jedi Ahsoka Tano.
In a scene that needs multiple viewings to truly appreciate, Ahsoka finds herself in the mystifying World Between Worlds, created by Dave Filoni, that debuts in the Rebels animated series. However, the reunion and first live-action meeting between Ahsoka and Anakin isn't without pause. It's easy to infer that Anakin greeting his former Padawan suggests Ahsoka is no longer be in the land of the living, as he mentions she's "here earlier than expected." In addition, Anakin isn't translucent like a Force Ghost, but appears to be in his physical form.
Little is known at this point about the World Between Worlds, except the fact it exists outside of time and space. Putting the pieces together, that means Ahsoka and Anakin have somehow wound up there after death, or a living Anakin from earlier in the timeline was there waiting to rescue Ahsoka from certain death, similarly to how Ezra pulled her through a portal in the World Between Worlds in Rebels.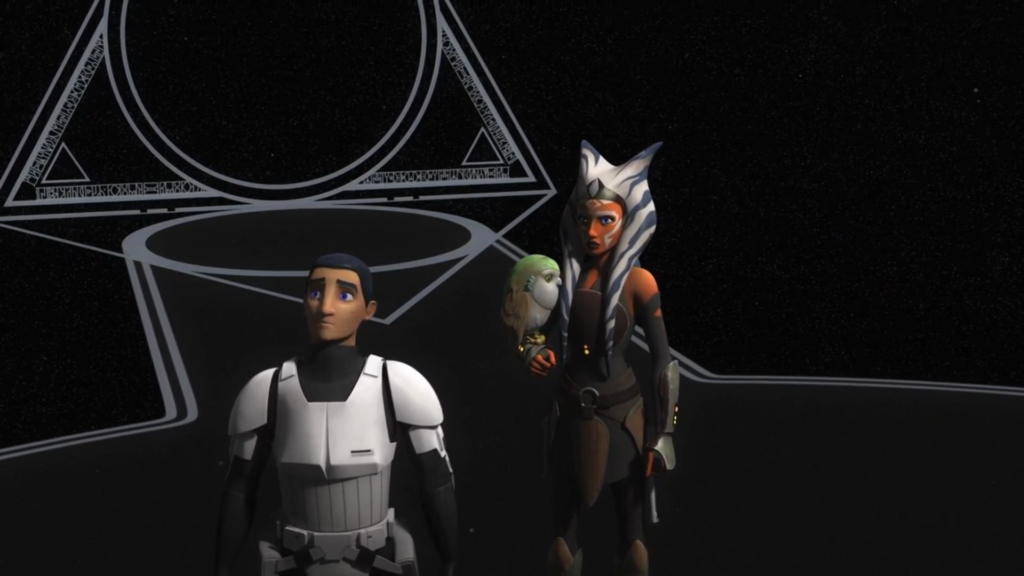 The second half of Ahsoka is set up to be chaotic as Sabine is off to another galaxy to find Thrawn and Ezra, while Ahsoka is reunited with her former Master, the greatest Jedi of all time, Anakin Skywalker, in the World Between Worlds. Ahsoka episode 4 is perfectly paced from start to finish featuring excellent character development, spectacular action, and wonderful storytelling.
Filoni's fingerprints are all over the first half of the series, and he's set to direct the next episode as well. It's unclear what's next for Ahsoka, Anakin and the Rebels for the rest of the series, but so far it's some of the most exciting Star Wars content Lucasfilm has ever produced.
New episodes of Ahsoka release every Tuesday at 6pm PST/9pm EST exclusively on Disney+. Be sure to check out the Agents of Fandom socials and subscribe to our podcast network where we break down each episode of Ahsoka in depth.
'Ahsoka' Episode 4 "Fallen Jedi" Review
'Ahsoka' Episode 4 "Fallen Jedi" Review
The Good
Perfectly paced from start to finish
Spectacular lightsaber action sequences
Strong character development for Ahsoka and the entire set of protagonists
Beautifully setting up the second half of the series
Killer one liners
Amazing world building
HAYDEN IS BACK AS ANAKIN AGAIN AND CALLED AHSOKA SNIPS
WORLD BETWEEN WORLDS!!!
Exciting fan service for lovers of the prequels as well as the animated series'