Another Spider-Man related title has hit the shelves, as Hallows' Eve #1 sets forth a new story for an interesting take on a character. I actually did not have any pulls this week, but thanks to a Twitter poll, I decided to take a look at Marvel's newest #1 on the stand. Written by Erica Schultz with art from Michael Dowling and colors from Brian Reber, Hallows' Eve #1 serves as a continuation of Ben Reilly's recent Spider-Man run and the Dark Web event.
This new title focuses on the romantic partner of Ben Reilly—Janine Godbe. But this isn't the Janine we used to know in the mid '90s.
Who is Hallows' Eve?
Janine Godbe debuted in John Romita Jr's Spider-Man: The Lost Days in 1995. She is essentially a normal girl, albeit with a very tragic past. During Dark Web, Janine undergoes a significant change that shifts her into the forefront.
With the help of Madelyne Pryor, Janine now has the ability to create a mask and then don the powers of that mask when she wears it, hence the name Hallows' Eve. In the event, Janine helps Pryor steal a Cerebro Drive, but is eventually betrayed. When Reilly (who now goes by Chasm) and Janine are imprisoned, Reilly finds a way to free Janine— but as a result, she is now alone in the world with Ben still stuck in Limbo.
Hallows' Eve #1: a Black Cat story?
The story here is a heist gone wrong. It begins with Janine noticing that her face is on a wanted poster. She quickly throws on a model mask that turns her into an entirely different person.
When entering a bank, she slips through security unopposed and uses the restroom to change into her next disguise, a ghost mask, which gives her intangibility and invisibility. Now able to phase through the walls, Hallows' Eve breaks into the vault (with some nice Spider-Man comic book cameos, like Amazing Fantasy #15, seen locked up as well!)
She finds the cash, but is unable to lift it thanks to the ghost mask's intangibility. When she takes the mask off, her invisibility disappears and a security guard comes into frame! Janine quickly goes into her bag and whips out the next mask, a werewolf mask, which gives her the strength and agility of a werewolf, naturally.
Hallows' Eve leaps across the room, takes out the security officer, and escapes. You can tell Dowling has a ton of fun here. The classic, close-up horror of the guard crying in terror is only emphasized by the giant "NO!" from letterer Joe Caramagna.
From there, the overall story begins to take shape as both the Fifth Precinct Station and Beyond HQ go to investigate the scene. When the authorities arrive, chaos ensues—the badly injured officer breaks free from the gurney and turns into a werewolf himself!
This plays out like a classic Black Cat story you'd read from one of Jed Mackay's recent runs—a heist gone terribly wrong.
Is Hallows' Eve #1 new reader friendly?
Yes, for the most part. The beauty with every Marvel comic book is that a new reader can always take a quick look at the summary, found at the beginning of every issue. For a fairly unknown character who was recently given powers, the title page paragraph gets the job done.
There is also a nice two-page flashback that quickly summarizes where Janine is mentally—with full focus on getting Ben out of prison in Limbo.
Is it worth picking up?
The story that Schultz provides is relatively simple: get the boyfriend out of the prison in Limbo, and don't cause too much trouble along the way. She makes the character easy to understand, but I would like to see the plot delve deeper into Janine's tragic past as a child.
Dowling's art is very clean. Action scenes are easy to follow, and you can tell he has fun changing Janine's entire look in the blink of an eye when wearing a new mask. The heavy use of orange pops off the page, but Reber is excellent at balancing it when needed, so it isn't over done. Caramagna's narration colors also suit the character extraordinarily well, as it is easy to get a grasp on the fun "Halloween" themed style of the orange outline and fairly spooky font choices.
If you're a fan of MacKay's Black Cat, or just looking for a fun heist story, Hallows' Eve #1 is right up your alley. The story is entertaining and doesn't try to do too much—a solid comic book.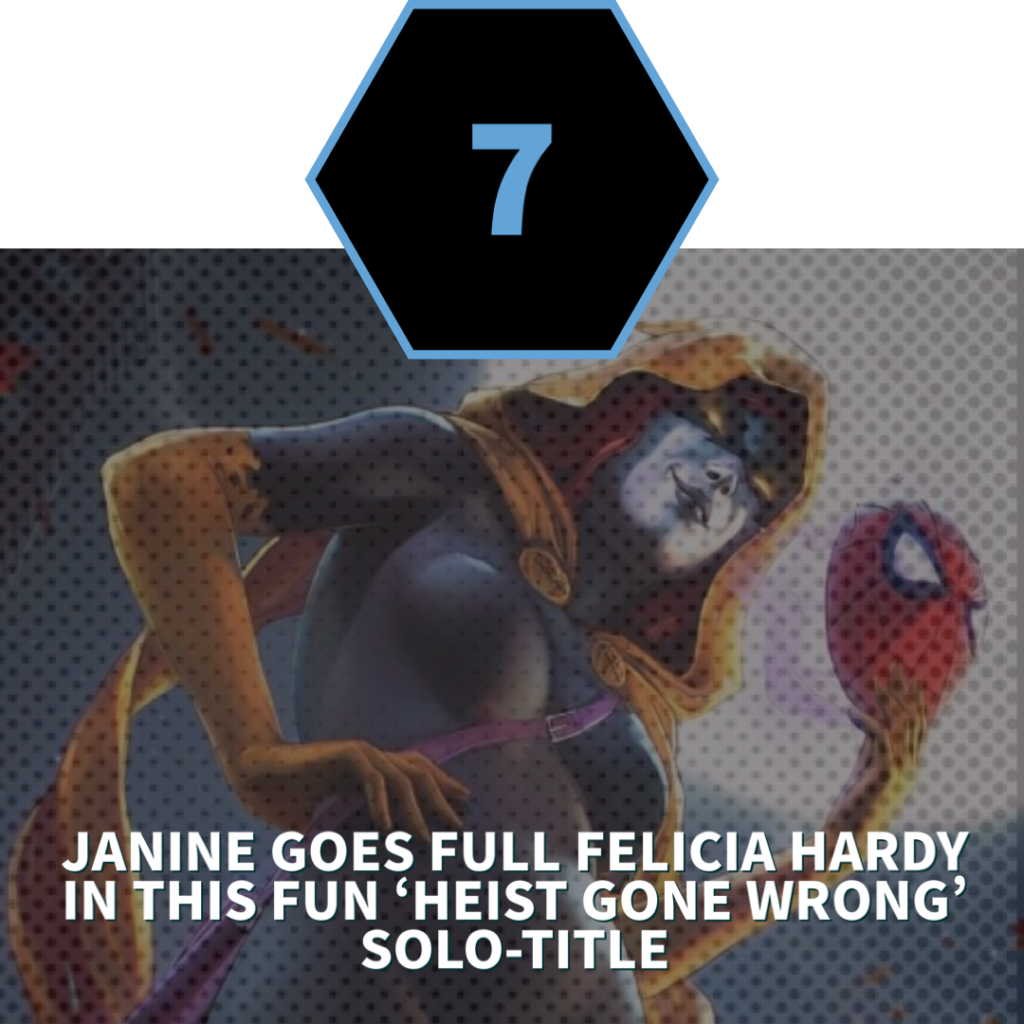 Hallows' Eve #1
Writer: Erica Schultz
Artist: Michael Dowling
Colorist: Brian Reber
Letterer: Joe Caramagna
Let us know which books you picked up this week and keep up with everything Agents of Fandom on our socials!