Calling all scaredy-cats! If you're not one for scary movies but love celebrating the Halloween season by cozying up on the couch, this list has been curated just for you!
---
Hocus Pocus – A Halloween Essential
Is it even the Halloween season if you don't watch the 1993 classic Hocus Pocus? To many, this film is not just a film – but a representation of pure nostalgia. Hocus Pocus embodies everything we love about Fall and the Halloween season. It takes place in Salem, Massachusetts, which is a town known for the infamous Witch Trials of 1693. The movie follows the Sanderson Sisters, who are accidentally resurrected by a virgin who lights the black flame candle. It is up to three kids and their talking cat to set everything right again.
Bonus: Hocus Pocus 2 is now streaming on Disney+. Check out our review here.
---
More Top Spooky Season Hits
What We Do in the Shadows (2014)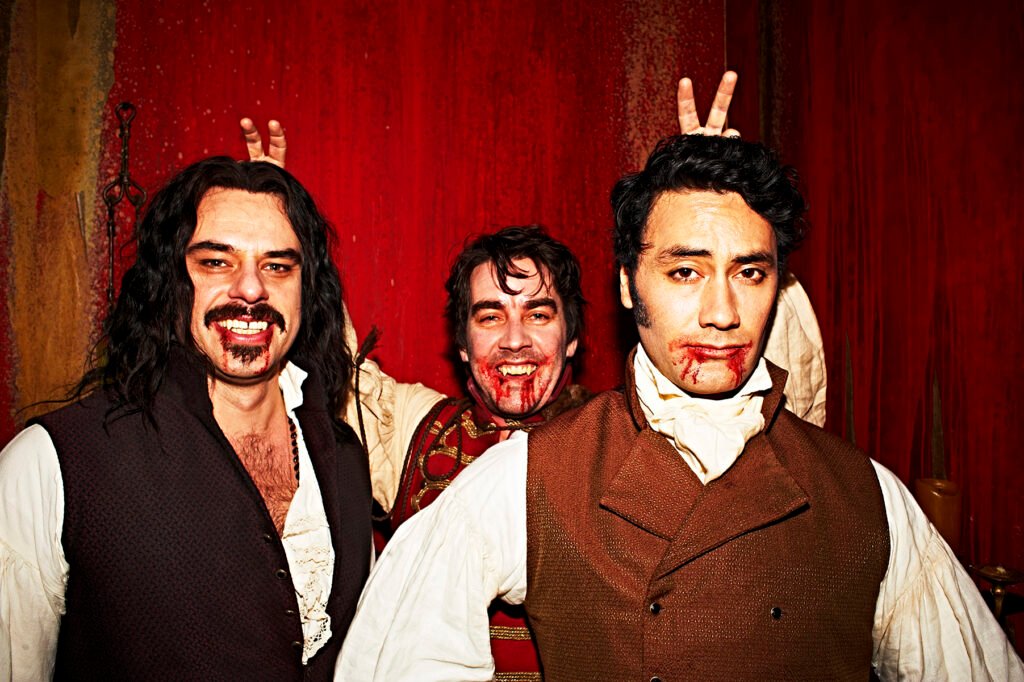 A documentary crew follows around three flatmates in New Zealand, who also happen to be century-old vampires. Watch as they navigate the tedious works of everyday life, from keeping track of household chores to getting into the hottest nightclubs. What We Do in the Shadows is written by, directed, and stars fan favorite Taika Waititi. This hilarious mockumentary is sure to become your new favorite Halloween movie.
Bonus: What We Do in The Shadows has been created into a TV show with four seasons under its belt! Stream the first four seasons on Hulu.
---
Knives Out (2019)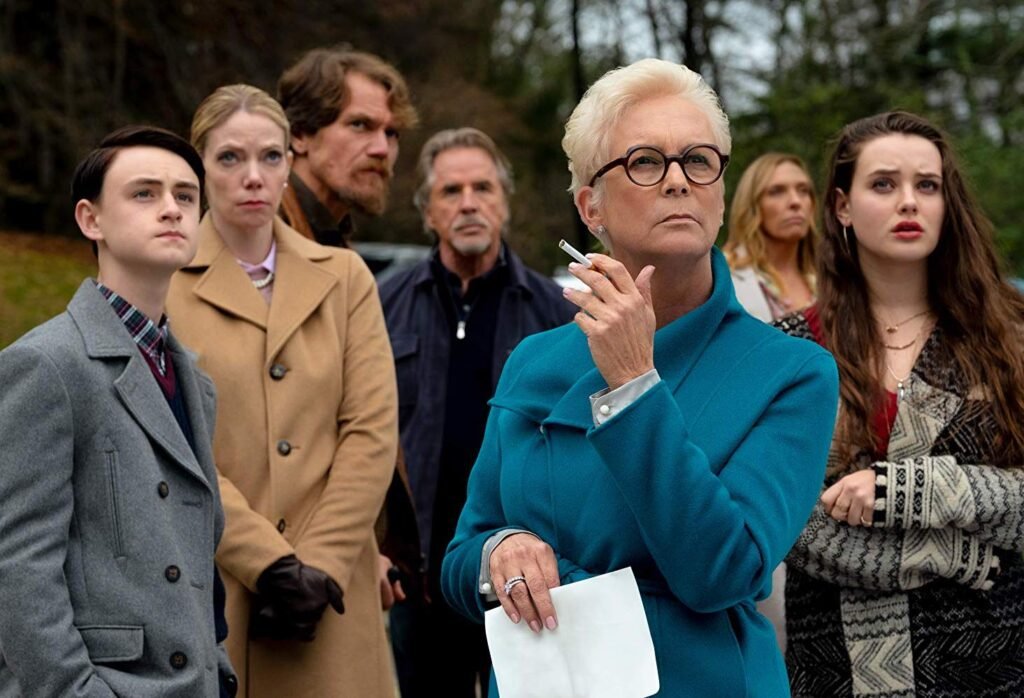 Who doesn't love a murder mystery with an all-star cast (including Chris Evans, and that fantastic knit sweater of his)? The answer: No one. This campy, Clue-esque movie is the perfect pairing of smart and funny, with a whole lot of questions in between. Watch as Detective Benoit Blanc (Daniel Craig) navigates the incredibly dysfunctional family of Harlan Thrombey, a famous (and very wealthy) novelist who dies at his 85th birthday party. A "whodunnit" you do not want to miss!
Bonus: Glass Onion: A Knives Out Mystery hits Netflix on December 23, 2022 – you can also check it out for one week in select theaters starting November 23, 2022.
---
Shaun of the Dead (2004)
Directed by Edgar Wright and Starring Simon Pegg – Shaun (Simon Pegg) is an average guy who loves his best friend, girlfriend, mom, and his neighborhood pub. However, when the living-brain-eating-dead threaten Shaun's comfy routine, he has no choice but to become the most unlikely of heroes. The movie features a bleak tone, consistent with the events that occur, yet is contrasted with brilliant humor. Get ready to laugh your head off this Halloween season!
Bonus: Shaun of the Dead is the first movie in the Cornetto trilogy. Be sure to check out Hot Fuzz and The World's End.
---
Ghostbusters (1984)
New York City, known for its hustle and bustle, yellow taxis, pizza, and…ghosts? When the supernatural swarm the streets of NYC, three newly unemployed scientists take it into their own hands to clean up the city. Equipped with the latest ghost-detecting and trapping technology, New York is in safe hands with these three. Ghostbusters, starring Bill Murray, Dan Aykroyd, and Harold Ramis is a family-friendly classic that is sure to make you want to quit your day job and hunt for ghosts!…err… I mean, laugh!
---
Freaky (2020)
As if high school wasn't complicated enough, try swapping bodies with a serial killer aided by a magical dagger. Starring Kathy Newton and Vince Vaughn, Freaky is a unique take on the original Freaky Friday. This movie will be sure to grip you in with its humor and bloody and inventive kills.
---
Warm Bodies (2013)
If you're a diehard rom-com enthusiast, Warm Bodies is a must-watch for you. When the zombie apocalypse hits, Julie (Teresa Palmer) finds herself with the most unlikely friend, a charming zombie called R (Nicholas Hoult). A wholesome apocalyptic film that you're guaranteed to fall in love with this Halloween season.
---
An Instant Halloween Classic
Werewolf by Night (2022)
Rounding off the list of must-watch not-so-scary movies is Werewolf by Night. Making his directorial debut, Michael Giacchino transports us all back in time to when monster movies ruled the screens. The Marvel Studios Special Presentation is shot in digital format and processed onto film for an authentic 1930s Universal Monster experience. Starring Laura Donnelly as Elsa Bloodstone, and Gael García Bernal as Jack Russell – Werewolf by Night is a frighteningly good time that has become an instant classic. With a runtime of just under 53 minutes, it will surely have you screaming for more!
Check out our Werewolf by Night review here.
---
I could probably make an infinite list of Halloween movies that won't give you nightmares. And as you'll see below, I couldn't help myself and added a few more! With so many Halloween classics out there, it can be hard to choose. I hope you find this brief list of not-so-scary Halloween movies helpful. Happy spookin'!
More Not-So-Scary Movies to Watch:
The Nightmare Before Christmas (1993), Life After Beth (2014), My Best Friend's Exorcism (2022), The Craft (1996), Practical Magic (1998), Twitches (2005), Casper (1995), Halloweentown (1998), Buffy The Vampire Slayer (1992)