I have served. I will be of service. John Wick: Chapter 4, the latest installment in the most iconic action franchise of all time, is finally here! Originally slated for a May 2021, release, this film fell victim to multiple COVID-related delays. I can confidently say that John Wick: Chapter 4 is worth the wait, and then some. In exchange for all the setbacks, we now have one of the most entrancing movie experiences of all time.
*Warning: Spoilers ahead for John Wick: Chapter 4*
The storied franchise of John Wick
The John Wick franchise accomplishes what so few others do. Often times, sequels steadily regress to the point where they're embarrassingly bad (see Hangover Part III). This franchise does the opposite; the movies get better as you go along. It's not just that the John Wick sequels have better action, a deeper story, or a more expansive cast. Improving on one of these things is easy, improving on all of them is almost unheard of.
The original John Wick is a fun 1:40 flick, with not much story other than a revenge plot because someone killed his dog and stole his car, and some really cool action scenes. John Wick: Chapter 4 is a near three-hour epic full of the most jaw dropping fight sequences I've ever seen, an emotionally compelling story, and awesome callbacks that pay homage to the previous films.
It's been a steady, satisfying climb to get to this point. Each new movie in this franchise builds on the last, giving us new, fleshed-out characters to root for and against, and expanding on the intricate politics of The High Table. The High Table is the supreme authority of the criminal underworld, and we've seen all manner of villains that reside in its ranks, from low level goons all the way up to the Marquis (Bill Skarsgård) and The Elder (George Georgiou).
John Wick: Chapter 4 is an out-of-body theatrical experience
It's impossible not to go into John Wick: Chapter 4 with high expectations for the action, given the franchise's ability to continually innovate and outperform itself. I saw this movie in IMAX, and I cannot recommend enough that you do the same, if possible.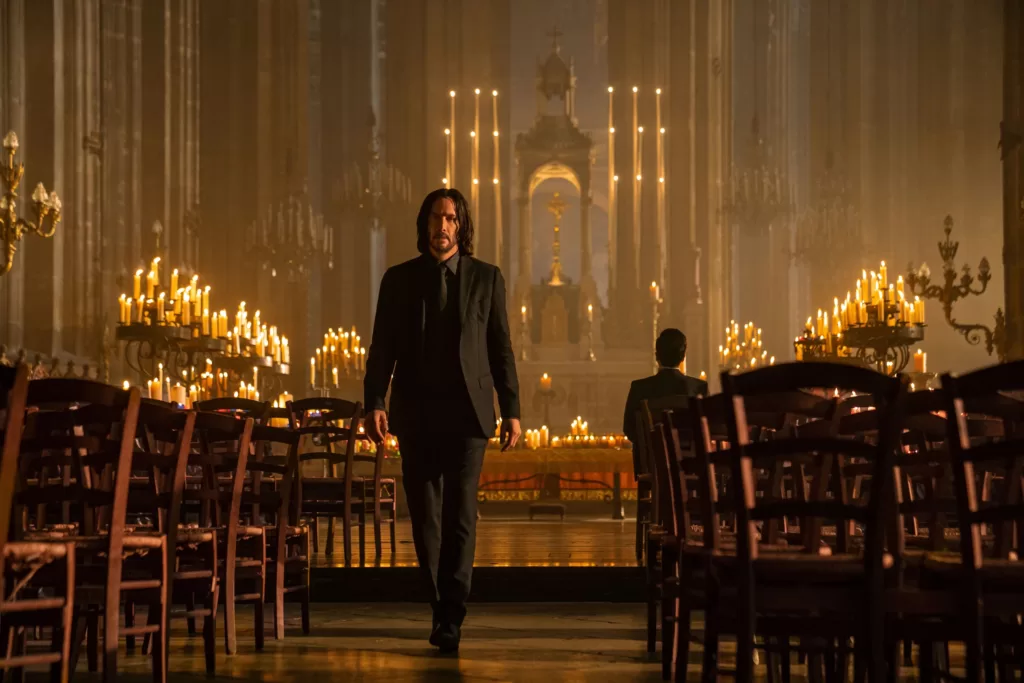 From the very beginning, the sound and visuals accompanying the action set pieces demand every ounce of your attention. My heart was pounding out of my chest, and I nearly jumped out of my seat more times than I can count.
Each of these action sequences somehow manage to be more unique and entertaining than the last. The visuals lock your eyes on the screen, and the sound in IMAX amplifies each punch to feel like a gunshot to the chest.
Each John Wick movie has a standout star that adds a personal touch to the action—Caine (Donnie Yen) fills that role here. Caine is a blind man who uses a cane (go figure), motion sensitive technology, and hypersensitive hearing to aid him in battle. This unique style is not something the franchise is familiar with, but it adds a distinct and satisfying level to the fight.
The dialogue and plot exposition between action sequences is wildly entertaining, but as soon as the fighting kicks off, it's like a constant IV of adrenaline straight into the arm. Pair all that with some sick needle drops, and you're left with the best action scenes in film-making history.
John Wick: Chapter 4′s shocking ending
As someone who went into this film devoid of spoilers, I am absolutely stunned by the ending. So much so that I counted on the post credit scene to reverse my disbelief.
John Wick dies at the end of this film, which is something I never saw coming. I know Keanu Reeves is 58 years old, and this level of intense action must take a toll on his body, but I simply cannot accept the fact that this is the last John Wick movie.
The shining light is that we have several spin-offs in the works. One with Winston (Ian McShane) and Charon (Lance Reddick) running the New York Continental back in the 70s, and another titled Ballerina, with Ana de Armas set to star.
I'll remain cautiously optimistic about these spin-offs, but they're likely going to be missing one integral piece: John Wick. While both projects are set during a time when a Keanu Reeves cameo can't be ruled out, a recent Hollywood Reporter interview points to the sad fact that we've seen the last of the Baba Yaga.
A beautiful farewell to an all-time franchise
The John Wick series is my favorite action franchise of all time, and after John Wick: Chapter 4, nothing comes close. What Keanu Reeves and co. have established is nothing short of extraordinary.
I can't think of a more fitting send off for a franchise and a character than John Wick: Chapter 4. It has a chance to be one of the best movies of the year, and the case can be made for the best action movie of all time. Find the biggest screen you can and strap yourself in for the ride of a lifetime.
John Wick: Chapter 4 is now playing in theaters everywhere. Have you seen it yet? Let us know your thoughts on the Agents of Fandom socials.
'John Wick: Chapter 4' Review
'John Wick: Chapter 4' Review
The Good
Breathtaking action sequences
The most compelling story yet
Donnie Yen is a stud