After an eternity of waiting, the Loki season 2 trailer is finally here, and it promises to deliver even more multiversal high jinks! The last season concluded with the disruption to the timeline, triggered by the death of He Who Remains at the hands of Sylvie (Sophia Di Martino). In Marvel's latest trailer, it seems as though Loki (Tom Hiddleston) and Mobius (Owen Wilson) reunite to fight a brand-new war. So, let's break down the Loki season 2 trailer.
What's going on with Loki in the Loki season 2 trailer?
The trailer opens with Loki and Mobius seeking help in the TVA. Following the cliffhanger at the end of season one, this season will presumably unfold with Loki locating his Mobius variant somewhat easily. While searching the TVA divisions, there's the first glimpse of Academy Award winner, Ke Huy Quan! Quan's character, OB, appears to be a worker within the repairs and advancements department, and he is every bit as joyous as expected!
Loki is glitching, being pulled through time for unknown reasons. The jolting bears a passing resemblance to the movements observed before in Across the Spider-Verse. This incident, labelled time slipping, is something that OB is more than familiar with. Although OB recognizes time slipping, he is not aware that it is possible within the TVA, and is thus cannot offer a solution.
Loki is dragged through a number of different settings as a result of his time slipping. More interestingly, the next location appears to be a water-sports leisure building! That's right, there are jet ski's in the backdrop. With every ounce of hopeful speculation, Mobius will finally achieve his dream of riding a jet ski. If he doesn't, it's a real missed opportunity. (Seriously, we'll kick off, right?)
The multiversal war awaits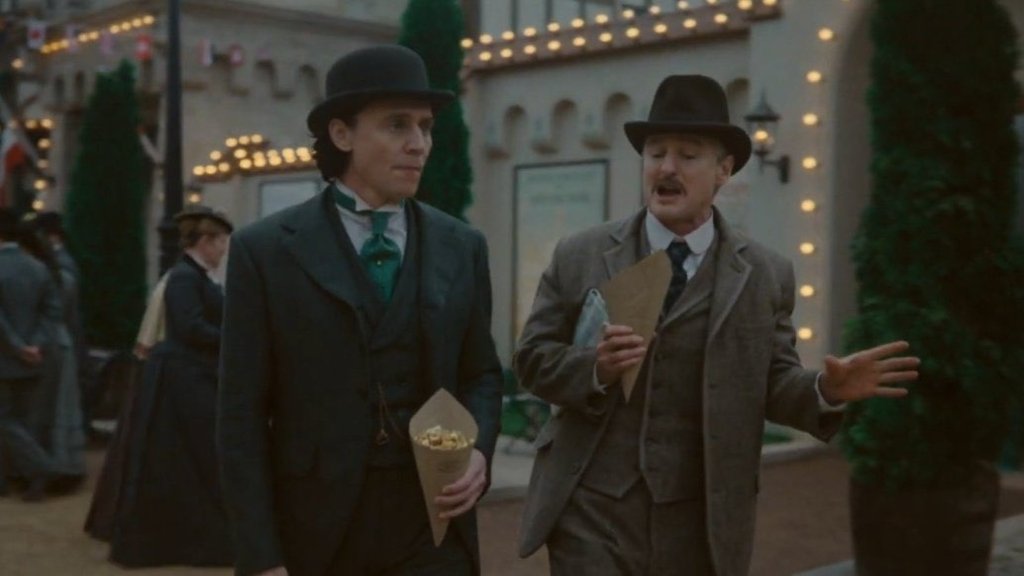 It seems that Loki and Mobius are engaged in a raring search for Kang (Jonathan Majors). They run into Hunter B-15 (Wunmi Mosaku) at a carnival, who's possibly enlisted to help Mobius now that the TVA is in disarray.
Contributing to the list of returning characters is Ravonna Renslayer (Gugu Mbatha-Raw) who disappeared at the end of season one to unearth the truth behind what's happening to the TVA. It's incredibly exciting to see her return and postulate what new information she'll bring back to what was once the Time Variance Authority.
One of the more interesting moments comes when multiple Loki's work alongside each other—expect far more illusion projections when one Loki is not enough. A short spot shows Loki and Mobius entering the timeline itself in suits provided by OB as Loki acknowledges "it's up to us to save this place."
The first glimpse at Sylvie comes with her bringing the fight to the Loki. It's unclear whether she will stand with Loki's cause in the new season, or seek out her own form of mischief and chaos.
Kang has already portrayed multiple variants throughout his brief time in the MCU. The first introduction to the next big bad is in the Loki season one finale as He Who Remains. Destruction ensues when he then takes the form of Kang the Conqueror in Ant-Man and the Wasp: Quantumania. Now his next appearance in Loki season 2 will be as Victor Timely in the multiversal war, although it's unclear what his objectives are. His appearance hurls the rest of the Loki season 2 trailer into multiversal mayhem.
"Always have been, always will be"
Loki season 2 promises even bigger things than season one. This grand spectacle is one of the many reasons why this is one of the MCU's most anticipated projects in Phase 5. There's plenty to look forward to when the God of Mischief returns in the fall. The glimpse of Miss Minutes (Tara Strong) is enough to entice anyone. This season is set to deliver some huge action and has potential for some standout narratives.
Loki season 2 premieres on Disney+ on October 6.
Follow the Agents of Fandom socials to keep up to date with further MCU announcements.