Mia Goth redefined the scream queen moniker by acting as the protagonist to her own antagonist in the 2022 movie X, directed by Ti West. Goth returned as a younger version of the villain in Pearl a mere six months after the release of X. Now, get ready as she returns as the aspiring starlet, Maxine Minx, in MaXXXine.
Even with dual titular roles and an eerie, award-winning monologue that was surely snubbed by the Academy, Goth's talents extend beyond acting. She earned credit as a co-writer for Pearl alongside West. According to Den of Geek, Goth insists MaXXXine reads as the best script of the three movies. She's "not at all surprised" by the horror community's embrace of the first two films, as she had "good feelings" about them from the start.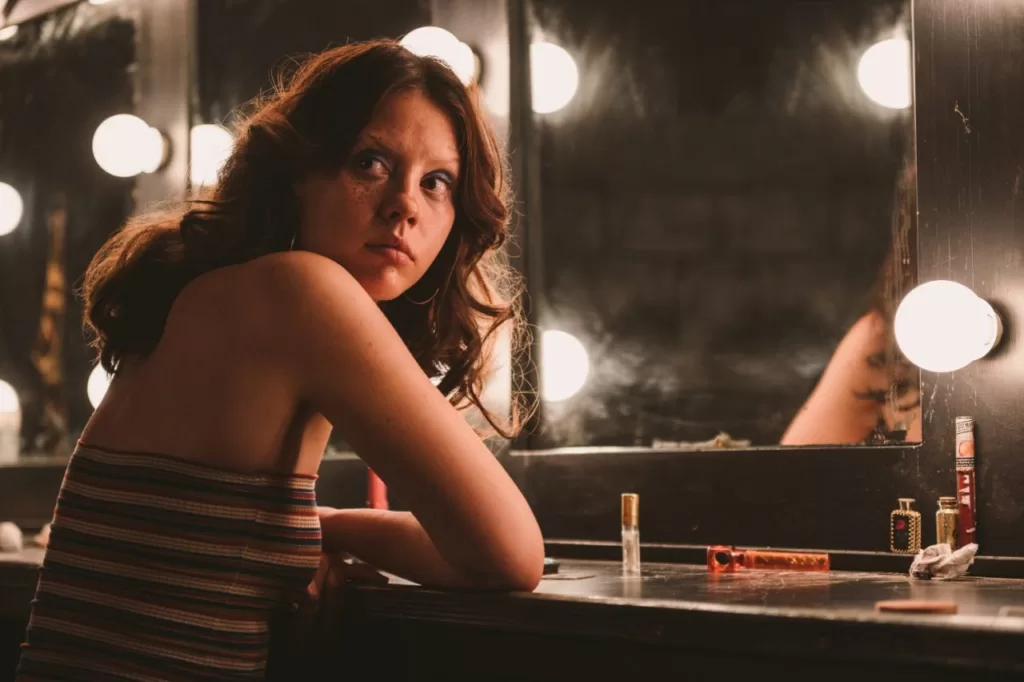 "I have no doubt that it's going to be the best film of the trilogy. I'm really excited to kind of get back together with everyone and start making this movie. I'm in the middle of prep, and I'm having a lot of fun with it."

Mia Goth to Den of Geek, Jan 30, 2023
Mia Goth welcomes us to the '80s
During an interview with Collider at Sundance Film Festival, Goth praises West's ability to bring these characters to life. West himself states to expect something "completely different" with MaXXXine than Pearl and X. While the former reads as a Texas Chainsaw love letter, Pearl embodies a Wizard of Oz meets Giallo vibe. I envision MaXXXine as an even wilder version of American Horror Story: 1984. During September's teaser trailer, which follows the unnerving end credits of Pearl, Maxine is seemingly finally living the life she deserves in 1985 Los Angeles, six years after the events of X.
Following the events from X we can guess what Goth's character comes across at this point in her life. Maxine pursues her career aspirations that begin in the first film; to break out in the booming in the home video industry. Goth also told Collider "She's just such a badass character and is not the kind of person that you want to cross the wrong way, and so she's gonna protect what she has," which tells us one of two things: the protagonist may once again be the antagonist, or she will have a new set of friends to protect (or perhaps both).
What references can we expect from the prequel in MaXXXine? We know West intended X as the middle of the trilogy, having filmed the first two back to back during quarantine, efficiently releasing both movies within the same year.
Beyond MaXXXine: Oh, the horror.
Perhaps it's due to the unprecedented times we are currently living through, but many horror fans like myself often turn to horror as an odd sort of escape. The Washington Post commented on the resurgence of horror in the theater in 2022. There lies no wonder that movies such as X, Pearl, Barbarian, and so many others quickly became favorites within the horror community. Through word of mouth, they gained even more fans outside the genre. It looks as though 2023 is shaping up to outnumber 2022 in horror movies as they are becoming more available to mainstream audiences looking for something a little more X-traordinary.
MaXXXine hits theaters later this year.